This is a story of the fate of two retired alcoholic Olympians. One made it, one did not. For Wilfred Bungei and Samuel Wanjiru, the track was their full-time employer. They served it with the utmost respect and in return, track gave them fame with money.
Even though retired, their names still live in the public's mouths through legends that refer to them as heroes of the tracks.
Their success journey can be narrated by all as the public witnessed it and cheered them. Every time spectators saw a pair of goggles amongst the competitors, they knew who the race belonged to, Bungei.
Amidst the air filled with loud chants of his name, he would charge through those tracks with high spirits just to ensure that his fans' dreams are fulfilled.
While speaking during an interview with Charles Otieno, host, of History Makers, our hero talked of how he became one of the few Kenyans to own and the only one to run in eyewear.
"You might have noticed that every sportsperson has that one trademark. For me, I decided to run in the glasses because I won my first medal in the eyewear so they became part of me. it was also part of my Adidas-sponsored outfit," he narrated.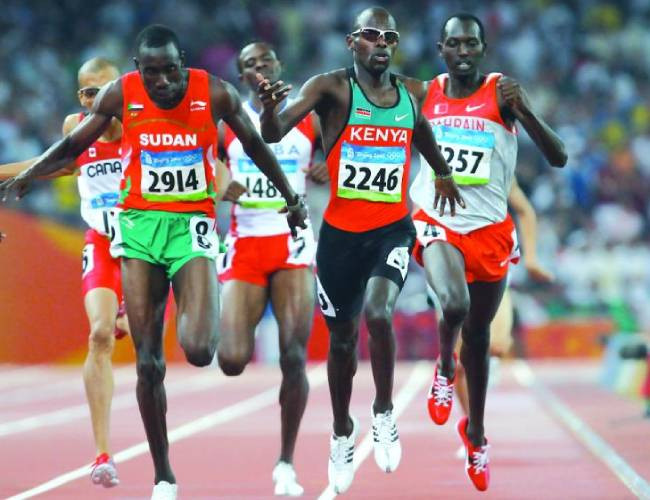 Young Bungei never had dreams of being such a legend and making history all over the world until his primary school teachers saw the potential in him.
"I always say I'm a school teachers' product. There are these two teachers who called me and said they have seen my talent in running from the way I ran during an interschool's competition. These words got me thinking about running for a while so I kept doing it even when in high school," he said.
This great talent can also be attributed to his environment. Bungei comes from a family of athletes starting from his first uncle Henry Rono to his cousin Wilson Kipketer.
His area of residence, Kapsabet, is a breeding site for most known athletes, among them Kipchoge Keino, Sammy Koskei, and Pamela Jelimo.
Bungei's talent is so raw that by the time he was getting to form four, he was selected to represent the country in the 1998 junior championship competition.
Making it to the Kenyan team of athletes remains one of his major highlights bearing in mind his background during which he was a student at Samoei High School.
"I remember when I finished second and I knew that I had gotten a chance to represent the country, I cried just like a baby knowing that I am destined for something good. It was so emotional because I was coming from a school that didn't have athletic strength unlike the other competitors,"
The first medal he got, silver, opened so many doors for him. An Italian manager, Gianni Demadonna, identified him immediately and he started taking him places.
After his junior championship, he went to Italy for a few more competitions and came back to Kenya to finish his studies then left again to do athletics as a profession. In 2001, he bagged a silver medal during the World Championship that happened in Edmonton. He got two gold medals in 2003 and 2008.
"My life as an athlete was very progressive. I was very consistent and actually I missed many medals because of some mistakes that I was still learning from."
Some say that his Olympic medal in 2008 was the biggest achievement but Bungei says, "I think being the team captain is the best thing that happened to my life."
The beginning of the end
As the saying goes, everything has an end. After two more years of competing, a time came when the renowned 800 meters champion thought that he should retire.
The end of his fame and stardom era was an unpredicted beginning of an intoxication era. He was used to waking up, training and taking part in competitions but now he had nothing to wake up to.
"When I retired, my life became empty, I didn't have much to do. So, I started filling the void with a bottle of wine, next time I would try two bottles and before I knew it, I was doing five litres of wine and other liquors,"
Bottles of liquor were transformed to athletics tracks in which the bottom of each bottle was the finishing line. Among the competitors moving side by side with Bungei was Samuel Wanjiru.
'One is too many, a thousand is not enough,' is a slogan that most alcoholics chant while scaring their livers and the two friends had it at their fingertips.
For Wanjiru, alcoholism never ended up well and news of him falling from a building in his drunken state made headlines. It was such an unexpected death that Kenyans mourn to date.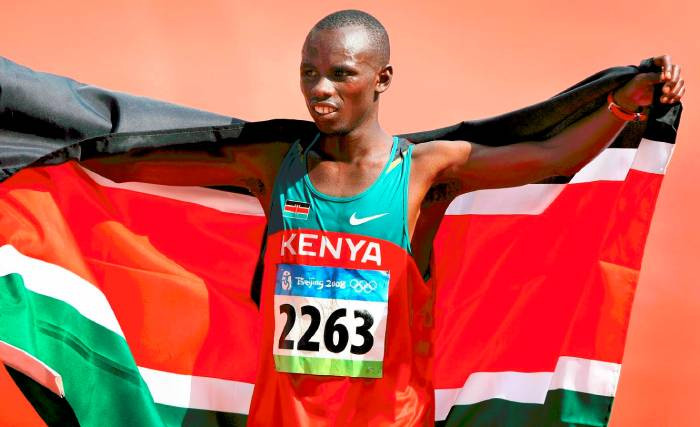 "The day that my friend Samuel died, I was hospitalised for having drank one and a half litre of vodka in 15 minutes. I blacked out and I was rushed to the hospital," he painfully recalls.
"I was treated and by 9 pm, I went home. At around four or five in the morning, a boy came knocking at my door and that is when he told me that Samuel is no more."
Tears started running down his face as he tried processing the words that came from the boy's mouth. The death of his friend still makes him emotional but it never stood as a warning for him to quit drinking.
Death posed a threat to Bungei when he got involved in an accident that left about seven cars severely damaged but zero humans hurt. An incident that he recounts as a miracle.
A victim, a white lady, managed to observe all that happened during the accident and concluded that the alcoholism written all over Bungei's face played a major role in the situation. The lady offered help to Bungei by giving a phone number to his wife. Four months passed and it downed on Bungei that outside aid needed to intervene.
Intervention
"I woke up at five in the morning, throwing up and feeling so bad. I asked for the number from my wife, called it and they told me to go in immediately."
Off all the dates that men are doomed to forget, Bungei clearly recalls the last day he had an alcoholic drink which is September 20, 2012. This year, he will be celebrating 11 years of sobriety.
Deciding to quit drinking alcohol was one of the best steps that Bungei has ever taken and he has never regretted it ever in his life.
"At a personal level, I know that I will never go back to being an alcoholic and that is why I am counting and taking one day at a time."
One thing Bungei regrets is not noticing Wanjiru's drinking problem before meeting his fate so that he can get treated and continue conquering the world by his side.
After solving his problem, Bungei managed to bounce back with investments and even managed to get into politics, running for an Emgwen parliamentary seat, which never worked to his favour.
"I decided to run for the seat in 2017 not because I wanted a name but because of the good of the people. I would not call it a mistake despite the losses it took me through."
Unlike other failed politicians, Bungei has managed to stand back on his feet despite ill comments of his downfall from the public.
Bouncing back and forgetting all the trauma one went through during the low lights in life requires energy. Bungei states that his energy has been harnessed from the support he gets from his family.
"Sports has really helped me to move on from any disappointments. However, above all, I have a very supportive family. They saw me in my lowest moments and they never pushed me down."
Despite all the history he has made, the hero believes that his legacy is not yet over. He will accomplish much more things since he feels like he hasn't exhausted his full potential.Looking back at what he has accomplished, being the father and having kids remains the best legacy he has left.
Genes of a sportsman run deep in some of his children's veins and he keeps supporting them. As a family person, he wants to make sure that he gives the best to his kids.
Related Topics