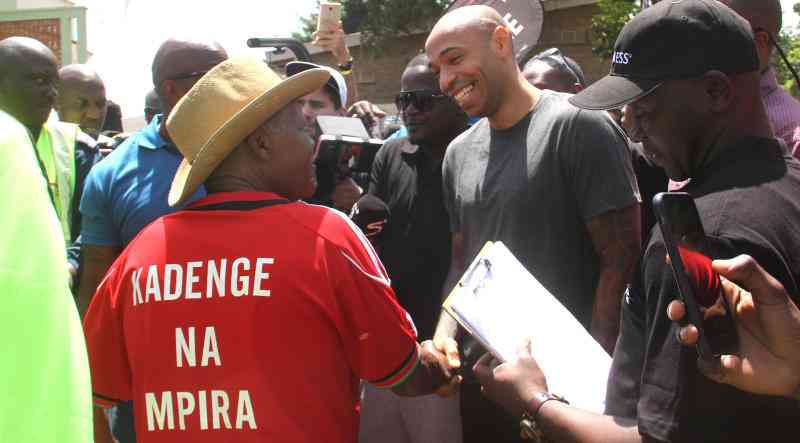 Pullout quote: Few have ever forgotten how John 'Baresi' Odhiambo made JJ Okocha chase shadows for 90-minutes in 1997.
The history of our national team, Harambee Stars, from independence to date is a bit sketchy when picking the 'best squad ever.
The debate evokes deep emotions in diehard fans.
But for one, Harambee Stars has never had a player or group of players whose performance turned its fortunes beyond Kenya. Nevertheless, we have had some individual players who brightened our weekends and made us proud in our own Kenyan way.
Different generations will draw their best Harambee Stars squad from what they saw and know or heard. If you ask Baby Boomers (those born after World War II), they will pick the squad that took Kenya to its first Africa Cup of Nations (Afcon) in Cameroon in 1972.
Their best midfielder was Daniel Nicodemus Arudhi (who was a player by day, a thief by night), William Chege Ouma, John Nyawanga, Jonathan Niva, Peter Odera, and Allan Thigo. Some believe our football went to the dogs when these boys retired.
They also believe Joe Kadenge would have fitted in any team in Europe. James Siang'a was the greatest goalkeeper of all time. Siang'a was Kenya's number one goalie for 13 years without a break and for his physique could have done well as a boxer too. The Kadenge generation played for fun and loyalty to their ethnic communities. Never for money. They believed physical fitness was key for any player's longevity. The independence generation (who saw founding President Mzee Jomo Kenyatta live) believe the best Harambee Stars squad was the team that clinched the Senior CECAFA Cup for three consecutive years, 1981 through 1983. Now aging, they still think the best football arena is Nyayo Stadium as Kasarani is too far, the pitch a chasm between cheering fans.Coached by Marshall Mulwa, the Harambee Stars team had Mahmoud Abbas on goal with the mean defence starring; Josephat Murila, Bobby Ogolla, Hussein Kheri, Hassan Juma, and Peter 'Bassanga' Otieno. Wilberforce Mulamba, Jared Ingutia, John Okello Zangi, Douglas Mutua, Jack Sihul and Sammy Taabu were the pivotal midfielders while JJ Masiga, Ambrose Ayoyi, James 'Jacaranda' Ouma, Elly Adero and Nahashon Mahila were the formidable strikers.
Unfortunately, the Mulwa boys played when Great Wall was king of TVs. Great matches were never recorded and when you say Mahmoud Abbas saved penalties the younger generation have to consult YouTube for evidence. Damn!
After Mulwa the other golden generation was the Harambee Stars that went all the way to the finals of the 4th All Africa Games held in Nairobi in 1987 under German tactician the late Reinhardt Fabisch Some players were a carry forward from Mulwa though. The team had; David 'Kamoga' Ochieng, John Busolo, Austin Oduor, Mickey Weche, George Nyangi Odembo, George Onyango 'Fundi', Ayoyi, Sammy Onyango Jogoo,Peter Dawo, Wilberforce Mulamba, Charles 'Engine' Otieno, James Nandwa, David Odhiambo, Wycliffe Anyangu, Davis Oyiela, Hassan Juma and mercurial midfielder Abbas Khamis Magongo who played one match against Madagascar before he was benched throughout the games with a knee injury. Kenya lost 1-0 to Egypt in the finals and settled for a silver medal. This team played as a unit, it was great, but neither won any regional trophies nor proceeded to the Africa Cup of Nations.
Harambee Stars had some gap years with spurts of resurgence like qualifying for the 1996 Cup of Nations, but little else. That was until the return of Fabisch and his generation (those born when Moi was President). They loved Kasarani as it resembles stadia they see on TV. Their best Stars squad is the one that curdled the blood of Nigeria's Supers Eagles during their 1-1 draw at Kasarani in 1997.On that unforgettable day, Kasarani was filled to the rafters to watch the Nigerian team that had been to the USA '94 FIFA World Cup besides being crowned Olympic champions (after beating Argentina and Brazil to win gold).
The Super Eagles were for the qualifiers of France '98 World Cup and were battling a hastily assembled Harambee Stars comprising; Francis Onyiso, Musa Otieno, Tom Ogweno, Josiah Ougo, Tielen Oguta, the late John Lichuku (then a high school student) and Eric 'Tojo' Omondi. There were also Eric 'Cantona' Ochieng, the late Ken Simiyu (scorer of the lone goal), Maurice Wambua, Mohammed Shariff, Seif Mutie, Paul Oyuga and few have ever forgotten how John 'Baresi' Odhiambo made JJ Okocha chase shadows for 90-minutes.
Other memorable players of that generation, give or take, also include Mathews Ottamax, Mike Okoth, Abbas Magongo, Tobias Ochola and Vincent Kwarula.
The dot-com crowd were born when Moi was bending his last years and were in Primary school when President Mwai Kibaki entered the show. Alas! Since Kibaki was a golfer the group grew up without seeing a president attending soccer matches like Moi.
They could not believe it when they recently saw Uhuru Kenyatta attend Mashemeji Derby at Kasarani. This generation thinks Dennis Oliech will stop playing when he's finally condemned to a play a wheelchair.
Their best Stars squad has Oliech, Victor Wanyama, Macdonald Mariga and they now have an idea about Ayub Timbe Masika. They also know Divock Origi (but not his dad Mike Okoth). This generation respects footballers who are perceived to have made money playing pro soccer.
The big difference between them and all the other generations is that they watch football with their girlfriends or spouses. They bet, they wear branded merchandise and they know football is a global game and serious business too. Lastly, they do not care about ethnicity in Gor Mahia or Ingwe. The best squad is the one that rakes in more money at the turnstiles and not necessarily the one that wins trophies.
If the success of a squad is measured by the regional or continental trophies a team wins then Mulwa's squad was the best ever. Although they never qualified for Afcon during his tenure, some of his players like Mahmoud Abbas and Bobby Ogolla would have fitted in any great Select Africa XI.Pullout quote: Few have ever forgotten how John 'Baresi' Odhiambo made JJ Okocha chase shadows for 90-minutes in 1997.
Related Topics