A nude video of a woman who bears a close resemblance to Interior CAS Millicent Omanga recently became a sensation online drawing mixed reactions from netizens.
The video, which was apparently recorded in a lodge at an undisclosed location, shows a plus-size woman lying half-naked on a bed.
However, while it excited some Kenyans, many have been quick to dismiss the narrative that someone had exposed Omanga's nudes, the same way it has happened to other prominent personalities in the past.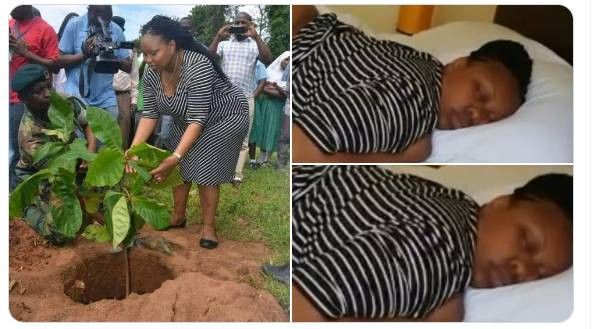 Susan Kihara, a social media activist, wondered why Kenyans would mistake anyone endowed with a big bum for the newly appointed CAS.
"Let's stop the idleness and respect Waziri! That's not Omanga," she said, adding, "Wacheni kuharibia mtu jina. Kamati Ya Roho Chafu. (Stop messing with someone's name, you evil people)."
Some are, however, still convinced the video features her, alluding to alleged similarities in their curvaceous bodies.
Omanga herself failed to kill the debate, instead seeking comfort in a Bible verse.
"Behold, I have given you authority to tread on serpents and scorpions, and over all the power of the enemy, and nothing shall hurt you." Luke 10:19 Blessed day peeps," she tweeted on Tuesday.
But former Nairobi Governor Mike Sonko - ever high on leaks - also forcefully came out to defend the former nominated Senator telling Kenyans not to lower the CAS's dignity.
Sonko did not mention Omanga by name in a long post but included her picture, where the CAS and the person in the lodging are wearing a similar dress.
The former county chief said Omanga called him on the same day while she was planting trees, complaining of a running and bloated stomach.
"I asked her to take club soda and hot water, then lie on her stomach the whole night, he said.
"Here she seems to be following the instructions I gave, innocently lying on her stomach resting after a long day of tree planting and working for this country that she loves so much," Sonko said.
Sonko went ahead to say that she took the extra piece of advice when he told her to make sure she was free so that she could pass the gas in that position.
"Even as you can see from the photo, the bedsheets are still well spread, clearly showing that no vigorous activity had taken place," Sonko said.
Sonko went ahead to note that the late Roy Kohadha, who leaked his photoshopped photos with former Nairobi Woman Rep Rachel Shebesh died in a fatal road accident in Rongai, and that the person, behind the new juicy video will soon meet his fate.
"Karma is a bitch," Sonko said.
On Wednesday, he further claimed the video had been downloaded from a porn site.
"Leave our CAS alone. Our investigations have revealed that the viral video was downloaded from a porn site. FB & Twitter community standards do not allow me to share such videos but here is the screenshot and the site as well...The culprits will soon be exposed and brought to book," said the former governor.
Nominated senator Karen Nyamu also defended the lady in the video, saying it was not a crime to sleep naked. She added that people should stop acting as though they sleep with clothes on.
Nyamu said that she had received the video but did not see any big deal in it, noting that it was not shameful to sleep in a birth suit.
"Yes, I have seen the video mnanitumia. There's absolutely nothing to be ashamed of there," she said, adding, "We have all been sleeping butt-naked at some point. What is the big deal? The focus must immediately shift from the woman to the fool taking that video."
The Nairobian could not verify the person in the video, and Omanga failed to pick up our calls so that millions of Nairobian readers could get her comment on the video.
Related Topics