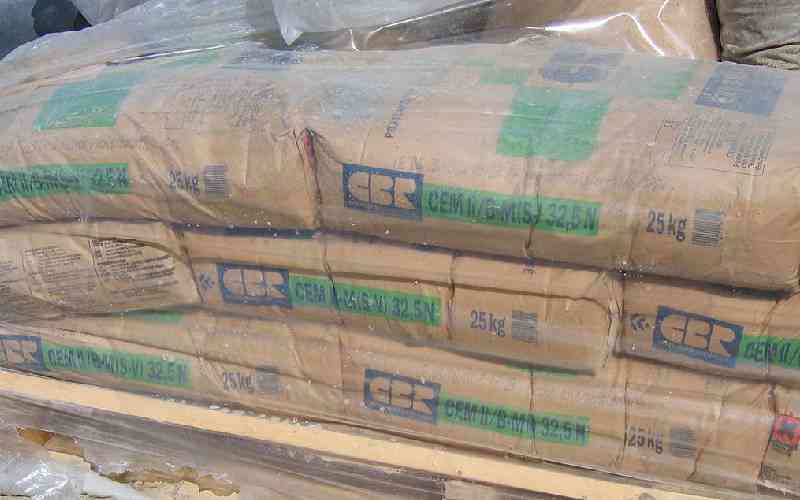 LafargeHolcim-backed East African Portland Cement (EAPC) has hiked its cement prices per 50kg bag by Sh20 from today. A bag averages between Sh600 and Sh650.
The company, which offers its products under the Blue Triangle Cement brand across Kenya, said the decision was informed by higher input costs.
"Due to the continuous surge in raw materials prices, operating overheads and our commitment to maintain the premium brand quality that our customers have enjoyed over the years, we will be revising our prices upwards by Sh20 per bag with effect from 28 September 2023," said the cement maker in a circular signed by its acting head of commercial David Kilonzo seen by The Standard.
The price of key construction materials, including steel, paint, and cement has been going up due to high input costs and supply chain disruptions, which could result in a slowdown in the sector and an increase in the cost of acquiring or building new homes.
President William Ruto, who came to power last year in September, has made affordable housing a centrepiece of his government's development agenda through the construction of 250,000 houses annually for low-income earners. Cement, a key building material, is mainly used as a binder in concrete, which is a basic material for all types of construction, including housing, roads, schools, hospitals, dams and ports, as well as for mortar for plastering, masonry work, pointing, among other uses.
Therefore, any upward change in the price of cement means a higher cost of projects.
Further hikes by cement players are expected to increase the cost of acquiring or building new homes.
Developers and hardware owners have been passing on the higher costs of construction to consumers.
Efforts by The Standard to reach EAPC Managing Director Oliver Kirubai were futile as he had not responded to additional queries by press time after promising to call back via text.
The announcement by EAPC is likely to see other cement makers follow suit in hiking prices. The Kenya Association of Manufacturers (KAM) has already asked Kenyans to brace for tough times as a result of a raft of new taxes and higher costs of fuel.
"Pump prices have reached historically high levels of over Sh200 per litre. This will increase the cost of production for manufacturers, resulting in more pain for consumers who are already struggling to make ends meet," KAM said recently.
"This is because, the price of fuel cascades across the value chain – production, distribution, and even retail." Economists use cement consumption, among other indicators, as a yardstick of economic strength.
Global cement giant Lafarge holds a 42 per cent stake in EAPC, while the Kenya government, through the National Treasury, holds a 25 per cent shareholding in the company. The National Social Security Fund (NSSF) controls 27 per cent and other Kenyans six per cent of the Nairobi bourse-listed cement manufacturer.
Manufacturers recently moved to court to oppose a new tax imposed on certain imports to protect a section of local industries from cheap imports. The Exports and Investment Levy, which was introduced by the Finance Act 2023 and kicked in on September 1, will see importers pay 17.5 per cent on clinker – a key ingredient in the production of cement – and metal products (such as wire rods and billets) and 10 per cent on packaging paper products. The move, which is meant to protect and prop up the local clinker, steel and paper producers, has not gone down well with other industries that are the primary users of these products.
KAM is seeking to quash the implementation of the levy, saying it would push up the cost of their production and, in turn, increase the cost of their products, making them uncompetitive. "After much consideration, KAM has filed a constitutional petition before the High Court seeking to challenge the legality of the Export and Investment Promotion Lecy under the Finance Act, 2023 that came into effect on September 1, 2023," said the manufacturers' lobby in a notice to its members after filing the petition.
Related Topics