Women selling honey line up along the roadside.
A few metres from the road, butchery operators dressed in white dust coats are staring eagerly towards the road to see whether motorists using the busy road will stop by for a bite.
Here, your sales depend on how fast you approach a potential client as well as your convincing power.
Every so often, a car stops and the lucky seller makes their sale.
"This is a busy centre booming with business day and night. Investors have started to invest here. Now we have a bank and a few hotels," Andrew Rumenya, a retired chief of Kimalel location said.
The competition is what has made the centre which occupies over 10 acres grow into what it is today. Located along the Marigat-Kabarnet road, Koriema now boasts permanent buildings unlike before when the place had temporary structures.
Every December, there is the famous annual goat auction in Kimalel in Baringo County, the brainchild of former President Daniel Moi.
The goat auction started in 1986, the heartbeat of what might have started from the taste of delicious Koriema meat which is less than five kilometres from Kimalel.
Koriema centre which is along the busy Marigat-Kabarnet road is growing fast due to the tasty delectable goat meat that is served in several hotels, restaurants and butcheries.
"Anytime, Koriema is mentioned, one has to salivate due to its association with famous mouthwatering roasted meat, the goat meat has given life to Koriema centre which has since grown, placing the area on the map with locals and non-locals travelling kilometres to have a taste of it," Rumenya added.
Koriema, he said, is a Tugen word meaning meeting point. During the pre-colonial period, the sub-tribes of Tugen would meet at the place to initiate boys into men and declare an age set which is highly valued by the community.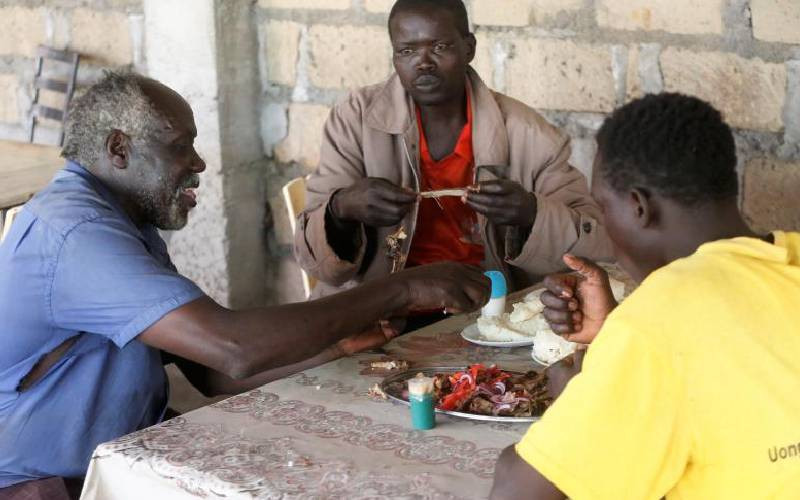 "The place has a historical attachment to it which started during the pre-colonial period. Our grandparents and the older generation would meet here to initiate boys into manhood, they would later feast on the meat, as a unifying factor," Rumenya explained.
Rumenya, 67, is among the pioneers championing the growth of the centre.
The retired administrator revealed that discipline and honesty have seen the place grow with customers across the country especially Nairobi and Nakuru flooding the place to buy goat meat.
Weekends are usually busy for Rumenya who also runs a butchery and a restaurant. He has about five employees.
"Our goat meat has a unique taste because of the feed and water the animals drink," Rumenya said.
His son has also opened an outlet in Nairobi. Some of their customers are in Nairobi and Nakuru.
According to Rumenya, Koriema enjoys great security.
Shadrack Cheburet from Sacho and a teacher at Tangulbei said every time he passersby Koriema he has to stop by for some 'mbuzi'.
Nancy Lolwatan, a resident of Kabarak said she buys meat for her family's consumption at Koriema.
"Each time I'm here I have to carry meat and honey. The meat has a unique taste that you cannot find anywhere else," said Lolwatan.
Betty Kiptoon, who also runs a butchery at Koriema said since she ventured into the business five years ago, she has acquired customers in Nakuru and Nairobi counties.
"To be honest, there is a connection between meat and the transformation of our centre, few years ago we didn't have these structures but for now we have good ones, don't forget our honey, which is original and sweet," she added.
The good rapport she has maintained with her customers, she said, is what has made her thrive in her business which is the only source of income she depends on.
"Those passing by to enjoy this meal can only do one thing, come again and again to enjoy the yummy goat meat whether roasted, boiled or fried," Mrs Kiptoon said.
Related Topics