Women go against tradition, venture into honey business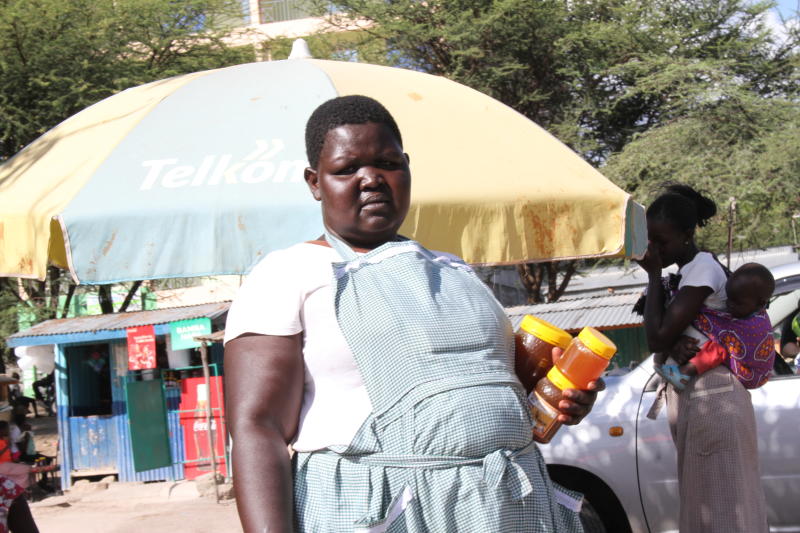 As a car approaches, they assume the posture of athletes at the starting blocks, except they don't wait for the firing shot.
As it draws near, they dash onto the road risking limb and life, oblivious of the dangers that could pose. It is survival of the fittest.
They have benefitted from the bumps on the Nakuru-Marigat-Kabarnet road, which slow down traffic and as if on cue, the drivers also stop.
The sellers swoon around the car displaying their handful wares; the golden shade of honey gleaming in the hot, bright Baringo sun.
Baringo is renowned for its honey, which is sold mostly to motorists by women.
Buzzing bees give the women day-long company as they keep dashing to the road and back to the shade.
The business of selling honey, they say, has spiced up their otherwise mundane lives as housewives and mothers.
Behind their smiles is a struggle against many odds — tradition, lack of capital, an unreliable market and generally little support from the government. That is in spite of the huge potential from beekeeping.
By selling honey these women were going against tradition and challenging age-old stigma and gender sensitivities. Honey harvesting is a male preserve.
When they set off to conquer the unchartered territory, Peris Kibet said they became a laughing stock of the village.
And 10 years later, they have no regrets.
Initially, they would sell unprocessed honey for Sh100 a litre before officials from the Agricultural Sector Development Support Programme under the Ministry of Agriculture trained them on the need for value addition.
At Koriema Centre, Betty Kiptoo of Koriema Honey Packers said they formed the group in 2014 with Sh6,800 capital. Initially, they were six but the number has grown to 10.
"At first we relied on people plying the route. Little did we know that coming together and having a registered group would earn us more fortunes," Kiptoo said.
The group is currently the leading honey-selling group in Baringo County. They buy semi-refined honey from farmers, which they then process traditionally before packaging.
They package not less than 50 kilos of honey every day; a 20-litre bucket of honey mixed with wax goes for Sh7,500.
The women still use rudimentary tools and basic skills to process the honey. The sun is a major ingredient in processing.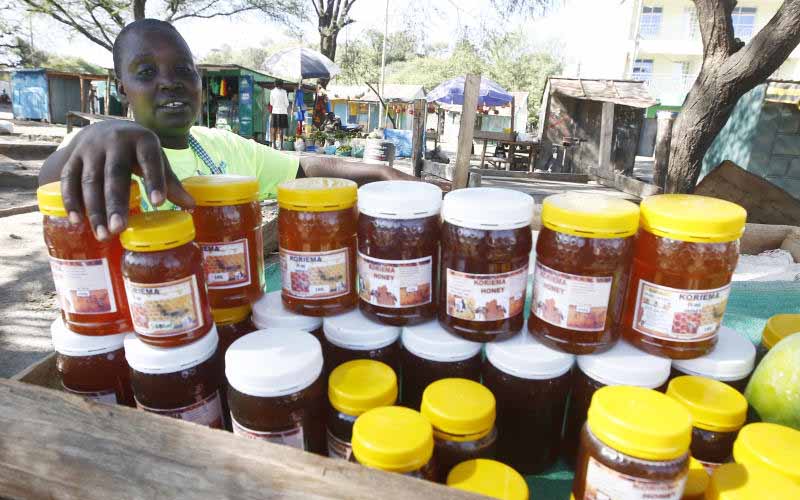 Improvised sieve
The unprocessed honey is placed in the sun to separate it from the wax. They then use an improvised sieve — a piece of cotton cloth — to sieve the liquid honey before packaging.
"This is pure honey without any additives; we have no machines to separate the liquid honey from wax," she said.
During cold rainy seasons (which are few), the honey is placed in hot water to melt the wax.
A beaming Evaline Chepsiror exclaims that they are reaping handsome profits from beekeeping. And asked if she could do any other business, Chepsiror said she is happy selling honey.
But they still get packaging materials — containers and branding — from Nairobi. This sometimes causes delays for them besides taking away job opportunities. They hope to raise enough cash to acquire processing and packaging equipment soon.
Branding and customer loyalty has impacted their business positively.
Wax residues that remain after the honey is sieved is kept for other uses. It has medicinal use and is also a raw material in the making of candles.
Besides selling their produce to travellers and to locals, they have customers in major towns including Nakuru, Mombasa and Nairobi.
Essential needs
They also have contracts with major supermarkets and other retailers countrywide.
A kilo of honey is sold at Sh700 while 150 grammes goes for Sh150.
Beekeeping enables these women to meet their essential needs including food, clothing, education and health.
The women can comfortably pay fees for their school-going children and also cover operational costs for other small businesses.
Through more training and exhibitions, the group has acquired knowledge that has helped to expand their business.
Baringo Governor Stanley Kiptis said the county was working to make beekeeping and honey processing their trademark business.