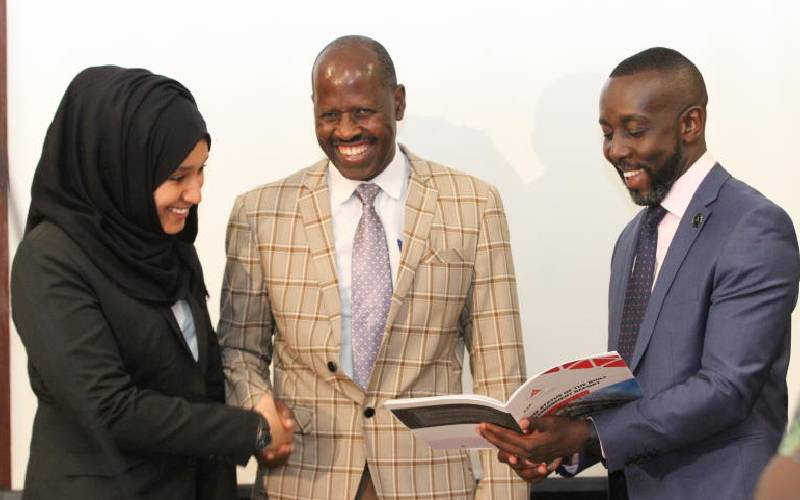 The County Government of Nairobi has planned to do an audit of the city's buildings to map out those developed without approvals and take stern action, including demolition.
According to the county's Built Environment and Urban Planning Chief Officer Patrick Analo, the city is developing rapidly at a rate of four per cent hence the need to address the rapid urbanisation.
To address these challenges, the county, he said, has come up with four policies some of which are at various levels of enactment. The policies include the Nairobi City County Development Control Guidelines Policy, Nairobi City County Land Use Policy, Property Numbering and Street Naming Policy.
According to Analo, the county will work with built environment professionals to audit the current buildings in risk-prone areas of Nairobi's Eastlands such as Pipeline, Tassia, Kayole, Dandora, Mwiki, and Dagoretti among others for safety.
He was speaking during the release of the eighth edition of the Status of The Built Environment report by the Architectural Association of Kenya (AAK) that covered 2022.
''Those that will meet the minimum requirements standards of building code and other requirements will be given approval under the framework of regularisation. Those that will not meet the structural integrity will be advised accordingly including adjustments and modification or even demolition,'' he said.
''We have a draft Regularisation Bill, which repeals the 2015 Nairobi City County Regularisation Bill of non-approved developments, which also will be approved next week by the executive and move to the County Assembly for public consultations,'' added Analo
He said Nairobi Governor Johnson Sakaja recently appointed a new Urban Planning Technical Committee that includes participation from six professional bodies including engineers, architects and residents associations that will be sitting every two weeks to look at various development approvals that have been processed within that time.
Mr Analo noted that they have also formed a multi-agency committee consisting of representatives also from the National Construction Authority (NCA), Urban Planning Directorate, and National Building Inspectorate (NBI) whose mandate will be to audit the safety and security of the structures within the built environment and undertake research on materials used.
According to the report, 13 buildings collapsed in 2022 causing the death of 19 people with Kiambu County, leading in incidents. A 2018 report by NCA indicated out of 14,895 buildings audited across the country, 10,791 were unsafe for occupancy and needed reinforcement and demolition, 723 of them were deemed dangerous, 1,217 were in fair condition and 2,194 were considered safe.
The report said between January 1 to December 31, the NCA received 8,154 applications for project registration and approved 4,377 (53.7 per cent) of the projects. NCA also inspected 26,060 construction projects in this period.
Out of the total, they suspended 18,192 (69.8 per cent) of the projects due to non-compliance.
Nairobi County Nominated MCA and Kenya Green Building Society (KGBS) Chief Executive Nasra Nanda challenged Nairobi County Chief Executive for Built Environment and Urban Planning Stephen Mwangi to ensure the projects they approve are sustainable and bankable because investors are willing to invest in such projects.
''Ensure that the professionals are involved so that we minimise the collapse of buildings and ensure the health and safety of buildings,'' said Nanda.
Mr Mwangi asked the professionals to ensure their clients' projects meet the required standards because they have green features including trees when doing designs. The building and construction industry was affected by Covid-19 resulting in supply chain issues, especially in the year 2020.
''The industry was hopeful that things would begin to ease up and allow for stabilisation and recovery of the industry. However, in 2022, the unprecedented Russia-Ukraine crisis severely affected the situation,'' said AAK President Wilson Mugambi.
The prices and availability of essential construction materials like steel, paint, aluminium, cement and PVC, he said continue to remain unreliable in Kenya.
Increases in fuel and transport costs have also impacted construction costs.
Related Topics