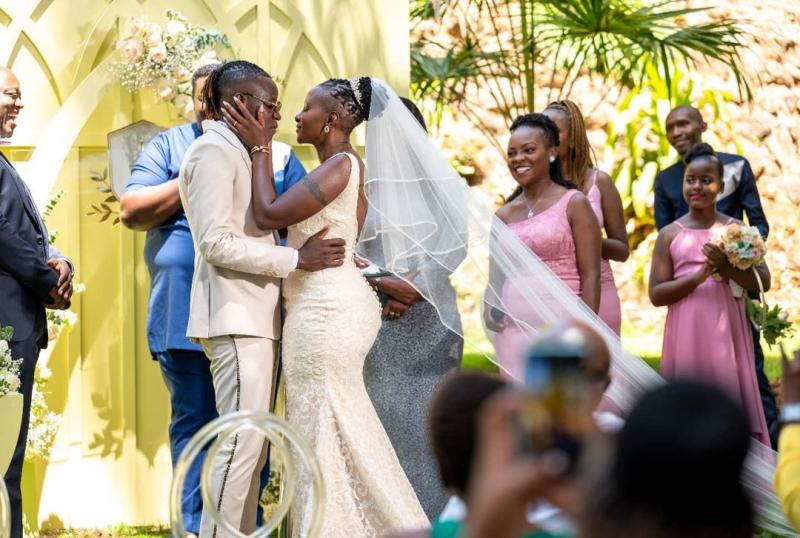 Days after marrying Esther Musila, gospel singer Guardian Angel continues to make headlines for getting hitched to a woman older than him.
Kenyans are still talking about the private wedding between the gospel artiste and 52-year-old Esther, who is 20 years his senior.
Their wedding is ranked third on Google Trends with more than 5,000 searches.
When The Standard called singer Guardian Angel, real name Peter Omwaka, yesterday, his phone went unanswered at first.
Then his brother called back: "Sorry, this is not Guardian. It is his brother. He is away on a honeymoon... I will tell him you called."
He declined to say where the couple are on their honeymoon.
"It was a small private wedding. I know he will explain when he returns," he said and ended the call.
Constantly having to defend their relationship, the Pendo hit maker took to social media after their garden wedding and posted that their journey has not been an easy one.
Now with over 40 songs to his name, Guardian Angel had a humble background, in Kitale.
He went to the streets, homeless, at the age of nine, when life became unbearable at home.
At one point, he spent almost a month in the cells of Central Police Station in Nairobi.
From there, he was taken to Ahadi Children's Home where he discovered his love for music.
He later rejoined school and once won ten awards at annual National Music Festivals — and he knew his future was in music.
He is a 2018 Groove Awards winner in the Best Male Artiste category.
His new wife, Esther, was once married but her husband died, leaving her with three children to take care of.
She has worked for an international organisation, was a banker at one point and has a YouTube channel with close to 100,000 subscribers.
When they met three years ago, they never anticipated love blossoming between them.
In a previous interview, Musila said she was not looking for love or a relationship until a song sealed their fate.
She said she was driving to work and a song by an unknown singer was playing on the car radio and she could not shake it off.
Intrigued, she got in touch with a radio presenter who told her the song was by a gospel artiste called Guardian Angel.
She met the man behind the song, Guardian Angel, and a beautiful friendship was born.
News of the two dating sparked controversy.
Many said Guardian Angel was only after her money, but they continued to defy the naysayers.
Unhappy by how gospel artiste were representing the industry, Guardian Angel vowed to make music that uplifts and encourages.
In 2012, he released his hit song Amazing Grace.
He had escaped death during his childhood after someone posing as a Good Samaritan tried to poison him.
Together with Esther, now his wife, they started a series on YouTube by the name 'Love Wins', about their love life and challenges.
Related Topics