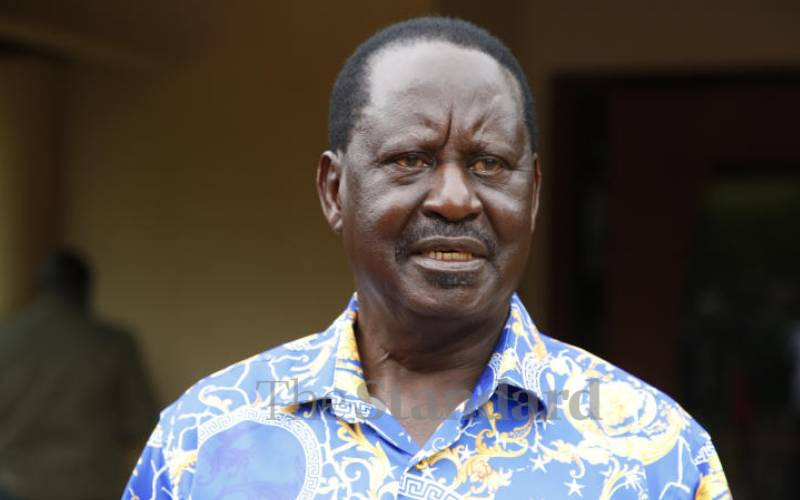 Azimio la Umoja One Kenya leader Raila Odinga has called on Kenyans to be ready for his signal for countrywide protests over the cost of living.
Speaking at Chungwa House in Nairobi on Wednesday, Raila expressed concern over what he said is President William Ruto's administration's "apparent disregard for the struggles faced by millions of Kenyans."
He accused the government of imposing on Kenyans an unbearable tax regime and turning a deaf ear to their cries.
The Azimio leader told Kenyans to brace themselves for the potential implementation of the controversial Finance Bill 2023, which would inflict more pain.
The opposition leader said the government's refusal to address the high cost of living has left Kenyans struggling to afford basic necessities.
"Kenyans are hurting. They are suffering. They came to power through the backdoor when they were not ready to govern and now want to pour their inefficiency on poor Kenyans," he said.
The ODM leader announced that he will address the nation today regarding the contentious Finance Bill 2023. He expressed his determination to provide Kenyans with a way forward and to rally them in the face of what he considers an unjust Bill.
"They want to table the controversial Bill in Parliament tomorrow for the second reading and then have the Treasury Cabinet Secretary present the budget statement on Thursday next week. They are determined to have it passed, but Kenyans will resist," Raila affirmed.
In light of these developments, he urged citizens to actively participate in the decision-making process and remain informed about the potential consequences of the Finance Bill 2023. Raila emphasized that citizens should exercise their rights and make their voices heard by engaging with their representatives in Parliament.
This came after Azimio principals skipped the National Prayer breakfast presided by President Ruto and his Deputy Rigathi Gachagua.
In a statement issued on Tuesday, the coalition announced that the principals, will not attend the event. Nevertheless, the statement emphasized that opposition Members of Parliament are at liberty to attend the event.
As the flame of dissent against the Bill intensifies and the opposition's fan continues to spin tirelessly, President Ruto remains resolute in pursuing his unwavering "Plan" to forge a resilient, secure, and prosperous future for Kenya.
The president has argued that even though the government and opposition differ on the means of achieving that target, the vision is the same.
The looming protests come amidst a backdrop of ongoing political tensions and power struggles within the Azimio-allied, Jubilee Party. Azimio has been at odds with the ruling Kenya Kwanza Alliance over the power struggle within Jubilee that has has split it into between two factions, one allied to President Ruto and another to Azimio.
These internal divisions have further complicated the political landscape and added fuel to the opposition's resistance against the Finance Bill 2023.
Related Topics