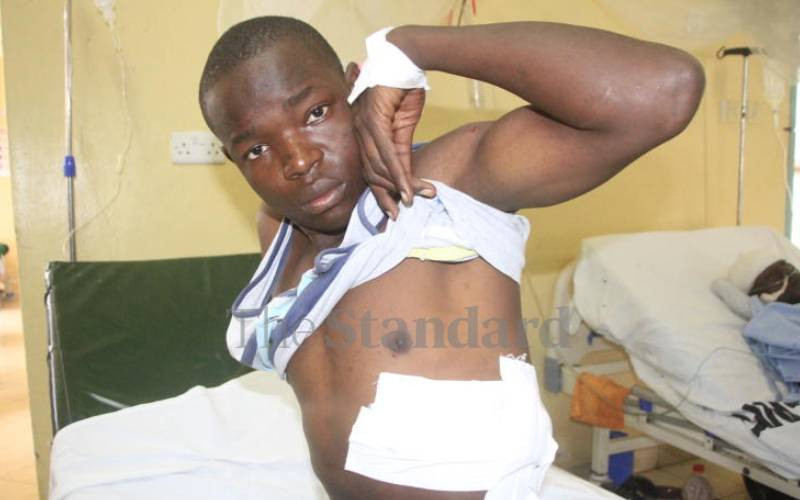 Major hospitals in the Nyanza area are finding it hard to handle the large number of victims from mass protests, as police continue to forcefully break up the crowds.
Most of the injured patients have gunshot wounds, while others say they were hit with police batons. Doctors say some are fortunate to be alive.
Residents say many of the victims were targeted by the police while others were injured by stray bullets as police engaged protestors in running battles.
At the Migori County Referral Hospital, one of the victims who is fighting for his life is a medical worker who was shot in the left shoulder shortly after leaving his home for work.
Doctors worked for hours to stabilise his condition while planning to extract a bullet that was stuck in his chest. Unlike some victims who say they were involved in peaceful protests, Ken Omondi's situation is different. His family says he was on his way to his clinic when a police officer shot him.
Dr Ian Omuom, the hospital's medical superintendent, said that the medical worker had surgery, and a chest tube was inserted to help him breathe.
"He is due for another surgery to remove the bullet from his chest once we have located it. He has been taken for a CT scan," said Dr Omuom.
Mr Omondi recounted to The Standard how a plainclothes officer pointed a gun at his chest and shot him. According to him, there were other police officers present.
"He had a gun which he removed from his jacket and pointed it at me. I fell down from the impact," he said.
Omondi added that the bullet missed his daughter's head and struck him on the shoulder instead.
At the hospital, at least six people were being treated for gunshot wounds, while about 15 were admitted with injuries caused by police beatings.
The family of a 17-year-old boy anxiously waited as he was taken into surgery for gunshot wounds. His mother, Jackline Achieng, explained that she had sent him to get maize for their evening meal.
"My son was sent from school at 3pm due to the demonstrations and when he got home, I sent him to his aunt's house in town," Ms Achieng said.
She appealed to the government for assistance. "The government should intervene. I had sent him to get maize from his aunt. He was not involved in the protests."
In Kisumu, the largest referral hospital, Jaramogi Oginga Odinga Teaching and Referral Hospital (JOOTRH), was also struggling to accommodate several victims due to limited space.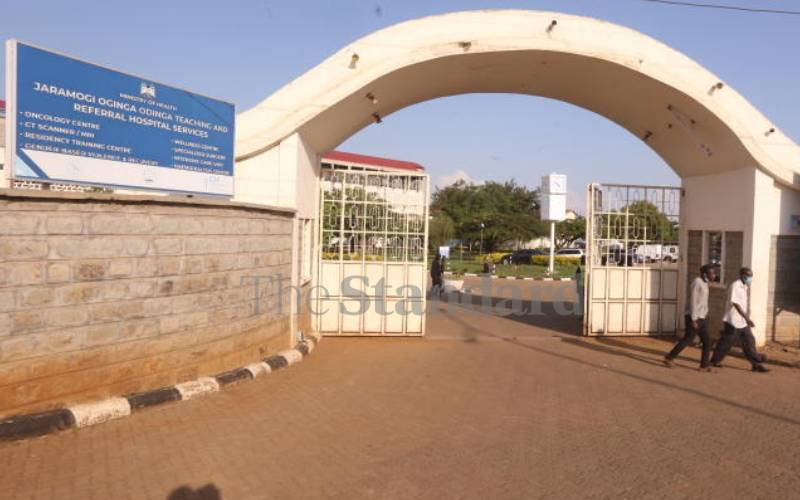 The situation was so bad that some victims were left in the hallways as medical staff scrambled to find room for them in the wards.
At the facility, 32 victims were admitted with gunshot wounds, while two others were discharged.
Sadly, on Wednesday night, another person died from gunshot wounds while doctors tried to save his life. This death increased the total number of protest-related fatalities in Kisumu since Wednesday to two.
The hospital's CEO, George Rae, confirmed this, noting that the patients were in a serious condition. "The one who died last night was in surgery. All those brought in due to the protests had gunshot wounds," he said.
The CEO reported that victims were shot in various parts of their bodies - with injuries to the legs and the stomach.
A nurse, who asked to remain anonymous, admitted that they were finding it difficult to care for the large number of patients, and confessed that they were prioritizing those with severe injuries.
While health centers in the county have been working to improve trauma care, medical professionals have stressed the importance of updating equipment crucial for handling emergencies in all facilities.
At the Homa Bay County Referral Hospital, six people were being treated for gunshot wounds as doctors raced against time to perform life-saving surgeries.
The hospital's CEO, Peter Ogola, said that two men had foreign objects stuck in their bodies, as revealed by X-ray scans.
Abdi Rashid, a resident of Shuari Yako estate, had an injury on his groin. He is one of the men with a foreign object, suspected to be a bullet, lodged in his body.
[Anne Atieno, Olivia Odhiambo, Clinton Ambujo and James Omoro]
Related Topics