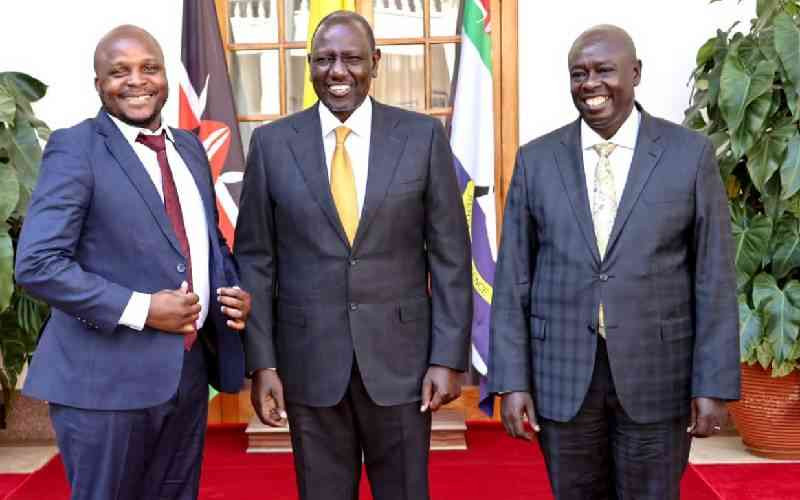 Migori Senator Eddy Gicheru Oketch has written to ODM Party to deregister Lang'ata MP Phelix Odiwuor alias Jalang'o, Kisumu Senator Prof. Tom Ojienda and five other MPs.
Oketch accuses the seven of disloyalty to the party, which sponsored them to Parliament.
Through his lawyer Aguko, Osman and Company Advocates, Oketch argues that a member of a political party may deemed to have resigned from the party if he or she promotes the ideology, interests or policies of another political party.
Jalang'o, Ojienda and the five other MPs met President William Ruto on Tuesday, February 7 at State House, Nairobi.
The others are Gideon Ochanda (Bondo), Caroli Omondi (Suba South), Elisha Odhiambo (Gem), Paul Abuor (Rongo) and Mark Nyamita (Uriri).
Kisumu East MP Shakeel Shabbir, who is an independent lawmaker, also attended the Tuesday State House meeting.
"Initiate the process of having their (seven ODM lawmakers) names struck of the Party Members Register in accordance with the Provisions of Section 14A (2) and (3) of the Political Parties Act No. 11 of 2011 of the Laws of Kenya," said Oketch.
In alternative, the Migori Senator asked ODM to initiate disciplinary action against the seven within seven days after receiving his letter dated February 9, 2023.
The purpose of instituting disciplinary action is to have the seven legislators "expelled from the party if found culpable in accordance with Section 14B of the Political Parties Act", said Oketch.
"Pending the decision [by ODM], the said-individuals be forthwith de-whipped and/or recalled by the party from all parliamentary leadership positions and committees that they are serving in," Oketch stated in his letter to ODM.
The seven parliamentarians said on Tuesday that they met President to discuss development, and not politics.
President Ruto, in a press statement, said the opposition legislators visited him to "foster coexistence and work together in confronting the challenges facing our country".
"They must endeavour to lead by example and serve the interest of the people. This is a sure route to a more united and developed Kenya," said Dr. Ruto.
ODM Secretary-General Edwin Sifuna has since replied to Oketch's letter, saying: "Internal mechanisms have been initiated with a view of processing your letter for action by the relevant party organs in accordance with Party Constitution and any other relevant law."
Related Topics