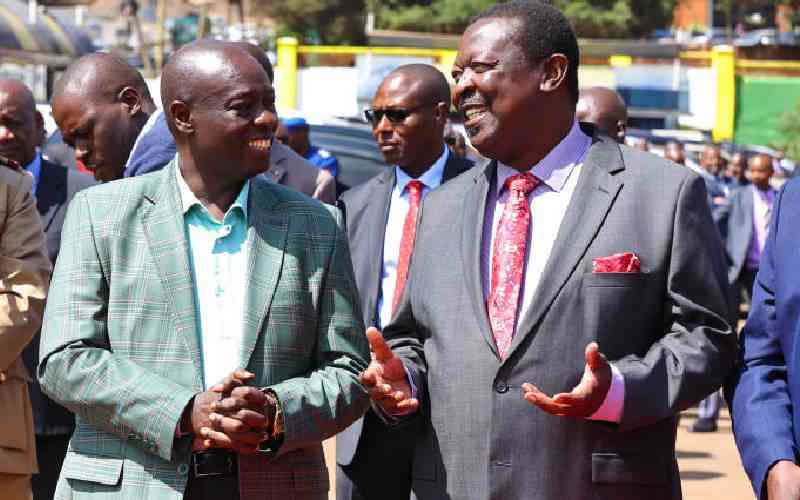 Prime Cabinet Secretary Musalia Mudavadi by a hierarchy of government is the third in command after President William Ruto and his deputy Rigathi Gachagua.
His position according to Executive Order No.1 of 2022, was designated by President Ruto to handle the Government Delivery Unit and assist the president and the deputy president in coordination and supervision of government ministries and state departments.
With an influential post and powers the Prime CS is supposed to liaise with the ministry responsible for Interior and National Administration in overseeing the implementation of national government policies, programmes and projects together with chairing and coordinating national government legislative agenda across all ministries and state departments for transmission to coalition leaders in Parliament.
Mudavadi will also be tasked with chairing the principal secretaries committees and supervising technical monitoring and evaluation of government policies, programmes and projects. Despite the fine print on his powers and privileges, there has been some grumbling from a section of his people that they were yet to feel his firm presence in government.
After he was appointed, it took Mudavadi two months operating from his private office along Riverside Road before he got a makeshift office at the Treasury Building. He is to be stationed at Railways Building but that will be until the end of January.
Without his knowledge
Owing to such delays in making him comfortable in his office, sources around him indicate the former Vice President who has been assigned two principal secretaries, has not had much influence on decision-making process equivalent to the power and influence he should have.
"He has not put up a team in his office, people are seconded to his office without his knowledge, some people who were at the Presidential Delivery Unit, this delay in making comfortable in office could be the reason he had not been felt strongly by his close allies," said a source.
Another source wondered why Mudavadi had not had influence in major decisions including appointments in government by virtue of the clout he has.
"Ruto for instance set the pace in defining the office of the DP and Gachagua has taken the cue. This would be the chance for Mudavadi to do the same for his office in terms of giving it character," said the source.
This has seemingly, they said, denied the former minister of Finance the opportunity to build the clout necessary in the early days.
His allies are concerned that the lack of influence in the office, coupled with the fact that he relinquished leadership of his Amani National Congress (ANC), could affect his political stature.
But during the 43rd Maragoli Cultural Festival at Mbale Municipal grounds last week, Mudavadi seemed to enjoy a bigger sway and left a mark that is slowly galvanising the Luhyia region behind him.
"You must support Kenya Kwanza and me so that I get the energy to make you grow as I grow. The growth of a society starts with its interest, Western wants jobs, business and investments in agriculture, health and infrastructure," said Mudavadi. "I want you to move forward with me, if you want us to be strong in President Ruto's government you should turn and stay with us in his government."
The leaders in the festival forged for Mudavadi. Sabatia MP Clement Sloya said the Luhya community will now support Mudavadi as their kingpin. "We should be proud of our son Mudavadi, we should give him power to bargain for our community," said Sloya.
Shinyalu MP Fred Ikana said Mudavadi should be the eye of Luhya community in Kenya Kwanza government and be given ample time to channel development to the region.
He urged the PCS to help the community secure jobs and other opportunities in government. "As the Prime Cabinet Secretary continues to work with President Ruto, he should be ready to take over the presidency in 2032," said Ikana.
"Please bring us together so that we can have power to bargain for more in government," said Omboko Milemba, MP Emuhaya.
Kimilili MP Didmus Barasa warned leaders from the region who want to deter Mudavadi and Moses Wetang'ula's political ambitions to stop and instead support the two. "I see some politicians from the area say Raila Odinga is their Prime Minister. They should know Mudavadi is senior," said Barasa.
Even ODM members led by Vihiga Governor Wilbur Ottichilo acknowledged the power Mudavadi had in uniting and propelling the Luhya community forward.
"We have decided to work together with the current government under President Ruto and his Prime Cabinet Secretary Musalia Mudavadi," said Ottichilo.
Fit-for-purpose
Mudavadi made a return to Cabinet after nearly 10 years in the cold, his last appointment was in 2012 when he served as deputy Prime Minister in the grand coalition government.
Political analysts had opined that Mudavadi would be the right fit-for-purpose for that office since he will be the linkage between the Executive and the Legislature in ensuring that the policies of the Kenya Kwanza Government are fully actualised through legislation.
"The docket of the Prime Cabinet Secretary entails coordination, evaluation, monitoring and implementation. As designated, it will be the fulcrum upon which delivery of public services will be measured, and therefore after which public trust will be cultivated," said Dr Alutalala Mukwana.
"Character is key in terms of how one delivers on the assigned task. Mudavadi has been known to be a safe pair of hands, humble, trustworthy, focused leader and diplomatic. These are key attributes for the effective delivery of the job at hand. Mudavadi is the best bet for coordination," said Prof Peter Kagwanja.
But three months after his elevation to office, Mudavadi seems yet to find his footing in the Ruto government.
Analysts have argued that the role makes Mudavadi the fulcrum between the Executive and the Legislature in ensuring Kenya Kwanza government policies are actualised.
According to the Kenya Kwanza agreement, Ford Kenya and ANC will jointly have 30 per cent of the positions in the national government including CSs, PSs, ambassadors and chairs and directors of State corporations.
Related Topics