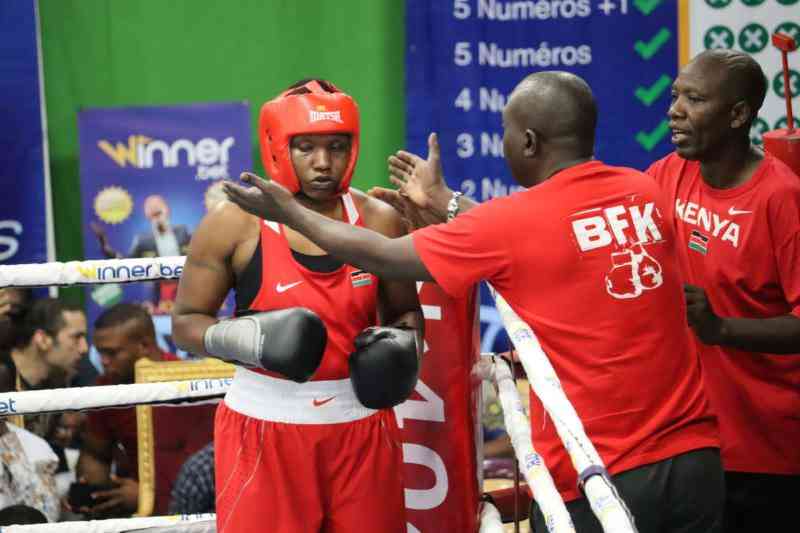 After failing to make it to Paris Olympics through the Africa Olympic Qualifiers, Africa Zone Three heavyweight gold medallist Elizabeth Andiego is ready for the two World Olympic Qualifiers.
The two global qualifiers are set for Italy and Thailand next year before the Olympics in August.
The first global qualifier will be held in Busto Arzizio, Italy from February 29 to March 12, 2024 and the second one in Bangkok, Thailand from May 23 to 3 June 3, 2024.
A further 50 boxers will qualify through the 1st World Qualification Tournament with 22 women and 28 men while the second World Qualification Tournament will see a qualification of between 45 and 51 boxers (20-23 women and 25-28 men).
Andiego said the two events are competitive but she was ready for them.
"I'm ready and willing to feature in the two (global) qualifiers and get my ticket to Paris Olympics," Andiego told Standard Sports on arrival from Dakar, Senegal.
Kenya had sent a team of 12 boxers to Senegal for the Africa Olympic Qualifiers where it was only Andiego who reached the finals.
Six Kenyan boxers made it to the quarterfinals and kissed the event goodbye with the exception of Andiego who also improved on her global amateur rankings by reaching that level that could as well earn her a wildcard to the Olympics.
On her way to 2020 Tokyo Olympics, Andiego secured her ticket on a wildcard that was premised on global rankings after the cancellation of the world qualifiers due to the coronavirus pandemic in 2020.
She said she was going back to serious training in readiness for the global qualifiers.
"I'm heading home to start serious training. There's no time to rest until it's achieved and I'm determined to make it to the Olympics again," Andiego said in the company of Africa Zone Three flyweight gold medallist David Karanja and former Commonwealth Games flyweight bronze medallist Christine Ongare.
Andiego is most experienced boxer in the squad has in the past taken part in the 2012 London Olympics and 2020 Tokyo Olympics.
Meanwhile head coach Musa Benjamin was a disappointed man after failing to register any member of his team for the Olympics.
"I'm disappointed for not registering any member of the squad for the Olympics. Six members reached the quarterfinals but none was a qualifier. We are going back to training in readiness for the two global qualifiers," he said.
Benjamin confirmed they'll take part in the Africa Global Cup to be held in South Africa this year as a measure to keep some of the quarter-finalists fitness levels high in readiness for the two global qualifiers.
"Some of these boxers have the ability to make it to the Olympics and they should be given another chance. Our participation in the world qualifiers is another forum to do so," he said.
The team arrived from Dakar, Senegal on Sunday night.
Related Topics