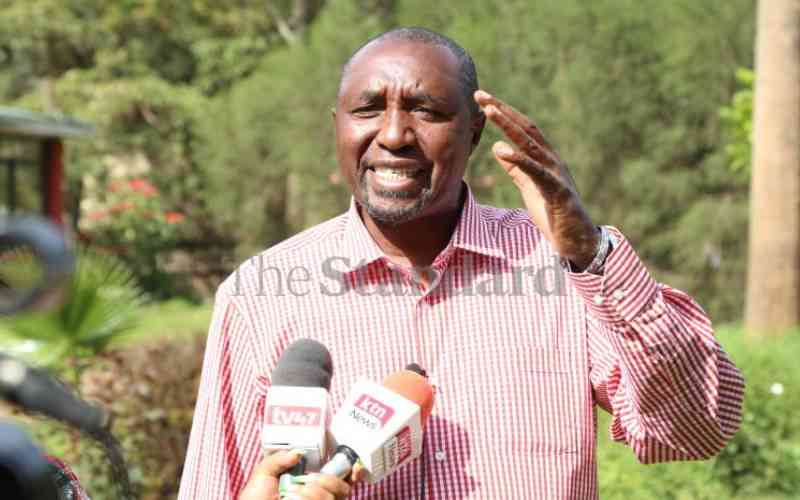 Former Bahati MP Kimani Ngunjiri (no relation to this author) and now an Assistant Minister for Lands is in the news, yet again, for an alleged breach of the peace.
Consequently, he was disarmed after firing his gun and injuring a man in Nakuru County. He also reportedly assaulted a grandmother.
The land dispute is already in court and Ngunjiri is the Assistant Minister for Lands.
But Ngunjiri being Ngunjiri - he was accused of assaulting a disabled politician last year and biting the thumb of Simba Arati (then Dagoretti MP and current Kisii County Governor), during a scuffle in Parliament in 2014 - he allegedly arrived on the half-acre farm at 6am, with a tractor in tow.
With him were some 100 men who proceeded to dismantle a wall on the disputed property.
When the granny stood in the way, as she drove her animals to the holding grounds, Ngunjiri was reported to have swung into action and assaulted her and firing at her daughter.
Another individual who was passing by was shot in the arm.
I find it hard to believe that Ngunjiri committed any of the offences. First off, he's a licensed gun-holder and the government would never have allowed him to hold a firearm if he had such public displays of violence.
I mean, even a banana republic wouldn't allow such individuals to bear arms. In any case, the man has been nominated to the Cabinet as an assistant minister.
Ngunjiri says he was first offered a full Cabinet minister's position, but he declined which shows he's a man of very high standing in society, not the hooligan others paint him to be.
Related Topics