A young man in Shibuname village, Ikolomani Constituency Kakamega County has been forced to abandon a three-acre piece of land and a house after he found that a 37-year-old woman who went missing six months ago had been murdered and buried in a shallow grave behind his house.
Rosebela Khamonya who hails from the same village went missing on September 11, 2022 while in the company of his two sisters.
Fabian Muteshi, 30, the owner of the land where Khamonya was found said he had just returned to the village from Nairobi on March 4, and decided to repair his house after staying out for some time.
The father of one had been repairing his house, and on the third day when he was preparing mud to apply on his house, he dug into a sack that made the jembe bounce and immediately a sharp smell of a rotten substance filled the air.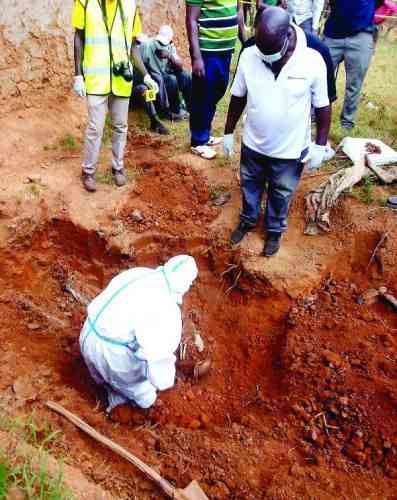 According to Muteshi, he tried to pull out the sack but it was so heavy that he had to call for help from his relatives who later came and pulled it out. They were shocked to find out that it was the body of a woman whose head had been severed.
"We found out that it was a body of a woman and we decided to call the local authorities who spread the message to villagers of anyone who might have lost their kin to come and identify the body and indeed one of the families identified the body stating it belongs to a woman who went missing six months ago in the company of his two sisters who had gone to look for vegetables," said Muteshi.
The body was later exhumed by police and taken to Kakamega General Hospital Parlor for postmortem.
Vacate house
However, Muteshi has been ordered to vacate the house and the land following the bizarre incident according to Luhya culture.
When The Nairobian caught up with Muteshi he said that he has been ordered by elders and family to move out of the piece of land and settle somewhere else.
"In fact, I moved out of my house on that material day. I do not sleep there, I sleep in one of my relative's houses, the family and elders told me that the act is a sign of something bad to happen if I do not leave the place," said Muteshi.
"They argued that I have been murdered and buried alive and therefore if I continue staying there what happened will come to pass either to one of my family or I will be in such a situation. I have been told to sell the land and buy another land somewhere else to avoid the bad omen and the roaming dead spirit of the deceased."
Muteshi also has to undergo a cleansing ritual for him to be safe from the dead spirit of the deceased which is haunting the blood of her killers and if he does not the dead spirit might haunt one of his family members.
"I have been just told all those things and I have to do them. I am just worried about what happened. I don't believe in all that cleansing but I have no other choice but to follow what I have been told," said Muteshi.
Cyrus Musila, a community administrator argued that the young man has to move out of the land and that he has no other option.
Related Topics