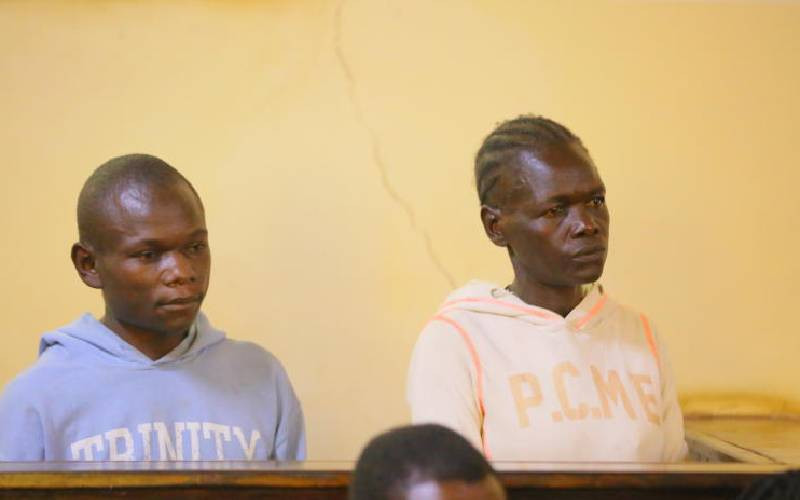 Three relatives implicated in gouging out the eyes of Baby Sagini will wait until March 2 for the pre-trial hearing in the attempted murder case.
Pacifica Nyakerario, Alex Ochogo and Rael Nyakerario appeared before Resident Magistrate Christine Ogweno at the Kisii Law Courts for the mention of the matter.
However, the complainant's counsel, the DPP and the Children's Department filed an application to have the matter adjourned.
The victim's advocate, George Morara, sought orders from the court to bar activists and social media users from infringing on the rights of the minor and the family.
"Section 19 of the Children Act gives children the right to privacy subject to parental guidance. The minor's sister has been keen at checking the mother's phone with a keen eye to know what has been happening. This is all about the information she has heard being shared on social media," Morara said.
The DPP requested for two more weeks to have the victim undergo bonding and be able to speak. The magistrate directed that the suspects appear in court on March 2, 2023 for pre-trial and that all social media users and activists remain barred from prosecuting the case in the public.
"This is an order to those at the gallery that they should respect the rights of the minors and the family. Allow the victim to heal to be able to appear in court and to testify on the matter," said the magistrate.
There was laughter when one of the accused requested the court to hasten the matter arguing that the police cells were not conducive for him. "I have not enjoyed my New Year. We have enough mattresses but the bed bugs have been on my case. It's a painful stay," Ochogo said.
On taking plea late last year, the court had been told that the three colluded and gouged out Sagini's eyes, leading to permanent disability. They are accused that between December 13 and December 1, 2022 at Ikuruma location in Kisii County, they attempted to cause the death of the minor by gouging out his eyes contrary to the penal code.
Related Topics