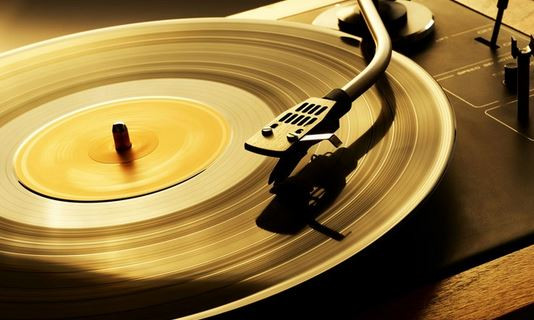 After two failed marriages, big bands, multiple records, and awards Gido Kibukosya has found love yet again at 60, which has brought him inner peace having traded the hustle and bustle of the city for the serene country, writes Isaiah Lucheli.
Behind the mixer, Gido Kibukosya taps his feet and nods his clean-shaven head as he adjusts the sound levels of the musical beat he is working on. He infuses the rhythm and baseline to create a melodious harmony, as he welcomes us into his village studio.
This was his life for over 40 years in Nairobi and now he recreates it in Kakamega.
Four years ago, Gido decided to quit city life to relocate to the quiet rural life in Mukumu village, of course with his new love, Linda Onyimbo.
For a man who schooled at St. Georges and St. Mary's with President Kenyatta's brother Muhoho, Jimmy Wanjigi, and David Kibaki to leave the concrete jungle and settle in shags with a new wife at 60 was startling. But the lovebirds, married six years ago, were determined to succeed as they embarked on farming sugarcane, avocadoes, sweet potatoes, and a variety of vegetables
"Linda was God sent to me and I love her. We agreed after the meeting to relocate to the village. Linda was the first to settle in Mukumu and I joined her after a year," explains Gido.
Linda has heaped praise on how her husband remained focused despite having gone through a lot in life, which he has overcome giving him a new dawn. She adds like how good Gido is with his guitar is the same way he is good on the farm and in marriage.
"Our relationship is very mutual and we understand each other's feelings. Gido has found a new passion in farming, he is very good," she says.
The move to shaggs has worked out well for Gido. Looking a bit plump, a visibly relaxed Gido has put on extra kilos, a far cry from his skinny look. Even the earring that once hung loosely on the left ear seems to fit.
Gido takes us around to show us his rural home, which has a state-of-the-art music production studio and an extension under construction to cater to music production for large choirs.
Inside the soundproofed studio, we settle down on a luxurious couch for the interview.
"I found inner peace in the village. It has opened my eyes to the other side of life, farming! As a born tao, I never thought I could farm and produce music at the same time. I go to the farm at 6 am then settle in my studio for production work in the mid-morning," explains Gido as he points at his cattle grazing in the large compound. "Those are part of the dowry I received from my daughter Yvonne, who is married to Raila's son," he continues.
Gido adds Raila Odinga's family paid seven heads of cattle and cash as per the Luhya tradition.
"But dowry payment is not a one-off. It is continuous throughout the families life to cement the ties," he adds.
The groom's party was led by Oburu Odinga and a host of political bigwigs from the Western and Nyanza region. He explains that Raila Junior is a humble son-in-law and his parents are also good in-laws. However, the two families rarely meet, as they are busy with politics.
"Agwambo (Raila) is the king of politics and I am the king of music. When he says nobody can stop reggae then I want to assure him that I will use my music prowess to ensure reggae does not stop," muses Gido.
After the dowry, Raila Junior and Yvonne Kibukosya tied the knot at the swanky Windsor hotel.
"She is my daughter with Anne Gathira but our relationship ended. Her parents were opposed to the union," explains Gido, who sired three children with Anne, two girls, and a boy (Yvonne, Crystal, and Peter). "They felt that a musician was not good enough for their daughter."
After the breakup with Anne, Gido adds he met the now ex-wife Suzanne Gachukia and fell head over heels. Back then Gido was playing as a bassist with Gordon Ominde's Black Savage. He decamped and joined Suzzane Gachukia, Joy Mboya, and Susan Matiba under the band name Musically Speaking.
"It was the best match because we shared the same interest. We were always together in the studio and at home, which made life exciting," he adds.
As a couple, they put their egos aside and focused on family building and production under their label Samawati.
"It was the perfect match and reaching a decision on any particular production was easy. At the studio, I would outline her job and after she was done, she would go back home and take up her role as a mother," he recalls.
The couple was blessed with two sons Marcus and Miles, both part of the super band Camp Mulla.
"Marcus was the producer for Camp Mulla until they broke up. He also studied music abroad, while Miles plays the saxophone and he is also a footballer," he explains.
But marriage with Suzzane did not last a lifetime. After many years together, there was trouble in paradise. The couple started drifting apart with the final straw being Gido's love for the bottle while Suzzane sought solace in the arms of a famous newscaster. The fallout was aggravated by the advent of FM stations that took up all advertising from record labels, leading to a financial crunch.
"I almost got into depression. With zero adverts and my wife leaving home, I resorted to heavy drinking," he adds.
But after many mishaps, Gido quit the bottle for good.
"I stopped drinking alcohol. I'm now a teetotaler," he adds.
That sobriety triggered him to leave the city for the village, where he found peace. After 50 years of chasing fame and fortune, Gido has found love too.
The musical journey of a legend
With a music career spanning over 50 years, the Kibukosya family is renowned in the entertainment industry. He has been a household name since the early 60s when the patriarch of the family, Peter Kibukosya, then the Chairman of the Kenya Music Festival, took part in the composing of the national anthem for soon-to-be independent Kenya. Peter's only son Gido and his children carried on the baton passed on by the renowned composer.
"I was involved in music as a child. I carried my father's tape recorder wherever he went to music festivals and practices," he explains.
Growing up in Mariakani, South B, and attending St Mary's Secondary school in the early 1970s, his father gifted him a guitar in Form Three, which marked the beginning of his music career.
Gido recalls his father was more into classical music and choirs but he cherishes traditional music fusion of modern music and a lot of jazz.
"Listening to folk songs and traditional music when I moved around with my father informed my decision to advise Kayamba Africa to take on the traditional music and infuse modern style. It made them tick," he recalls.
After finishing school, (Form Six) he enrolled in computer studies which led him to establish the first digital production studio.
"The music industry the world over was changing and I had a lot of interest in digital music. In 1994 lady luck smiled on me when I was sponsored by USAID to go to America to study the American music industry," he reminiscences.
The study gave him an opportunity to interact with top American producers such as Quincy Jones and Baby Face. The peak of the study was the making of Michael Jackson's first album and they were taken through it by a Professor known as Glen Ballard the composer of Michael Jackson's song 'Man in the Mirror.
On return home, Gido was motivated to start Samawati Production, which became the first digital studio in Kenya.
"I worked with many talented artists including Samba Mapangala, Mercy Myra, Juma Odemba of Kayamba Africa, Ian Mbugua, Tedd Josiah and Five Alive, Eric Wainaina, and Sauti Sol," he recalls.
The explosion of music happened at Samawati where he says they helped many artists actualize their dreams.
"It was not about the money. We were the first people to start the distribution of music in supermarkets. It really helped in marketing the music," he adds.
The producer met a lot of challenges when he set up the digital studio as the majority of the old genre of musicians such as Daudi Kabaka, who operated in studios along River road, were reluctant to embrace the new changes. They only warmed up to the idea after seeing the results.
"It was not easy to make the old artists embrace the digital era. But I convinced benga maestro Joseph Kamaru and many others followed suit. This was a big break," he explains.
His parting shot to the young aspiring and practicing artists is that they should learn to play at least one musical instrument otherwise they will fade away after a very short stint in music or all of them will end up being rappers and singers.
Sidebar
The days of the Black Savage band
Early in his music career, Gido used to hang out in Lavington where they used to perform in various joints and that is where he first met Gordon Ominde and his eventual recruitment to the Black Savage band as a Bassist.
"Ominde was a serious musician and he had just returned from abroad. I used to hang out in Lavington and one day he approached me and said he was looking for a bassist and I fitted in perfectly. That is how I joined the Black Savage," explains the musician.
They did their first recording with CBS and toured the whole of Kenya performing at various events. He adds that Ominde was a humble man who loved his booze.
Gido was with the Black Savage for three years. The band comprised Ayub Ogada, Jack Odongo, Samite Mulondo, Tony Ndung'u, Walter Amalemba, Sammy Esikati, and Kasule Mopepe. They released several hits including Koth Biro, a big hit in the 1980s. The song has since been sampled by Kanye West in his album, Ye.
Gido still recalls his friendship with Bruce Odhiambo who was also a musician and a producer at Johari Clef. "We were always together. His death dealt me a huge blow. I was hurt," says Gido.
The musician says Bruce's death still affects him to date.
"I was the 'good cop and Bruce was the bad cop' I would tell Bruce to let us go easy with some artists but Bruce would hear none of that. He was the type of guy of twende (action) He was a person who would not give you a chance if felt you were wasting his time," recalls Gido.
As a producer and bassist, Gido explains that the best artiste he worked with was Mercy Myra because she was very patient. Other great artists included Juma Odemba of Kayamba Africa, Ian Mbugua, Tedd Josiah Five Alive, and Eric Wainaina. Samawati production was the hub as it was the first digital studio in Kenya.
"Samba Mapangala was also very patient and experienced while Pete Odera was very humble," he adds.
Related Topics