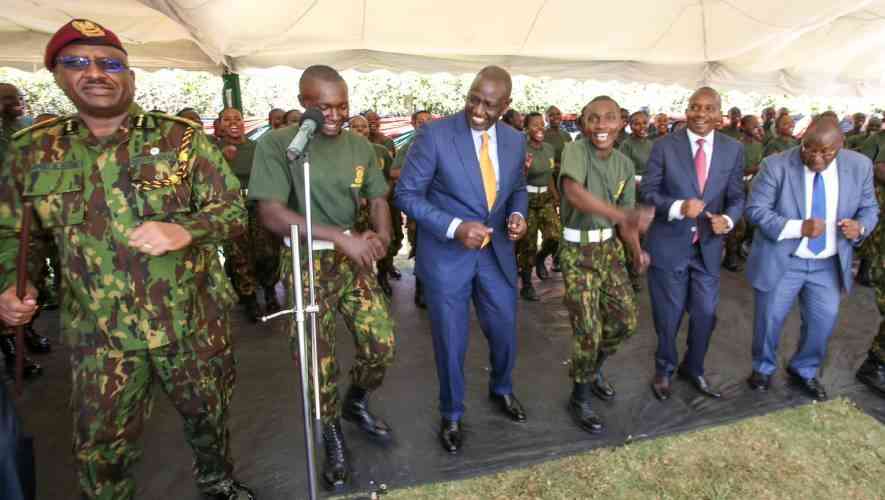 President William Ruto has reiterated his commitment to ensure that all Kenyans are safe, by increasing the number of officers in the police service.
Speaking during the 49th General Service Unit (GSU) recruits passing-out parade at the National Police College, Embakasi 'B' Campus, Ruto said the increment of officers is a clear demonstration of Kenya Kwanza's determination to develop a system that addresses and resolves national security challenges and threats to law and order.
"This occasion is also evidence that we are attuned to the complexity, dynamism, and magnitude of the policing environment. This graduation ceremony is the third this week, and the last instalment of 991 recruits making a total of 5867 officers who graduated in the past three days," Ruto said.
At the same time, the Head of State urged the recruits to conduct themselves in an orderly manner and promote national cohesion while eradicating tribal and other forms of discrimination. He also called on the new recruits to help curb insecurity in various parts of the country, including the cattle rustling menace.
"The new policing paradigm that the government is promoting, demands of you to apply yourselves to your work in an exemplary manner that when law-abiding Kenyans see you, they should see hope, relief, safety and a solution to their challenges. And when criminals and antisocial elements see you, they should immediately regret their actions and respect our people, their interests and national institutions," Ruto added.
The President also reiterated on the independence of the office of the Inspector General of Police (IG) as demonstrated by his action to transfer the police budget from his office to that of the IG, stating that the autonomy of the police service will safeguard professionalism and the independence of the institution.
On Tuesday, January 10, the President presided over his first pass-out parade since he took power.
During the event at Kiganjo, more than 5,000 police graduates were released to the service after a nine-month training at various National Police Service training colleges.
Thursday's graduation ceremony is the third this week, and the last installment of 991 recruits making a total of 5, 867 officers who have graduated in the past three days.
Related Topics