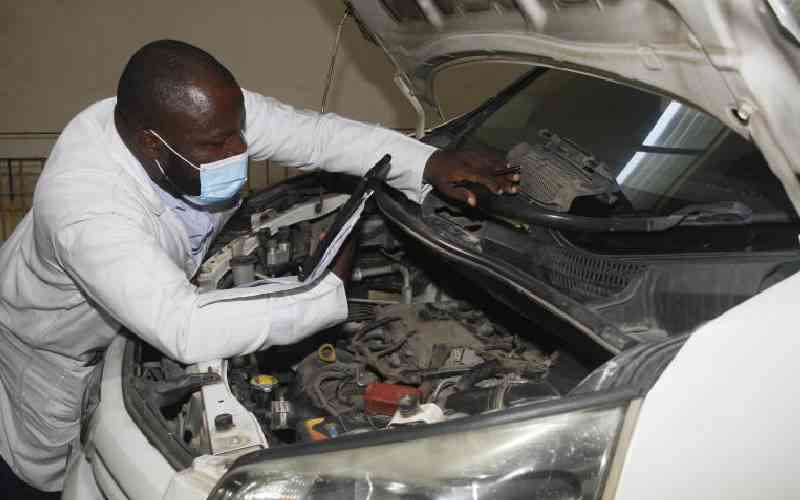 All private vehicles will be subjected to annual inspections and issued with a certificate of roadworthiness, if the new proposed traffic regulations are enacted.
Yesterday, National Transport and Safety Authority (NTSA) conducted public participation in Mombasa, noting the State will contract private vehicle inspection firms to carry out the exercise.
The authority has proposed to charge between Sh1,300 and Sh4, 600 for the inspection of vehicles. Vehicles above 3000cc will pay Sh3900 and those below 3000cc will pay Sh 2600.
The proposals sparked a heated debate, with some participants proposing traffic police be banned from mounting roadblocks because they have not helped to reduce road carnage.
Stakeholders supported stiffer penalties for drivers, saying that was the only way to reduce road carnage and instil discipline in the drivers.
They also supported the proposal to suspend the licenses of rogue drivers for six months.
NTSA board chairman Aden Nur Ali urged Kenyans to come out and give their views on what they want to be included in the proposals of the new rules and regulations being proposed by the authority.
"We want to make sure the road carnage is minimized by regulating the road users. We cannot enact the new laws without your participation," said Nur Ali.
NTSA Deputy Director of Motor Vehicle Inspection Engineer Nyaroya Opere said to bridge the gap in the law, NTSA has proposed to outsource the inspection of private vehicles.
"Currently, NTSA is inspecting PSV and Commercial vehicles only, and yet the law requires that all vehicles must be inspected," said Engineer Opere.
He said the authority has proposed to partner with private firms to get rid of unroadworthy private vehicles on the roads, adding that inspection would be conducted every year.
During the meeting, Transport Licensing Appeal Board Secretary Andrew Kimani said removing traffic police from the roads was long overdue.
He said Kenya should adopt new technology to manage the roads across the country, arguing the presence of the traffic police had not helped to reduce the road carnage.
Dr Kimani suggested that the Ministry of Transport should introduce monitoring cameras on the road so that any driver caught breaking traffic laws is arrested and taken to the nearest police station.
" Most vehicles were causing accidents because people charged with that responsibility are not qualified," he said.
The meeting proposed vehicle inspectors must possess a Diploma in motor vehicle engineering or automobile motor vehicle engineering.
Further, NTSA should revoke, suspend or refuse to renew the license of rogue drivers.They also supported the removal of police roadblocks and replace them with digital monitoring.
Related Topics