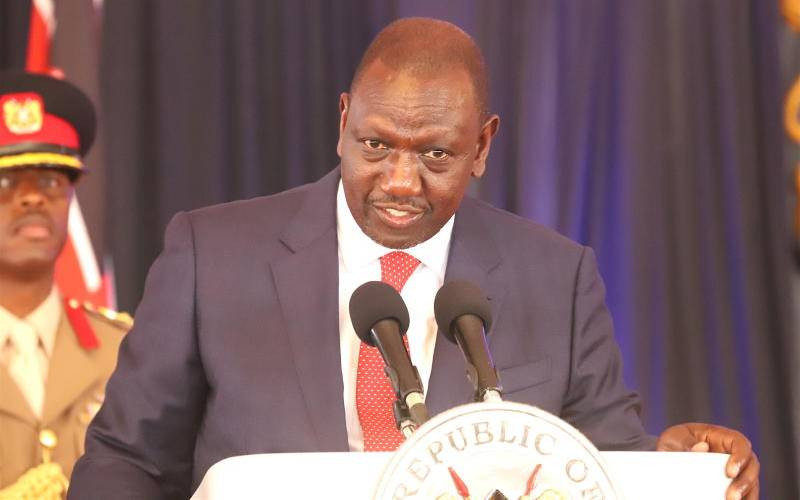 The Kenya Kwanza government will partner with financial institutions in the distribution of funds from the 'Hustler Fund'.
In draft regulations published by Treasury Cabinet Secretary Professor Njuguna Ndung'u, the fund will be launched on December 1.
Financial institutions will get to distribute the Sh50 billion which will be in form of loans but they may be needed to match the amount taken by their capital.
According to Prof Ndung'u financial intermediaries may apply for loans from Hustler Fund and then lend the same to business people or Micro, Small and Medium Enterprises (MSMEs).
The regulations say that the source of the money will be: as appropriated by the National Assembly, income generated from the proceeds of the Fund in form of interest and other charges such as penalties, and income from investments made by the Fund.
It will also come from grants, donations, bequests or other gifts made to the Fund and monies from any other source approved by the Cabinet Secretary.
These funds shall be managed by an Advisory Board consisting of a non-executive Chairperson appointed by the President, the Principal Secretary to the National Treasury or his representative, designated in writing, the Principal Secretary of the State Department for MSMEs or their representative.
It will also include the Principal Secretary of the State Department for trade or their representative, the Attorney-General or his representative, and two other persons, not public officers, who shall be appointed by the Cabinet Secretary for responsible matters relating to MSMEs. The fund Administrator shall be the Secretary of the Board and an ex-officio member.
The board may invite any other person to attend its meetings but will have no right to vote.
The Chairperson and board members shall serve for a term of three years but will be eligible for reappointment for one further term of three years, for a maximum of two terms.
The quorum necessary for the transaction of the business of the Board shall be a simple majority of the members.
For you to qualify for the fund, you need to be 18 years old, Kenyan or any other conditions as set by the board.
For MSMEs, Sacco's or financial groups the members must be 18 years old, registered by the government or the relevant institution and meet any criteria as determined by the board.
Any person who misappropriates the fund, gives false information or leaks information about the board and its activities except to the authorized people will have committed a crime and shall be liable to a fine not exceeding ten million shillings or a term of imprisonment not exceeding five years, or to both.
The fund shall be audited by the Auditor General.
Related Topics