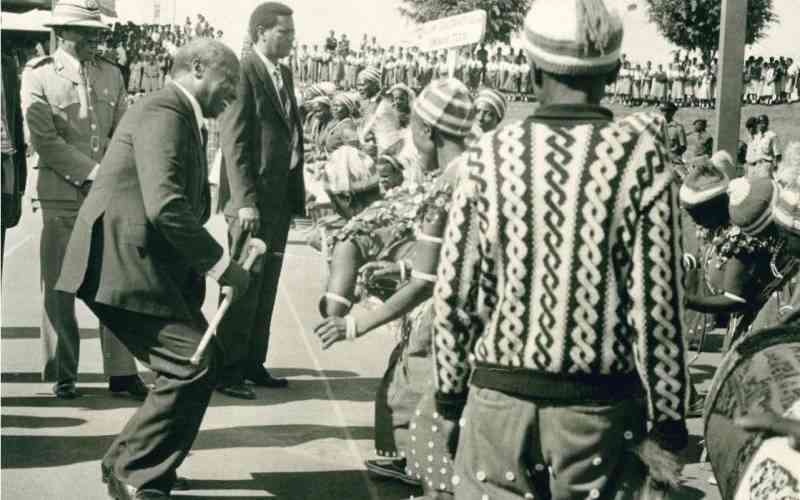 I was stunned. Startled by the deafening screams and shouts, I tried in vain to make sense of what was happening. I was lying on the dusty ground, with my head swirling and spinning. I struggled to sit up but some vicious pain on my sides and back pinned me down. My eyes were swollen and my face bloodied. I was surrounded by many faces, some smiling, others sneering. "He has been beaten by a girl," someone said with a prolonged evil laughter. Then, a strong hand held me and lifted me up.
Someone offered me water in a tin. As I took a sip, sudden pain seared through my body. That's when I realised that my lips were torn and my nose punctured. Memories came flooding back. I had successfully beaten five of my estate mates in our qualification fistfights that determined the leadership hierarchy and level of respect one was accorded within Nakuru's Kivumbini estate. I was exhausted but someone roughly pushed me back into the ring formed by dusty legs of boys sitting in a circle. Normally, Kings, our group leader, would pick a fighter before naming the combatants to engage him. I was about to complain that I had not rested when Lo and behold! before me stood Muthoni, my best friend.
"What! Am I supposed to fight a girl?" I protested.
"Yes, that is your challenger," shouted Kings. I was confused. The rules were clear, we never fought girls. Muthoni gave me a beautiful smile then struck with dazzling speed, with punches landing on my unguarded face. There were screams of excitement when blood gushed out of my mouth. I stood still. I couldn't hit her. But Muthoni didn't relent. Another flurry of punches then I hit the ground. I had just failed in my second vetting process to move up the leadership ladder. My net worth had vaporised.
By allowing a girl into our fight, Kings had broken the rules. He knew that coming from a family of numerous sisters, I wouldn't hit back at Muthoni. I became the laughing stock. As I limped away in tears, I recalled that Kings had been beaten countless times by my elder brother. He used me to settle personal scores. One had to win many fights to join the elite squad of the estate.
During the recent vetting of Cabinet Secretary nominees, I saw men and women receive punches and kicks they could not deflect. Some hit the ground like I did as the National Assembly tore through them. Some MPs behaved like Kings, settling party and coalition scores in the glare of national television.
Mithika Linturi, Aisha Jumwa and Peninah Malonza were hardest hit. Embarrassing questions weaved around their personal life, real, imagined and alleged scandals. With tearful and at times rib cracking moments, each nominee had to declare their net worth.
Public Service, Gender and Affirmative Action CS Aisha Jumwa, a woman who has been relentlessly fought during the electoral campaigns, broke down as she narrated the torment of growing in abject poverty. Nakuru East MP David Gikaria asked her to share snippets of wisdom that would encourage children struggling academically while discouraging parents not to be fixated on grades.
Kipchumba Murkomen, CS Transport, said he is the son of a squatter with a net worth of Sh550 million that includes town houses and a wheelbarrow. His Health counterpart Susan Nakhumicha eloquently described her life's journey as a daughter of a police couple whose work affected the family's stability.
With a broad smile, Youth Affairs, Sports and Arts CS Ababu Namwamba said he was a Country Boy. "I'm a boy who walked to school barefoot. I would sit in class with pangs of hunger but never lose a smile on my face or gladness in my heart or determination to finish school," he told the committee chaired by House Speaker Moses Wetang'ula.
After days of grilling in glaring public view, one nominee was rejected unanimously while two others were rejected by Azimio allied MPs. Junet Mohamed, a member of the minority side, said, "Some of the nominees are distinguished and outstanding. But…some have live murder cases in court…We are not conveyor belts or rubber stamps for the Executive."
However, like my strong helper, the Executive lifted the rejected three and placed them on the high table with the rest. The whole purpose of vetting nominees was to give Kenyans leaders of integrity. However, a determined Executive will always hold sway, turning the entire process into a game of musical chairs.
Jomo Kenyatta's time
President Jomo Kenyatta had absolute powers in the choice of his Cabinet. His first Cabinet was made up of young, freshly educated beneficiaries of the educational airlifts of the late 1950s and early 1960s. Geoffrey Kareithi, who served as Kenya's head of civil service for 12 years under Kenyatta and one year under Daniel arap Moi, says Jomo's ministers were educated and passionate about serving the country.
In his unpublished memoir, Cool Under Fire, Kareithi says, "It is astounding that my generation, born in mud and dung huts with no doors, were able to transform ourselves through education into successful managers of a modern economy. We made Kenya an equal to the Asian tigers. We were all in our mid-20s to mid-30s."
Jomo's youthful Cabinet had leaders such as Dr Julius Gikonyo Kiano, Thomas Joseph Mboya, Mwai Kibaki and Dr Njoroge Mungai. Attorney General Charles Njonjo and Mbiyu Koinange became powerful kingmakers. At its inception, Jomo's government was hit by the Shifta wars, a military coup plot, and the assassination of politician JM Kariuki. Then mega corruption and smuggling of cloves, ivory and coffee set in. Crime and violence rose, leading to the enactment of the Hanging Act. College, high school riots, and worker strikes became common. Then Uganda's Idi Amin Dada expelled 50,000 Asians from Uganda in 1972, denting the Kenyan economy.
Kareithi says after Kenya helped the Israeli government in rescuing Jewish hostages in Entebbe, Uganda, Amin planned an attack on Kenya. However, the Israeli commandos had destroyed his airbase and jet fighters. He was militarily crippled. Bruce Mackenzie had persuaded Kenyatta to permit Israeli Mossad to collect intelligence prior to the Operation Thunderbolt, with the Israeli Air Force using Nairobi to fuel and strategise. On May 24, 1976, Mackenzie died.
Kareithi had warned the agriculture minister to cease his business operations in Uganda. "I asked Bruce McKenzie to stop travelling to Uganda where he had businesses. He ignored by advice. On his next trip, Idi Amin gave him the head of a lion as a present. Within it was a bomb timed to go off at a certain altitude. And that is how we lost a young brilliant minister."
Dr Kiano once told me that Jomo had his own intermediate vetting formula of his wayward ministers. "He would summon them to State House, order them to lie down and whip them."
Moi and Kibaki styles
Just like Kenyatta, Moi and Kibaki did not have to take their Cabinet appointees through any validation process. Kibaki even ignored a power sharing agreement he had with other leaders. He appointed his own people. Kibaki filled his government with cronies. He appointed friends such as Chris Murungaru who held the powerful portfolio of Internal Security and later Transport. The tall, burly man from Nyeri would break into sweat even in the coldest of seasons.
If Moi wanted to fill up a major position, he had his own vetting formula. I'm told that he summoned Prof George Saitoti to the Office of the President. As Saitoti enjoyed a cup of warm tea, he was given his personal file from the National Security Intelligence Service (NSIS). It contained information on his entire life from childhood, with secret information on groups and people he associated with while studying abroad. Saitoti was drenched in sweat after reading through. Then Moi said, "I want to make you my Vice President." All appointments would be announced on national broadcaster, Voice of Kenya.
Former ambassador and Kigumo MP John Mwaura in his forthcoming book, For my Flag and Country, delves into the quality of ministers that served under Jomo and Moi. He says the Ministry of Foreign Affairs had been led by brilliant and seasoned politicians such as Joe Murumbi, Argwings Kodhek, Dr Njoroge Mungai, Dr Robert Ouko and Dr Munyua Waiyaki.
Mwaura, who served as Kenya's ambassador to Germany in 1981 when Moi went on a State visit, says, "I have never recovered from Moi's delegation. It was an interesting and colourful mixture of personalities. From the most powerful and educated to the illiterate, clownish yet influential. They were Njonjo, hefty Maasai kingpin Stanley Oloitipti, Dr Waiyaki, then minister for foreign affairs, and GG Kariuki, minister of State in the President's Office. Then there were the illiterate politicians; Kariuki Chotara and Mulu Mutisya."
Those clownish and illiterate leaders served Moi well. They had deep emotional and political connection with the grassroots. In political parlance they were worth more than a million intellectuals.
Mwaura says during dinner with Queen Juliana of the Netherlands; "The Queen was talking to Oloitiptip when one senior minister of the Kenyan delegation suddenly interrupted her to tell her that the Maasai leader was not only fat but married to many wives."
Oloitiptip was big physically and politically. He was powerful and wealthy. The bulky MP for Kajiado South was a father of 67 with 13 wives. He once spent Sh150 million on his son's wedding. However, when he was fired in 1984, his loans were immediately recalled. He was arrested for allegedly failing to pay taxes. Shocked and depressed, he died in January 1985. I wonder what his net worth would have been if he appeared before the Wetang'ula committee.
Soon after Moi ascended to power, Chotara was unleashed to dismantle the powerful and wealthy Nakuru Mafia that tried to stop Moi from becoming president. He was used to cut their political limbs.
Ukambani's Mulu Mutisya reigned supreme throughout the Moi era. Paul Ngei, a leading Kamba leader, had sided with the Kiambu Mafia to block the Moi presidency. Mutisya's star slowly eclipsed Ngei's in Ukambani. Mutisya was a witty political genius. Jomo nominated him to Parliament in 1974 and Moi nominated him for 18 years.
In the 1980s, Moses Mudamba Mudavadi, served in the Moi Cabinet as minister in charge of local government. Mudavadi Snr was very influential and close to President Moi. Ambassador Mwaura describes Mudavadi as, "A fearless, brave, patriotic, committed and hardworking minister." Mudamba's son, Wycliffe Musalia Mudavadi, was among those reciting their net worth while defending his ambition and ability to serve in the Ruto government.
Uhuru Kenyatta followed in the footsteps of Moi and Kibaki in his choice of the Cabinet. He even introduced major power shifts with the handshake with opposition leader Raila Odinga.
It's Ruto's time
If President William Ruto wants to change the history of Kenya's leadership, he must ensure his bosom buddies deliver on their mandate. He should borrow lessons from Singapore, which gained formal independence on August 9, 1965 with Yusuf bin Ishak becoming its first President and Lee Kuan Yew its first Prime Minister.
Lee shares useful lessons. Singapore started off badly. Most of its three million people were jobless and lived in slums. It was devoid of natural resources with no sanitation. Lee, a Cambridge Law graduate, was denied international assistance. Singapore had to fend for itself. Lee and his team were encouraged and influenced by the State of Israel, and its ability to leap over its Arab neighbours. Singapore had no industrial tradition. Majority of its working population was in trade and services. It had no hinterland and was surrounded by hostile neighbours. They had to look for opportunities beyond borders to spearhead Singapore's industrial development.
Lee knew they had to connect with the developed world and convince multinational corporations to manufacture in Singapore. To attract investors, Singapore had to create a safe, corruption-free environment that was low in taxation. It introduced harsh laws to tame crime. Those conducting narcotic trade or with their fingers in graft attracted a death penalty. Today, Singapore is a modern and industrialised nation.
Ruto is leading a country endowed with a million times more human and natural resources than Singapore. However, Kenya is trapped in the mighty grip of the corruption mafia. Lee's fight against corruption became so tough that he lost many close friends. Ministers were fired, some fled the country. One, a close friend of Lee, committed suicide out of shame. Blessed will be the day Kenya's corrupt leaders will take their own lives out of shame!
Related Topics