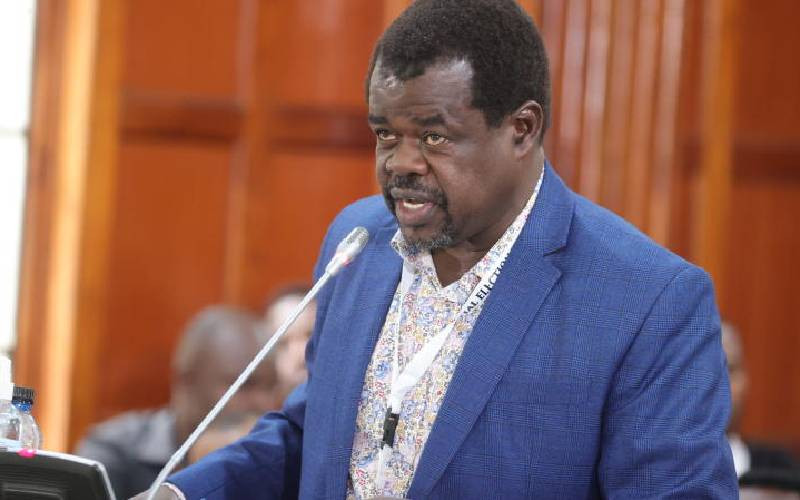 Whereas one would have expected that the focus at the Supreme Court would have been on the lawyers donning expensive suits, black robes and white wigs during the hearing of the presidential election petitions, one man did steal the show with his submissions and casual dressing.
That man is activist Okiya Okoiti Omtatah, the Busia senator-elect, who has been christened the perennial litigator due to the hundreds of cases he has filed in court to defend public interest and advance the rule of law.
Omtatah maintained his casual look; a coat, trademark big collared shirt and no tie.
The senator-elect might not have studied law, but his understanding of the subject and crisp arguments have set precedents in the corridors of justice. Some of his cases are used as authorities to determine other cases.
When the Supreme Court judges make the anticipated judgment on the petitions challenging the declaration of Deputy President William Ruto as president-elect, Omtatah will have a special mention of being one of the petitioners.
Omtatah, Wycliffe Nyakina and Victor Okuna's case was straight to the point. That the Independent Electoral and Boundaries Commission (IEBC) did not conduct the election in accordance with the law and that Ruto did not meet the 50 per cent plus one vote threshold. Yesterday, the apex court quashed their petition.
The activist caught Kenyans' imagination with his PowerPoint presentation of his tabulation to show that none of the presidential candidates achieved the threshold.
"A correct tabulation of the voter turnout announced by the chairman showed that he cannot account for 140,138 votes. If this is correctly put in the final tally, it shows that Ruto did not win the election and was irregularly declared as the winner," said Omtatah.
As matter of fact, the 57-year-old father of three would have been at the pulpit preaching the gospel were it not for a strange illness that made him drop out of St Peters Mukumu Seminary and St Augustine Seminary in Bungoma where he was studying to become a priest.
According to Omtatah, what started as street activism in the 1990s evolved into court activism and now heading to the Senate where he will continue with activism.
"Being a senator will not stop me from activism. It is an advantage because I will now have a two-pronged attack to defend the rule of law and human rights. I will be using legislation as well as court litigation" said Omtatah.
Omtatah says that activism and the fight for human rights is something which runs in his blood and would stop at nothing to see a just society.
In July 2011, he caught the country's attention when he chained himself at the gate of the Ministry of Education headquarters to protest alleged misappropriation of funds meant for free primary education.
Although Omtatah's street activism became visible in the 1990s when he joined Nobel laureate Wangari Mathai to protest a government plan to hive-off part of Uhuru Park, he claims that the activism started way back when he was a student St Peters Mukumu.
"I have been looking at my report cards and noted that the teachers used to comment that I was an obedient student but very outspoken. That is why I believe my activism started at a young age," said Omtatah.
Omtatah said his dream as a child was to be a Catholic priest but after dropping out of the seminary, he joined Kenya Polytechnic for a Diploma course in Automotive Engineering and it was during his time in college that he furthered his street activism by joining protests against the government.
He continued with street activism until December 2008 when he unknowingly realised he could actually opt for court actions by filing cases to protest against the government decision.
"I was on a television show debating a protest we had filed in parliament about the MPs awarding themselves higher salaries. After the show, I got a call from lawyer Kibe Mungai telling me I had raised good grounds that can be used in court to challenge the decision," said Omtatah.
They agreed with Mr Mungai to file the petition where he was listed as the petitioner and from then onwards, he decided to go slow on street activism and focus on court litigation.
From that first case which they won after the court declared that the MPs move to hike their salaries was illegal, Omtatah started becoming a household name when he used so many lawyers to file cases on his behalf.
But along the way, something happened which made him stop trusting lawyers with his cases and he started filing cases himself.
"There was a lawyer I had instructed to file a case on my behalf but he was compromised. He went and took money to drop the case then brought some to me which I rejected and decided to proceed with the case alone," said Omtatah.
According to the activist, he learnt the art of drafting court proceedings and his own affidavits from the documents the lawyers used to send him, some of which he corrected after realising that the advocates were not saying the things he wanted to come out.
Omtatah said he individually won the case the advocate wanted to compromise and has never looked back ever since, filing numerous cases to a point where not a single week passes without one of his cases being heard.
For the past ten years, there is no doubt that no single person has filed more cases than the incoming Busia Senator for which he claims his success and winning rate has been at an average of 70 per cent.
His perennial litigation at one point irked President Uhuru Kenyatta who complained that there are some people who had captured the Judiciary and obtained orders which stalled government projects.
From the long span of litigation, there is no government institution which Omtatah has not sued for breaching the law, including the Judiciary for which he has been seeking the same orders.
According to Omtatah, his motivation comes from the belief in the rule of law and being a staunch Catholic who believes on the doctrine of leaving the world a better place than he found it.
"My motivation comes from the book of Genesis and the story of the Garden of Eden. When God created Adam and Eve, he gave them the law and told them that they would lose paradise on the day they will break the law. That is why I believe in the rule of law," he said.
Omtatah said all the cases he files to defend people's rights make him happy. One particular case that gives him much joy is when he defended Butere Girls' right to present a play titled 'Circles of Doom'.
The senator-elect said joining politics will not end his passion to continue fighting court battles and will be on standby to sue any institution even if it is the Senate where he will serve for the next five years.
Related Topics