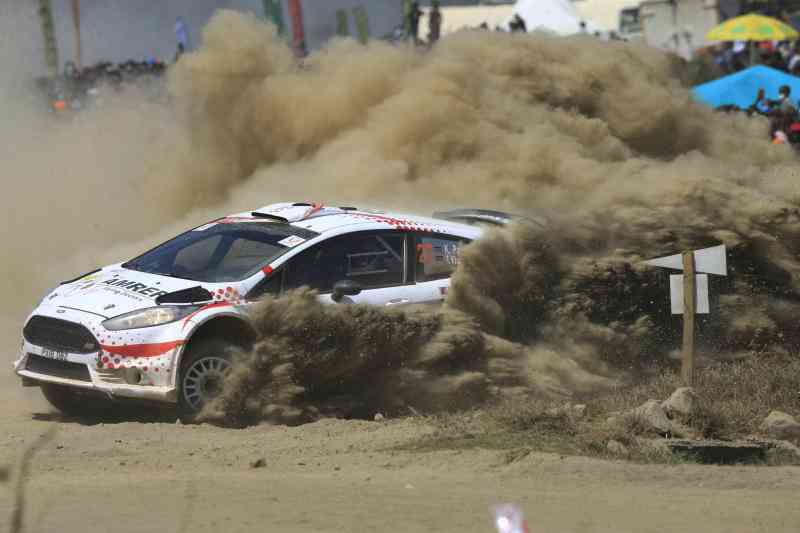 Kenya National Rally Championship winner Karan Patel will spearhead Kenya's quest for glory in the seventh leg of the 2023 World Rally Championship (WRC), the Safari Rally, in Naivasha on June 22-25.
Navigated by his long term partner Tauseef Khan in a Ford Fiesta Rally 2, Patel will be hoping to bounce back from the last year's Africa Rally Championship setback where he lost the continental title to Leroy Gomez of Zambia on the final day, to finish runners up.
Paraplegic driver Nikhil Sachania, who will be co-driven by Deep Patel in a Mitsubishi Lancer Evo X NR4, says they are ready for the global showpiece as they have finished assembling their machine.
"The good thing is that we have already secured a sponsorship for our participation in the rally, what now remains are several test drives in Athi River before we descend to Naivasha for the completion,"said Sachania.
Despite taking part in the WRC Safari Rally twice Evans Kavisi and his navigator Absalom Aswani still have the same target as the previous editions which is to finish the rally.
"It has never been smooth for us in the Safari Rally, all our participation ended in a Did Not Finish result," noted Kavisi who will be cruising in a Mitsubishi Lancer Evo X NR4.
"This time we are so determined to end the rally in one piece, we are also glad that KCB Bank were able to renew our sponsorship with them."
Sports Cabinet Secretary Ababu Namwamba has already assured that the state will grant support to the promising FIA Young Star drivers namely Jeremiah, Wahome/Victor Okundi, Hamza Anwar/Adnan Din and McRae Kimathi/Mwangi Kioni who will all forage for honours in Ford Fiesta Rally 3 cars.
Rally legend Carl Tundo, who doubles as the WRC Safari Rally Local Organising Committee chairman, will also be on the saddle with Tim Jessop who will call out his pace notes.
So far, the Safari Rally has attracted a total number of 34 drivers including three factory teams from M-Sport Ford, Toyota Gazoo Racing and Hyundai.
M-Sport Ford announced three cars in the P1 category team on May 22 led by the 2019 world champion Ott Tanak of Estonia, Frenchman Pierre Louis Loubet and Greek Serderidis in Ford Puma Hybrid R1 cars. The team has also entered Greek Georgios Vasilakis in a Ford Fiesta R2 in the Rally 2 category.
Hyundai's lead driver Thierry Neuville will be joined by Daniel Sordo, second in Portugal recently, and Esapekka Lappi who was third in the same event. Tanak, the winner in Sweden last February, and second in the WRC with 81 points, 17 behind on-song Rovanpera, is closely followed by Sebastien Ogier in the series ahead of Sardinia, Italy next week.
Hoping for a third straight Safari title defence chance, Toyota Gazoo Racing Team has four cars for last year's Safari winner and FIA World Rally champion Finnish Kalle Rovanpera, Briton Elfyn Evans, eight-time world champion Ogier of France and Japanese Katsuta Takamoto in the all-conquering Yaris GR which has won four of the last five rounds this season.
Canadians Jason Bailey and James Willets are the new faces in the Rally 3 category in a Ford Fiesta to face off the three Kenyan youngsters led by Kimathi, who finished fifth in the JWRC last year, Anwar, currently competing in the same series, and Wahome all in the one make Ford Fiesta R3. They are joined by Diego Dominguez of Paraguay, navigated by Spaniard Rogelio Panate, also in a Ford Fiesta R3.
Three-time European champion Kajetan Kajetanowicz returns to Kenya to defend his WRC2 title bringing his wealth of experience to score maximum points and keep his world title hopes alive after missing the coveted crown last year in season ending WRC Japan.
Other drivers in the WR2 field are Polish ace Martin Kropkop and Ndenek Jerk in a Ford Fiesta, Kajetan Kajetanowicz/Maciej Szczpaniak from Poland (Skoda Fabia), Daniel Chwist/Kamil Helper (Poland- Ford Fiesta R2) and Swede Oliver Solberg, navigated by Elliot Andrew Edmondson of Great Britain in a Skoda Fabia Evo R2.
The Safari Rally will zoom off on June 22 at Uhuru Park, flagged off by President William Ruto, before the drivers head to the Kasarani Super Special Stage, for three days of tough competition on the floor of the Great Rift Valley.
The Safari is a celebration of speed, resilience and engineering excellence which brings Kenya literally to a halt in the third week of June since 2021.
Related Topics