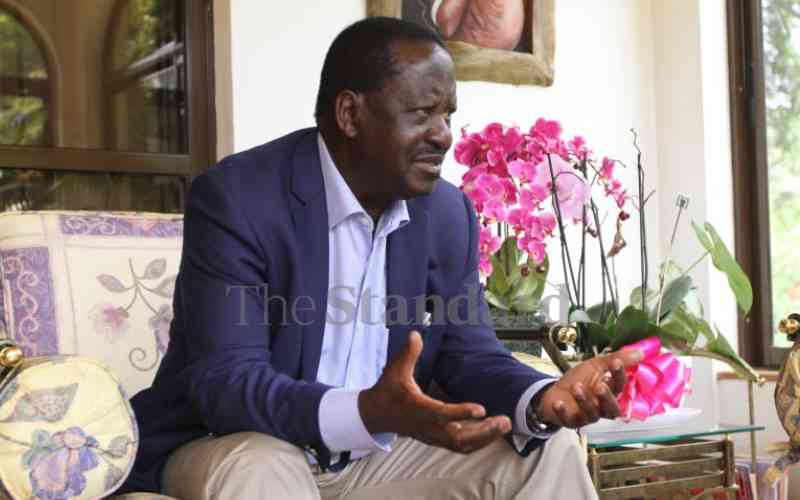 Opposition politicians have made economic recovery the centre-piece of their intended mass action.
They publicly decry the seemingly slow pace of economic recovery under the Kenya Kwanza government. They cite the insuperable hardships being experienced by most Kenyans as evidence of administrative incompetence.
What President William Ruto's administration may not have reckoned with is the level of indebtedness inherited from the Jubilee administration. In 2013 from Mwai Kibaki, former president Uhuru Kenyatta inherited a government that had weaned itself off external loans. He then went on a borrowing spree to the extent that he left public debt as a ratio of GDP at 69 per cent.
Because the first charge on the consolidated fund goes towards external debt service, the Kenya Kwanza administration finds itself in the unenviable position of servicing debt it did not incur. Further, this debt does not appear to have generated returns that can be used to offset recurrent expenditure and fund development activities.
Recent revelations by the Controller of Budget Margaret Nyakang'o suggest impropriety on the part of the previous administration. Dr Nyakang'o says she was put under duress to sign out Sh15 billion days to the 2022 General Election. She says she was threatened to approve Sh6 billion for buying a telco and Sh9.5 billion from the annuity fund even after noticing several irregularities.
Yet, another report from the Auditor General Nancy Gathungu points to a possible abuse of Sh34 billion within 15 months before the August 9 elections. This was under the fuel pump prices stabilisation programme. Despite the existence of the Petroleum Development Levy Fund Act of 1991 requirements, funds were illegally diverted to other purposes other than those specified.
The auditor general further says there are probity gaps in the Education ministry's use of Sh60 billion which was part of transfers of education subsidies to schools last year before the elections.
From the foregoing, it is clear that those calling for the reinstatement of subsidies are either blissfully unaware of their egregious abuse by previous regimes or have chosen to agitate for them for nuisance value. Certainly, no one seized of the parlous financial traits that the government finds itself in presently can, in good faith, present a two-week ultimate to reduce the cost of living.
It behoves the Opposition to be patriotic enough to allow Kenya Kwanza the latitude it needs to fix the economy. Already efforts to ameliorate the reduced circumstances of Kenyans are bearing fruit. Reports indicate that inflation come down to 9 per cent in January from 9.6 per cent in November last year.
Austerity measures, like the reduction of government spending by Sh300 billion and the removal of subsidies prone to abuse, are paying dividends. Government bonds that were previously trading at a discount of 17 per cent are now down to 10.5 per cent.
According to Kamau Thugge, a government advisor, international lenders, "are amazed at the fiscal discipline exuded". To that end, the World Bank intends to inject Sh128 billion into the economy with pledges of a similar amount from other international capital market players.
The chairman of the Kenya Kwanza administration's Economic Council David Ndii says the government has come up with a way to circumvent the need for copious amounts of dollars for Kenya's oil import needs. He says they are in talks with some giant fuel firms in the Gulf to enter into long-term contracts that allow Kenya to pay for fuel after six months. Dr Ndii says, "this move will ease pressure on the demand for dollars to buy fuel."
Raila Odinga's calls for mass action threaten to upend these gains. History shows that this action may lead to fractious and violent confrontations with law enforcers. It may not aid the cause of demonstrators. Raila would be well advised to hold his horses for now to allow Kenya Kwanza's interventions a decent chance of success. That is the patriotic thing to do.
-Mr Khafafa is a public policy analyst
Related Topics