Home
/
Children's Health
Mum's Fear: Go for measles jab and get Covid!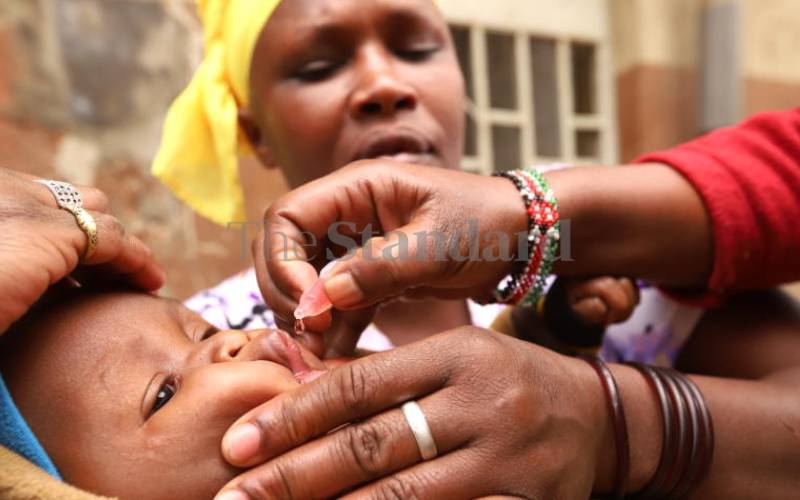 Sophia Lelemur from Ilng'arua village in Baringo South was reluctant to take her one-and-a-half-year-old son for immunisation during the Covid-19 pandemic. Her son Gabriel was expected to undertake Vitamin A and a measles jab. But she feared Gabriel might contract the virus. And in any case, "he was not sick," she says.
Baby Gabriel was among hundreds of children in Baringo, who received the measles jab during the measles-rubella vaccination campaign conducted in 22 high-risk countries, including Kilifi, Tana River, Nairobi, Kajiado, Narok, Garissa, Bungoma, Busia and Kisumu.
Under the immunisation programme in collaboration with UNICEF, Baringo attained 115 per cent immunisation representing over 99,000 children aged nine to 59. Immunisation of newborns stood at 72 per cent against the national target of 80 per cent.
In 2018, more than 5,500 children countrywide missed out on vaccination, a challenge linked to interruptions in service delivery at the health facility level.
Lelemur's laxity mirrors hundreds of mothers who failed to take their children for six childhood vaccines.
A study published in Lancet fingered the pandemic in 2020 for the global drop in immunisations for both DTP3 (Diptheria Tetanus Toxoid Pertussis) at 76.7 per cent and measles at 78.9 per cent - a drop by 7.7 per cent and 7.9 per cent - respectively.
A section of the study notes that though immunisation coverage was recovering in some regions lagging catch-up in immunisations, continued Covid transmissions "and persistent gaps in vaccine coverage before the pandemic still left millions of children under-vaccinated or unvaccinated against preventable diseases at the end of 2020, and these gaps are likely to extend throughout 2021."
From January to December 2020, an estimated 30 million children missed doses of DTP3 and 27.2 million missed measles, with global monthly disruptions highest across all Global Burden of Disease (GBD) super-regions in April, 2020, when the pandemic became a worldwide medical crisis.
Dr Rudi Eggers, the outgoing WHO Kenya representative said: "Following the pandemic, we saw a decline in numbers of children vaccinated, due to laxity of mothers who feared visiting facilities."
This was besides the country being at a great risk of polio after cases were recorded in counties bordering Somalia.
To remedy the situation, some counties adopted door-to-door immunisation campaigns like Kisumu to reach out to all children, for the six childhood diseases besides recording details of mothers in need of antenatal clinics.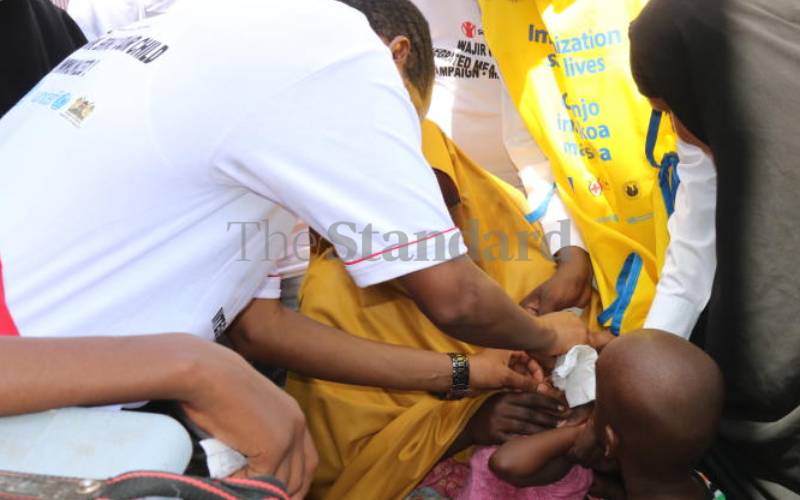 Edward Mito Milambo, organising secretary community health workers, and who led the volunteers in sensitising mothers on the need for the malaria jab, also noted that besides the pandemic, children who reached nine months were not taken for immunisation "in belief they are big enough with strong immune systems."
In Vihiga County, mothers engaged in tilling farmlands miss taking their children for immunisation. Edith Anjere, the County Vaccines and Immunisation Coordinator, said they embarked on door-to-door malaria jabs to also vaccinate those who missed on childhood immunisation - which reached 3,028 children between January and December, 2020.
Anjere noted that missed out immunisation cuts across all vaccines, but most missed was the second jab of the measles and malaria vaccines.
Immunisation of the second dose of measles in the county stands at 43 per cent, against 42 per cent nationally, irrespective of target vaccination being at between 80 per cent and 100 per cent.
West Pokot County, on the other hand, combined routine immunisation and community sensitisation at hospitals and churches and managed to reach 146,278 children surpassing a target of 107,239 pushing immunisation to 58 per cent, according to County Director of Nursing Services, Samuel Lopar.
Lopar listed insecurity, nomadic lifestyle and poor terrain among the challenges of mass immunisation in West Pokot, as locals move to neighbouring Uganda, making it difficult to be captured under the vaccination programme.
In the Kamelei area of Pokot South, insecurity, for instance, saw the closure of Kamelei health centre and this hampers the outreach programme.
The Executive Officer, Kenya Paediatric Research, Consortium Prof Fred Were, said: "Parents, health caregivers and hospitals should explore alternative ways to reach out to all children in need of immunisation."
Related Topics