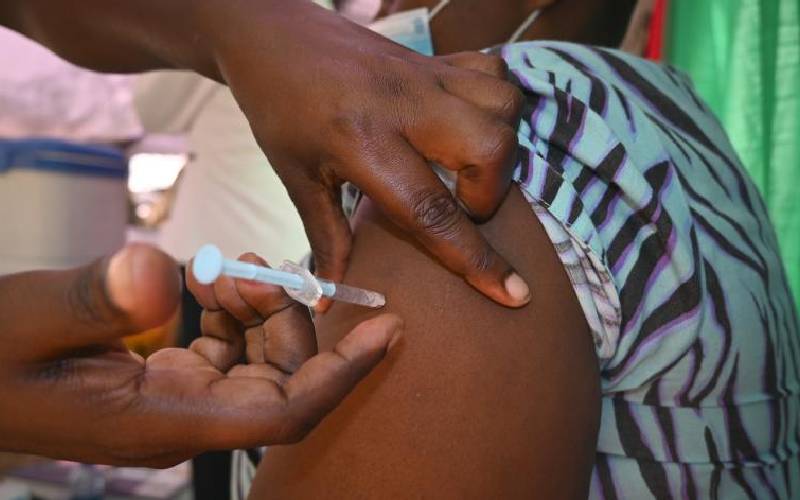 Children and adolescents are vulnerable to the deadly Covid-19 Delta variant ravaging western Kenya.
Unlike most adults, children have not been vaccinated and are at risk of getting severe disease, with the most vulnerable being aged between five and nine.
According to a study published in the Lancet Journal, 70 per cent of those infected with Covid-19 had no underlying conditions or comorbidities (more than one condition).
The Delta variant is 60 per cent more transmissible and the study notes that those who were infected suffered double the hospitalisation rates compared to those infected with the Alpha variant. Delta and Alpha are genetic variants of the coronavirus and have been emerging and circulating, reaching more than 100 countries around the world since the Covid-19 pandemic broke out.
The Centers for Diseases Control and Prevention (CDC) has since classified the variants into three forms: Variants of interest (VOI), variants of concern (VOC), and variants of high consequences (VOHC).
The variants of concern scientifically are named as B.1.1.7 (Alpha), B.1.351 (Beta), B.1.617.2 (Delta), and P.1 (Gamma). These viruses were previously referred to as United Kingdom, South Africa, Indian and Brazilian Variant according to their country of origin. Currently, there is no variant of high consequences listed by WHO.
When a variant becomes frequent and displays worrying traits, public health authorities initiate a formal investigation, designating it as a variant under investigation (VUI). If found to be more transmissive, more resistant to antibodies, or to cause severe disease, then it is designated a variant of concern - for which there is evidence of an increase in transmissibility, more severe disease like increased hospitalisations or deaths.
Variants of concern - like the Delta variant - also sees significant reduction in neutralisation by antibodies generated during previous infection or vaccination, reduced effectiveness of treatments, or vaccines, or diagnostic detection failures and are 50 per cent more transmissible than any other variant.
Viruses also constantly change through mutation differentiating them from other variants in circulation; and coronavirus which causes Covid-19 is no different, and according to WHO, a mutant becomes a variant of concern when it has a clinical or public health significance that affects its spread, severity, effectiveness and testing. Sometimes new variants emerge and disappear.
WHO Director Tedros Adhanom in July termed the Delta variant dangerous and requires constant evaluation and careful adjustment of the public health response.
"Public health and social measures such as strong surveillance, strategic testing, early case detection, isolation and clinical care remain critical as well as masking, physical distance, avoiding crowded places, and keeping indoor areas well ventilated," he said.
Already, the fourth wave expected in Kenya has been attributed to the Delta variant which was first detected in Kisumu.
President Uhuru Kenyatta termed taming Covid-19 as a "containment see-saw" saying when the infections decline in one part of the country, another one experiences a spike.
With 1.4 million people vaccinated so far, Kenya has a long way to go to cover the 50 million population, half of them young people aged below 30.
The number of the vaccinated is 1.77 per cent of the adult population which is not enough to muster herd immunity, yet Delta variant is more contagious and spreads rapidly among unvaccinated populations, and it's transmissible across all age groups.
[email protected]
Related Topics