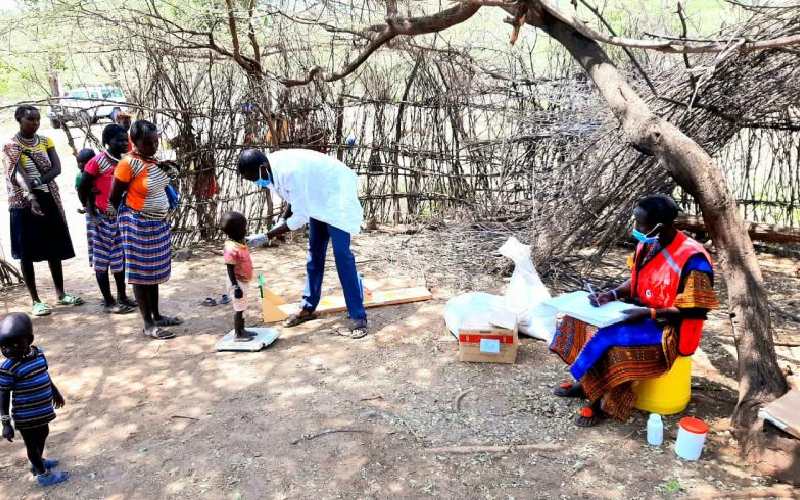 Vihiga County witnessed a rise in the number of obese children during the pandemic, data from the County Health Department suggests.
At least three out of 10 adolescents and youth were found to be overweight and susceptible to suffering health complications according to a 2020 report compiled by Kenya Health Information System in partnership with the Vihiga County Health Department.
Esther Odera, a nutritionist in the county, indicated that the report represented only those who visited local health facilities in 2020.
According to the Department of Social Protection, under the Ministry of Public Service, Gender, Senior Citizens Affairs and Special Programmes, the situation could be worse in the Arid and Semi-Arid (ASAL) regions.
Veronia Kerogo, head of the Department of Nutrition and Dietetics at the Ministry of Health (MoH) says they have put in place interventions that will be implemented jointly by county governments and several other players since health is a devolved function.
Besides children being obese, Kerogo said Kenya has a stunted growth rate of 26 per cent meaning the affected children have complications in both physical and intellectual development.
According to her, the government introduced Kenya Nutrition Action Strategic Plan in order to address the problem.
"We have a triple burden of malnutrition including children developing obesity due to eating habits," she said.
Through Nutrition Improvement for Children Health Education (NICHE), the government is slowly making strides in combating lifestyle health complications.
NICHE is one of the interventions rolled out in vulnerable communities in selected counties particularly those hit by drought and who report high rates of malnutrition.
The programme is designed to fight against child malnutrition and violence against children by combining cash transfers and community empowerment according to the Ministry officials.
NICHE targets vulnerable families who receive cash transfers through the Governments' National Safety Net Program including pregnant or lactating women and children under two years of age.
It is part of the Kenya Social Economic Inclusion Project (KSEIP) that would ensure that children aged two years and below, as well as pregnant or lactating mothers, receive a cash top-up of Sh1,000 per person on the Sh2,500 they have been receiving.
The Malnutrition Report of 2014 by the Ministry of Health shows that stunted growth affects 1 out of 4 children under five years in Kenya and this is largely attributed to food scarcity and lack of proper health care services needed for proper child development.
Kerogo noted that the programme is aimed at improving the health of children all the way from conception up until their second birthday, a period she termed as crucial to human development.
"We are focusing on children under 2 years with an emphasis on lactating mothers because we are targeting 1000 days from conception to when the baby attains two years. If we fail to intervene between this period after two years a child suffering from malnutrition renders the condition permanent," said Kerogo.
NICHE cash program has been rolled out across five countries that have reported severe cases of malnutrition by the Ministry of Labour and Social Protection, in collaboration with MoH and the National Drought Management Authority with technical assistance from UNICEF Kenya.
So far the programme is being implemented in Kitui, Kilifi, Marsabit, Turkana and West Pokot counties.
The program started in 2019 seeking to reach 23,500 poor families in five years to improve nutrition, protect children and reduce poverty through the provision of cash top-ups which are known to effectively alleviate poverty by allowing parents to decide what their children need most as food, medicine or clothes.
"Undernutrition has had a large impact on the labour and economic productivity of our country as people in the working population who suffered from stunting in their childhood are less productive than those who grew health," Kerogo said.
She said Arid and Semi-Arid (ASAL) regions have witnessed increased cases of malnutrition with over 465,200 children under 5 years and over 93,300 pregnant or lactating mothers acutely malnourished.
According to Kerogo, Bamba village in Kilifi county serves as an example of hard-hit areas by the prolonged drought with 90 per cent of the population living below the poverty line.
"Here, children, pregnant and lactating women have been worst hit by acute malnutrition."
Speaking during a media consultative forum in Naivasha Kerogo disclosed that in the last 10 years, the government has strived to reduce cases of malnutrition from 35 per cent in 2008-09 to 26 per cent in 2014.
Wasting (where children are too thin for their height) has reduced from 7 per cent to 4 per cent over the same period but despite this promising outlook, regional disparities in the five counties still persist.
Related Topics