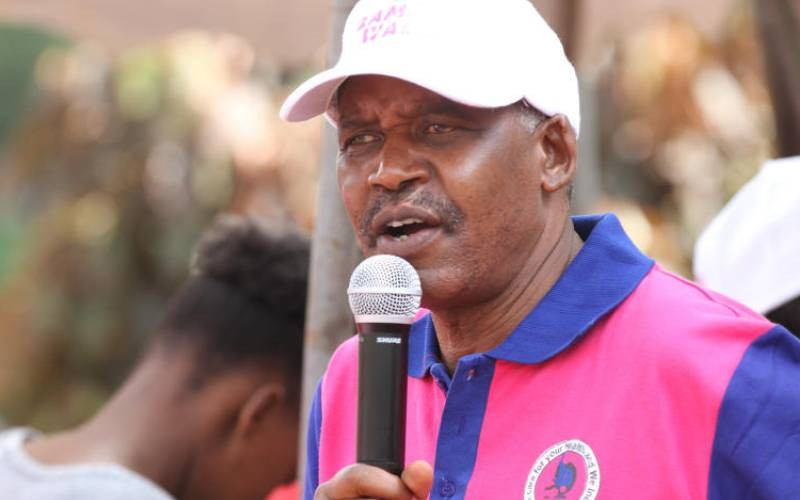 At 23, Mwende Mutiso was diagnosed with breast cancer. Fortunately, the cancer had not spread and she was able to get a mastectomy.
However, in 2019, the cancer recurred. It had spread to her lungs and she was told the cancer had reached Stage 4.
Mwende admits that, initially, she had the misconception that breast cancer only affected women above the age of 40. But since she was diagnosed with the disease, she has been encouraging younger women to get screened.
"My cancer journey has been a roller-coaster. I have learnt a lot, especially the importance of advocacy, which I have been doing. I have been raising awareness that breast cancer is not a death sentence. I had been told I had one year to live, but through support, look at me, three years down the line, I am still alive and well," Mwende says.
Over the years, as she goes about raising awareness, Mwende has participated in a number of events. One such event is the recent Zambezi Cancer Awareness Walk, an annual event organised by Zambezi Hospital in Nairobi's South C.
Second opinion
Lucy Njeru, who also attended the walk, is a breast cancer survivor and a mother of three.
She was diagnosed with breast cancer when her lastborn was one-and-a-half years-old. After she had stopped breastfeeding, she had got swollen lymph nodes on her armpits which prompted her to go for screening.
In one of the hospitals that she visited, the doctors thought it was mastitis. But when the swelling did not go down after treatment, she sought a second opinion from a different hospital. She was diagnosed with breast cancer during a surgery she had to remove a breast tumour.
"I began with treatment, I went through chemotherapy, radiotherapy and also hormonal treatment, all using my NHIF card and I always encourage people to have their NHIF cards activated because cancer treatment is very expensive," said Lucy.
She believes the walk is also helping families, especially with young children who are believed to be too young to understand when their parents are diagnosed with cancer.
"Like my children had many questions, especially when my hair started falling off, but I did not know what to tell them," she adds.
"This walk is meant to create awareness on diagnostics because we know that 90 per cent of people with cancer in Kenya go for late diagnosis when cancer is already at Stage 4," said Dr Geoffrey Mutuma, the CEO and founder of Zambezi Hospital.
He believes that although cancer treatment is important, it is the early diagnosis that will save more lives.
Early diagnosis, he believes, is cheaper for the government, the individual and families.
According to Dr Mutuma, early diagnosis and treatment is not as costly as late treatment regimes, and that is why he has allocated more funds for diagnostics from the proceeds of the walk.
"The walk is funded by different organisations and we have allocated a good amount of money to create awareness, 20 per cent to pay for people who cannot afford cancer treatment, 20 per cent for screening and 10 per cent on research," Mutuma said.
He called for public-private partnership, saying that a private hospital like his cannot create enough awareness and that the government needs to increase cancer awareness just like it does with malaria, HIV and tuberculosis.
This year's walk took place in four counties; Nairobi, Mombasa, Machakos and Thika. Over 100 people have benefitted from the annual walks by getting screened for breast cancer, cervical cancer and prostate cancer as others begin treatment.
"We decided to support the walk due to the large numbers of people dying from cancer and we believe people suffer due ignorance," said Odhiambo Oyange, an officer at Mwalimu National Sacco, one of the sponsors.
"We are always ready to support Zambezi Hospital because they are passionate about creating awareness, especially because we all thought that cancer is an old people's disease but we have seen it is also affecting young people."
Related Topics