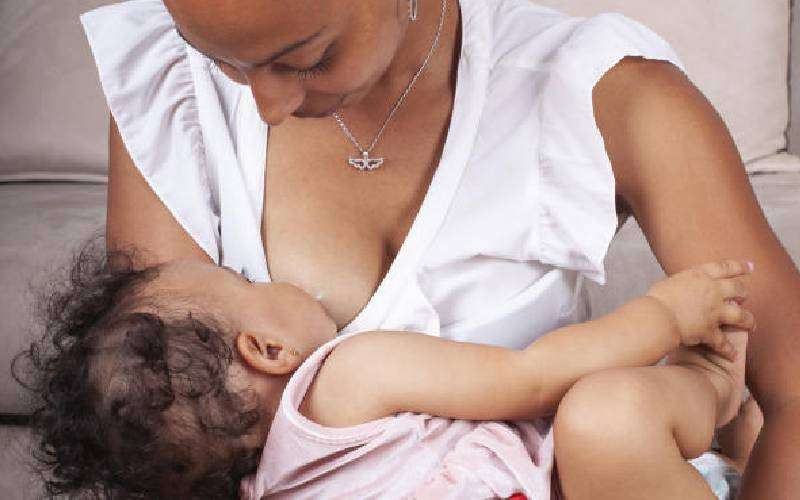 Breastfeeding is not only good for the baby but the mother as well. Though the World Health Organisation (WHO) recommends that babies be breastfed exclusively for up to six months before weaning to other alternatives like water, other liquids and solid foods.
Dr Jackson Kioko, Director of Medical Services, Ministry of Health says "nursing for over six months provides children with numerous essential nutrients, and boosts their immune system and helps to protect them against infections and asthma" but mothers are rarely advised on how breastfeeding benefits them as well.
Dr Sitna Mwanzi, an oncologist at Kenyatta National Hospital (KNH), says that breastfeeding for over six months is beneficial not only for the child's health but for the mother as well: "The longer a mother breastfeeds, the more protection she receives against breast and ovarian cancers."
Studies from the World Cancer Research Fund (WCRF) and the American Institute for Cancer Research (AICR) indicated that the longer a woman breastfeeds, the lesser her chances of developing pre- and post-menopausal breast cancer, especially if she does not smoke. It emerged that for every 12 months a woman nursed her baby, her risk of breast cancer decreased by up to 4.3 per cent. The study compared mothers who breastfed to those who didn't.
Scientists do not entirely understand why breastfeeding helps to protect mothers against cancer, but posit that it's linked to the changes that breasts undergo during and after pregnancy as they develop milk ducts to nurse the baby.
It emerged that the breasts go through involution, a process involving massive cell death and renewal and remodelling which makes the breast shed a lot of tissue thus ridding them of cells with damaged Deoxyribonucleic Acid (DNA) which can lead to cancer.
Another reason, the report, says is that during the "maturation process of the breasts", lactation hormones and structure changes make the breasts resistant to cancer. Lactation has been proved to reset the body's metabolism, from the onset of the pregnancy. The entire process jumpstarts calorie burn, glucose metabolism, and insulin sensitivity, which explains why women who breastfed their babies have a reduced risk of developing diabetes and other health issues.
"Pregnancy and lactation delay production of oestrogen, a hormone which triggers menstrual periods," says Dr Mwanzi.
Related Topics