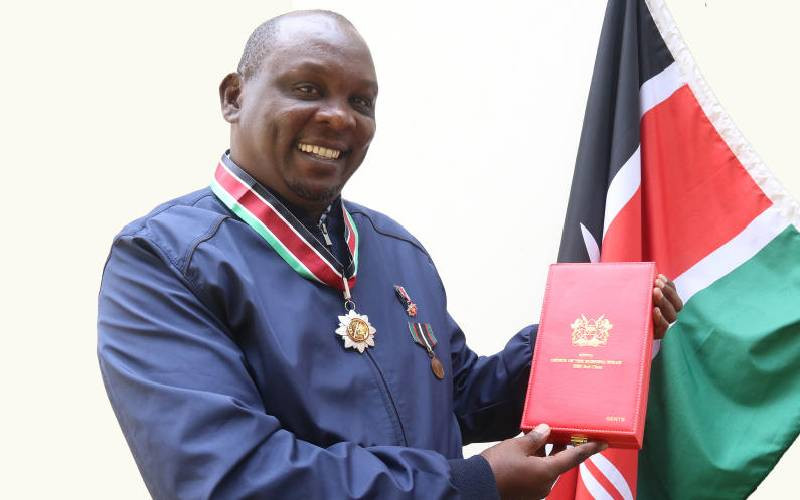 A child whose toe fell off into the water when they were cleaning her feet. A man whose body was so badly infested that he died of the complications at the last minute when the rescue team arrived.
A family that was heavily infested and a mother who had just given birth and one of her elder daughters was cutting the umbilical cord using teeth because they could not even afford a razor blade. They had just buried their infant in a carton box a week earlier.
What seems like gratuitous horror is just three of the cases that Dr Stanley Kamau has encountered that show the reality of how soul-destroying and physically debilitating jiggers can be.
He tells me he wants to start a museum where people can get to learn more about them, the work done to eradicate them, and for scientific research.
"The museum will have live jiggers," he says. We are in his office at his organisation, Ahadi Kenya Trust where he tells me his story.
"Live?" I ask, trying to picture it.
"Yeah! They are here!" he says, standing up from behind his desk to retrieve a jar of jiggers from the top shelf of a closed cupboard on the opposite side. They are inside a preservative liquid that he obtained from the National Museums of Kenya. It sends a shiver down my spine when I hold the jar, imagining them alive in a person and the kind of hell that is wrought by these creatures.
He also has another jar containing the fleas that cause jiggers, and another one of red soil, where they thrive. The walls of the path to his office are lined with pictures of some of the severe infestations they have encountered in the course of their anti-jigger campaign. It all makes a unique vision board for the museum he has in mind.
His organisation has helped more than two million jigger-infested people get their lives back. On the shelf behind his seat is an impressive array of some of the numerous awards and recognitions that he has received globally and locally from prestigious organisations as a result. He has many honorary degrees from universities around the world and his organisation is now supported by over 150 corporates.
He has 53 adopted children, having adopted 30 of them when he turned 30 years old and adopting another one when he turns a year older.
This incredible journey started with one child who desperately needed respite from jiggers – himself.
"When I was in primary school I was very heavily jigger-infested. My friend Chege was nicknamed 'Quarter Past' and I was nicknamed 'Quarter To' because our legs were like this," he says, using his hands to demonstrate the unusual directions that their feet faced because of how heavily infested they were.
"I wore my first shoe when I went to secondary school but I could not wear a normal shoe. They had to be customised for me because my legs were too swollen and deformed. I had to walk a very long distance to go to school every day and by the time I got to school my legs would be swollen, they would be septic and it was a very bad experience for me."
The jiggers eventually became a thing of the past for him – for a while. After secondary school, his father held a fund-raising for him to pursue a Bachelor of Commerce degree in India, and when he came back he worked manual jobs at first and then focused on his real estate company, which he had set up in 1996. It became successful and is in existence to date.
He started giving back to the community in 2000, where every Easter and Christmas he would feed the orphaned, the widowed, the disabled, and the poor people in his village. He would send food through churches and organised groups. Only for him to find out that after all these years, jiggers were still ravaging his community.
"In December 2006 I decided to be part of one of those Christmas parties in the village. After the service, I realised that some families that I knew who were very poor in our village were missing. I asked the pastor what had happened to them. He told me that some came to eat in the church compound, while they had to take the food to others in their homes," he says.
"So I asked why they take food to their homes and he told me that some of those families could not walk because of jiggers. That day I decided that as they were taking food, I would also go and visit to see those families."
The first family he visited was that of his old classmate. He, his wife, and their seven children were all infested with jiggers, with the children having never gone to school.
The next home was that of an elderly person who could not even move from the house. The third one had a child who had contracted HIV because their grandmother had been using the same knife to remove the jiggers from him that she had used on his mother who was HIV positive.
"That is when I realised that the issue of jiggers was more lethal than I thought and I decided I had to work on something to eradicate them. I thought I would only be able to eradicate jiggers from those three families. I did not think it would be such a widespread problem," he says.
When he was back in Nairobi that January he asked around for medication that could kill jiggers but no one had a clue until he found a doctor in Aga Khan who told him that they could use disinfectant. He bought disinfectant and sent it home in January 2007.
"I looked for the church or the youth to do it and I was given the prescription on how to do it. So they did it and the jiggers started falling off. When they started healing, other people started flocking to my mum's compound asking for jigger medication," he said.
"So I decided instead of just doing it for three or four people, why do I not ask the church to give me the number of people that are infested with jiggers in the same locality so I could help them all together?"
Within a month, he had received a figure of 1,350 people. It pushed him to get his friends together to contribute towards the effort of eradicating the jiggers, and it morphed into Ahadi Kenya Trust, which he never thought would become so big.
Word spread fast and soon they were helping neighbouring villages, and eventually the whole of Murang'a.
When it was first highlighted in the media, it caused a huge uproar and was met with derision in some quarters, where people claimed he was embarrassing the villages and fierce resistance from politicians who thought he was gathering political mileage.
But he pushed through it, and that was how the anti-jigger campaign was born. Thousands of children who had dropped out or never been to school have graduated, and adults who could not fend for themselves because they were disabled by jiggers are now productive members of society.
Dr Kamau even once held a mass wedding for all the people who had met and fallen in love during medical camps for jiggers and got the government to give Kenya its first homegrown health day, Jigger Awareness Day, which is every March 3.
He has also distributed eight million pairs of shoes to children in over 12,000 schools and built and furnished many homes for families.
The campaign is supported by powerful people, most notably powerful women like current First Lady Rachel Ruto, and former First Lady Margaret Kenyatta, with whom they were able to craft a policy document to fight the menace and Mama Ida Odinga.
The work has also attracted celebrities from all over the world, starting with former Miss World Kenya Cecilia Mwangi who became the face of the campaign and is still working with them 15 years later.
Nigerian duo P-Square also held a concert in Kenya to support the efforts, and Victoria Beckham launched the campaign's Ambulance Mashinani programme. The Ambulance Mashinani is made up of Tuktuks retrofitted into ambulances to help social workers get people to hospitals.
Right now, Ahadi is working with a Japanese company to produce the first-ever jigger medication in the world.
"I am trying to fight the vices that contribute to jigger infestation. That is poverty, illiteracy, disability, and trying to bring families together. Otherwise, with those problems still with us we will fight jiggers forever," he says.
Related Topics