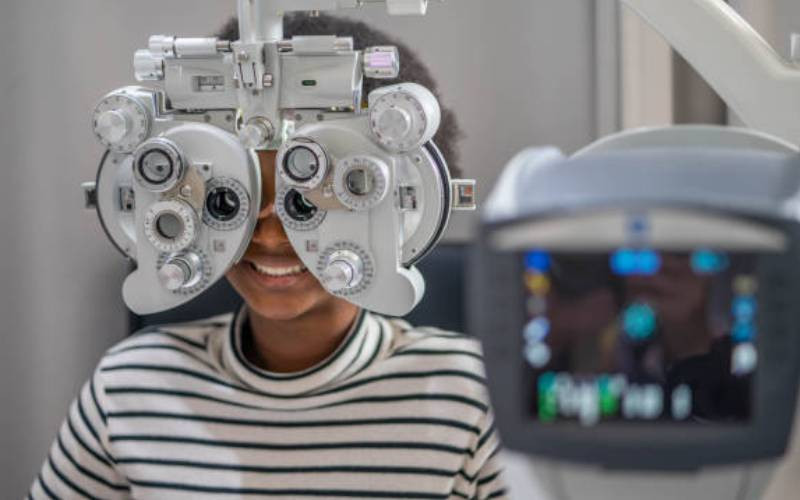 When Racheal got her baby girl in November last year, nothing prepared her for the numerous medical sojourns. While breastfeeding Amani, she noticed the little one never made direct eye contact. And when she did, there was white glow in the eyes, especially most evenings.
She consulted an eye doctor who confirmed her fears: Amani had retinoblastoma, a form of eye cancer common in children below five.
She was shocked, but the ophthalmologist reassured her the diagnosis was timely. Both eyes were saved. Today, baby Amani is a happy and healthy nine-month-old reaching all his milestones, watching and singing along his favourite cartoon, Cocomelon and learning to walk exploring his environment energetically.
Retinoblastoma is a cancer of one or both eyes, mostly affecting children before their fifth birthday. The inner layer of the eye (retina) is affected, resulting in a white glow in the evenings similar to a cat's eye in the dark.
A child with eye deviation (squint), can also be one of the early signs of retinoblastoma. Other symptoms include swollen eyes, redness and poor vision. Retinoblastoma is a genetic mutation and about five to six per cent of patients have a positive family history and those who survive it in adulthood have a high risk of passing it on to their children.
The good news is that seven out of ten children detected and treated early in Kenya attain full recovery. In developed countries, hardly any child dies from retinoblastoma, but in countries like Kenya, children are treated at very advanced stages, thus reducing chances of full recovery.
By the time a child reports to hospital with the white glow, often means the cancer is advancing and the only treatment is removal of eye to save the child. If the cancer is contained within the eye, the child is considered cured. If the cancer has spread beyond the eye, chemotherapy and radiotherapy are recommended. Chemotherapy uses chemicals to kill cancer cells whereas radiotherapy uses beams of energy.
Sometimes the cancer is detected when still small and the eye can still see. In such cases, treatment using chemotherapy, laser or freezing can be used to save the eye and vision. Early diagnosis and treatment is thus key and this cannot be achieved in a silo. It requires parents, guardians and health workers to have a higher suspicion index during children's visits to wellness clinics.
The government should sensitise primary health care workers on the importance of prompt referral of any child with a white glow or squint. Though Maternal Child Health Booklet for Immunisation clearly indicates what health workers should look out for in the eyes of a child when they go for their routine immunization, this is not followed losing a great opportunity for early diagnosis.
This means an increased level of awareness is needed by health workers at the primary healthcare facilities to appreciate the significance of the white glow as an indication for immediate referral.
Eye cancer in children in Kenya is treatable at the Kenyatta National Hospital, Moi Teaching and Referral Hospital in Eldoret, Kikuyu Eye Unit (Thogoto) and Lighthouse Eye Centre (Mombasa). Treatment to save an eye with cancer is mainly offered at the national referral hospital, KNH, where a specialized and dedicated team of medical specialists provide the treatment plan on a case-by-case basis.
-Dr Kahaki Kimani, a consultant ophthalmologist, is a senior lecturer, University of Nairobi.
Related Topics