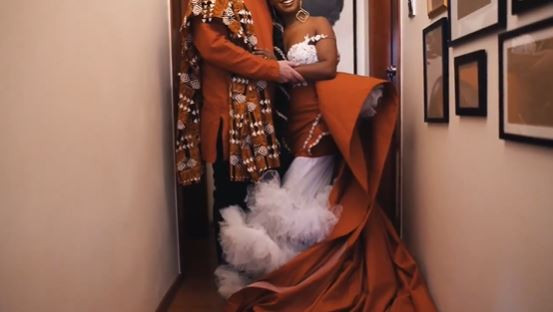 A few years ago, the traditional African wedding was unspectacular. Not much fanfare or breathtaking. It was an ordinary event, and families never paid much attention.
However, this is no longer the case.
Couples have turned the events into an expensive affair, where high fashion, decor and scrumptious meals don the day.
It is a show of glitz and glam. Families don't mind spending a huge amount of cash and going a bit extra to ensure the guests have a good time.
While it is said that many girls dream about their wedding day, in Kenya, the traditional ceremony takes precedence over the white ceremony.
When we speak excitedly about settling down, we use the joke, "tunavaa kitenge lini?" (when are we wearing a kitenge dress?)
Today, the dreams are looking a little less white dress and a lot more African fabric.
Yvonne Ogolla, who held her traditional wedding in December 2021, to wed her long-term lover Kennedy, tells The Standard her special day was fit for a queen.
The ceremony, called nyombo in Dholuo, was held after the official meeting of both families.
"My husband and I visited my family at home, he came along with his family too, uncles and aunts who were the main participants of the dowry negotiation," she says.
The official introduction, or acceptance of the groom to join the bride's family, is called Ayie.
"After the meeting, his family returned at a later date after having prepared the dowry. My family asked for 15 heads of cattle."
After all the nitty-gritty between families was done, it was time to prepare for D-day.
Yvonne says that she enlisted the services of an event planner, although she made the crucial decisions herself.
"I had 18 bridesmaids, all of them my closest friends and confidants going as far back as primary school."
The traditional ceremony cost the couple Sh480,000.
"What happens in our culture is that after the nyombo, I am considered married, and my groom picks me up from my father's house the next morning."
The food served at the ceremony was a mix of both modern and traditional delicacies.
Yvonne says that she will have a white wedding in a year or two, but is enjoying her marriage for now.
Ann Njeri also held her traditional wedding ceremony in 2021, and they now are now considered married.
Termed Ruracio in Kikuyu, Njeri's event also started out with official introductions, which she says her culture calls "kumenya muccii" (to know the home).
It allows for the groom and his side of the family to get to know where the bride is from, and her family too.
"If a couple has been living together, we call it 'kwenda kujishtaki', and the meeting is meant to seal the fact that the two are indeed a couple who intend to make things official," she said.
During the introductory meeting, dowry negotiation begins.
Njeri says that she and her husband both had to be involved in making sure there were no disagreements between the two families.
"Both families show up to the meeting with specific spokespeople. My husband and I called them aside and explained our expectations to avoid any arguments about the dowry price."
Njeri's special day cost her and her husband Anthony around Sh250,000.
She says the official introduction helps both families understand each other's culture and customs- should they differ.
Some popular personalities have held their traditional wedding ceremonies recently.
They have been as glitzy and impressive as ever, featuring pricey venues and designer African attire.
Content creator Lorna 'Lornzie' Muchemi, now taking up her married last name Gatabaki held her Ruracio in June 2021.
The social media personality is a part of the YouTube channel Over25.
Releasing the gorgeous images to her 100,000 followers, Lornzie captioned a picture of herself and husband Diallo: "My half West African King."
There were pictures of her in traditional Kikuyu fabric, which was dyed brown and adorned with cowrie shells and beads.
She also shared images of the interesting cultural practices that were carried out at the ceremony.
In one picture, Lornzie's family demonstrated to her how to carry firewood.
"When Diallo came looking for me and didn't find me, I was deep in the forest fetching firewood," Lornzie playfully captioned the photo.
The brown and white themed event saw the content creator's friends show up and out with their style, personalising the African fabric to suit their individual sense of style.
Months later, the couple held a white ceremony at Windsor Country Club.
Early this year, deputy president William Ruto's son, Nick, held his traditional wedding ceremony. They held the ceremony with his long-time girlfriend, Evelyn Chemutai at Windy Ridge in Karen.
The January 15 event saw the couple dress up in traditional African attire. The groom looked sharp in an all-white 'kaunda' suit, along with a hat and cane, while his groomsmen wore blue.
Before Nick Ruto held his ceremony, his younger sister, June Ruto had hers.
Jane married her Nigerian beau Alexander Ezenagu in May 2021, at a glamorous traditional ceremony held at her parent's home in Karen.
The luxurious day saw the bride and her bridesmaids change their outfits several times.
The Kalenjin ceremony, called Koito, saw the families of both the bride and groom meet, merry make and celebrate the couple.
Following the ceremony, June thanked her family for their support.
She wrote on her social media: "Finally: He who finds a wife finds a good thing, and obtains favour from the Lord. I thank God for the blessings in this memorable moment. Today has been an important day as I have my better half Alex Ezenagu. Sincere thanks go to God, my father, mother, sister, friends and all relatives."
Love Matters Africa, a sexual health magazine, notes that Kenya has many different wedding traditions, varying from tribe to tribe.
"If you have a traditional family, you will likely be very aware of the typical marriage customs and rituals of your tribe. This knowledge can become especially important in inter-tribal marriages. Make sure that you bring this subject up with both sides of the family, so everybody can have a say in what's important for them," Love Matters reports.
It adds: "Most communities have at least two or three meetings. First, the bride's parents are visited by the man, accompanied by his father and uncles, so he can state his interest in the bride-to-be. The second is normally a dowry negotiation. During a final meeting, the dowry is often paid or the wedding plans are gone over. Any negotiations are usually done by the fathers and uncles."
Related Topics