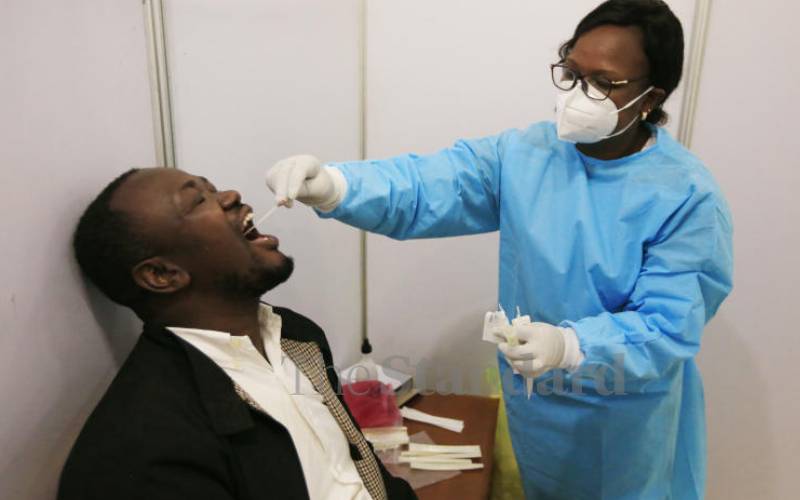 Kenya's Covid-19 testing capacity has gradually declined despite a recent surge in infections.
Scientists at the Kenya Medical Research Institute (Kemri) had predicted the surge this March due to closure of schools and relaxation of containment measure.
But Acting Director-General of Health, Dr Patrick Amoth, admitted that the country has not met the World Health Organisation (WHO) optimal testing capital which is one test, per 1,000 population.
Kenya is expected to conduct at least 7,000 tests every day, a number that has not been attained as capacity has been below 5,000 samples daily for the past several months, according to the Ministry of Health.
"Covid-19 testing capacity also decreased since the numbers began going down at the beginning of the year," said Dr Amoth.
At least 23,446 sample size has been tested in the past one week, from June 7 to June 14, out of which, 1,791 people tested positive for the virus. But the Ministry of Health in partnership with counties and health stakeholders is revamping the testing capacity to get a better scope of the Covid-19 infections.
Mombasa, one of the counties hardest hit during the pandemic, is testing people on request and for travel purposes.
Richard Chacha, County Communication Director, said previously, some firms sent staffers for testing and would demand for results before they reported to work, but testing is currently done on demand. "We don't carry out mass testing, we are only testing those who want."
Public health
Testing at the county is done at the public health department, private hospitals, and Coast General Hospital and Kilifi Kemri when re-agents run out.
At least 215,706 cumulative tests have been done in the county since the outbreak of the pandemic in March 2020.
Elsewhere in Trans Nzoia, health Executive Clare Wanyama said testing is done at facility level, among people who present with Covid-19 related symptoms.
Last week, a patient died at Kitale hospital, after presenting with Covid-19 related symptoms.
"We are revamping testing, to have anyone presenting with symptoms tested for better treatment," said Wanyama.
In Trans Nzoia County, a total of 2,363 positive cases were recorded according to Covid-19 situation report dated June 8 and community sensitisation is being done to avoid spread of the virus.
"Just like many other counties, people are not following containment measures in terms of social distancing and wearing of facemasks," laments Wanyama.
Related Topics