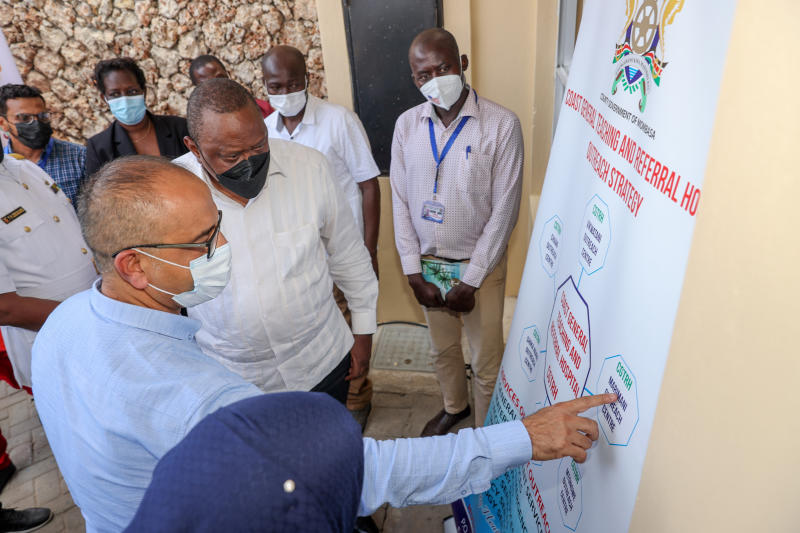 Telemedicine will be included in the health curriculum by the government in an attempt to improve medical care.
Telemedicine, a crucial adaptation in the provision of health services, became more useful during the Covid-19 curfews and lockdowns.
In launching the harmonised health curriculum in Mombasa County on Monday, President Uhuru Kenyatta said it has strategically been planned to help the country achieve its health agenda.
He said all cadres of healthcare professionals with be empowered with knowledge to meet the demands of the public as new diseases emerge.
Some of areas in the new curriculum include technical and soft skills which will ensure adequate human resource in tandem with the emerging needs under the Universal healthcare programme (UHC).
In previous years, Kenya witnessed massive brain drain of trained health professionals seeking better opportunities in foreign countries.
Besides telemedicine, President Kenyatta said the country will also make "prudent use of research, innovation, evidence, and technology to inform policy and practice that can lead to increased access to health service."
But Daniel Yumbya, CEO, Kenya Medical Practitioners and Dentists Council said more new interventions should be included in the curriculum.
"Telemedicine is not included in the co-curriculum where doctors are trained. It is high time that we incorporate such new methods," Yumbya said.
Dr Davji Atellah, Kenya Medical Practitioners and Dentist Union (KMPDU) secretary general said the country still grapples with severe staff and skills shortages and "migration of health workers poses a potential threat to the health sector in meeting the citizen's health needs."
Related Topics