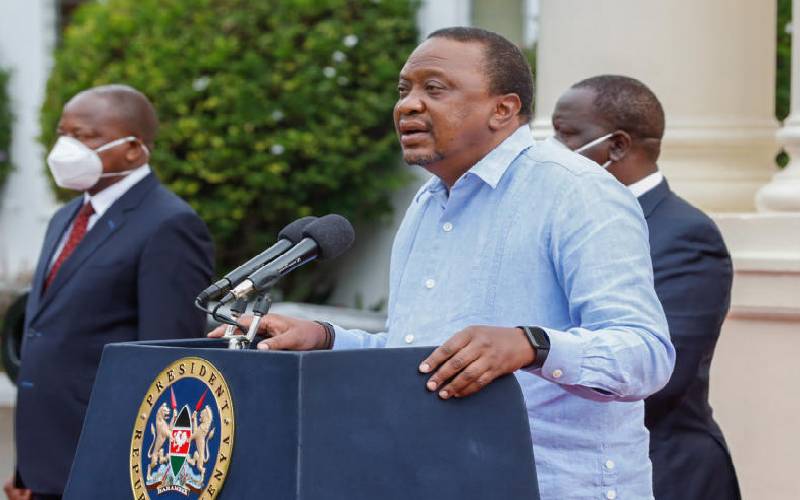 President Uhuru Kenyatta yesterday appeared to rule out a possible settlement of grievances with the health workers on strike.
In his interview with four Kikuyu radio stations, the Head of State appeared to imply that public sector medics earned more than their counterparts in private and mission hospitals.
"I want the media to investigate this aspect and bring it out for the public to judge us objectively," Uhuru said.
He added that the grievances raised were by medics at the county government level, as national government-run hospitals were not affected by the strike.
He cited Kenyatta National Hospital and Moi Teaching and Referral Hospital as facilities not affected by the medics' strike. Other national government-run hospitals include Mathari Hospital and Kenyatta University Teaching and Referral Hospital.
The president, however, called on all medical workers to return to work and agitate for better terms while on duty.
"Letting people die as you watch and deny them medical care is first and foremost a sin against God," Uhuru said.
He added that he was happy that Covid-19 had not ravaged Kenya as much as in other countries, especially in Europe, and praised Health Cabinet Secretary Mutahi Kagwe for clamping down on corruption cartels in the ministry.
Still reeling
While sympathising with sectors still reeling from the effects of Covid-19 lockdowns and protocols, the president urged all Kenyans to appreciate that the primary duty of any government is to protect lives.
Meanwhile, Central Organisation of Trade Unions (Cotu) Secretary-General Francis Atwoli has called on Uhuru, Kagwe and Labour Cabinet Secretary Simon Chelugui to take charge of the ongoing industrial action by health workers.
Addressing the press in Nakuru, Atwoli said the country was staring at great risks should the matter be left in the hands of the Council of Governors (CoG), which has taken a hardline stance.
"It is time for Uhuru, Kagwe and Chelugui to take full charge of this matter. The CoG has shown signs that they are not ready to negotiate with the striking workers in the middle of a dangerous pandemic," said Atwoli.
He lashed out at the CoG, led by its chair Kakamega Governor Wycliffe Oparanya, over their move to disown an agreement between striking medics and the Ministry of Health, terming the approach blind.
"It is a shame that our health workers entered into an agreement with the Ministry of Health with a view to returning to work in line with industrial relations practise, only for Oparanya to disregard the agreement without consulting the national government," said Atwoli.
The trade unionist fired salvos at governors who have since laid off striking health practitioners, saying this was against national and international labour laws.
Earning more
"Going on strike is a right for every worker protected by the Constitution of Kenya and the international statutes. Governors should not ignorantly chest thump as if they have their own instruments of dealing with strikes and collective bargaining agreements," said Atwoli.
Oparanya, in his recent address, said his administration was not ready to pay the striking health workers a cent more, citing that they were already earning more than any other profession.
"Even if they go on strike for100 years, I will not pay them more. They are paid more than other professionals. They already have 16 different allowances on their payslip," said Oparanya.
[Wainana Ndung'u and Kennedy Gachuhi]
Related Topics