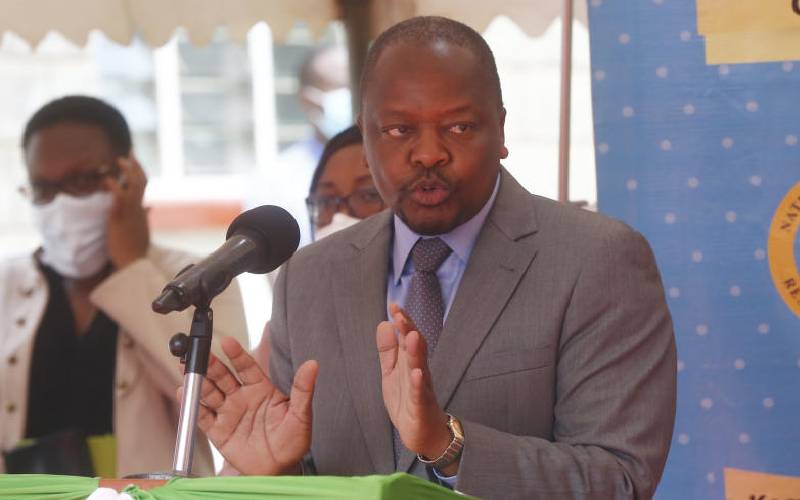 The Ministry of Health has warned that growing stigma against Covid-19 patients, their relatives and those that have been released from quarantine is derailing the fight against the virus.
Speaking yesterday while giving a daily update of the pandemic, Health Cabinet Secretary Mutahi Kagwe (pictured) conceded that the level of Covid-19 related stigma was on the rise.
"No one is immune to the virus and no one should be stigmatised because of it," he said.
Kagwe noted that patients who test positive for Covid-19 were discriminated even after recovery.
Yesterday, the country recorded 492 more positive cases from a sample of 4,063 tested in the last 24 hours.
Delivering the daily update after opening the Ainamoi Covid-19 isolation centre, the CS said among the new cases, 478 were Kenyans while 14 were foreigners.
The males were 331 of the cases and while 161 were female.
The youngest confirmed case was an 11-month-old infant while the oldest patient was 63. Three patients succumbed to Covid-19 complications.
In total, the country now has 26,928 confirmed cases from 358,330 tests. Some 534 patients recovered and were discharged.
Out of these, 56 were from various hospitals while 478 of them were in the home-based care.
On the delay in releasing Covid-19 test results, Kagwe said there was an acute shortage of reagents used in the tests since the supplies from the US, which has been a supplier, dried up.
"We are fighting as hard as we can to get the reagents. We are searching for them across the globe," said the CS.
Due to shortage of reagents nationally, the ministry has reviewed guidance for hospital discharge and ending isolation of Covid-19 patients.
According to the new regulations, any Covid-19 positive patient who has been in isolation for 10 days and no longer shows symptoms can be discharged from isolation, so long as he or she observes the laid down Covid-19 regulations.
Also, a person who is asymptomatic and has been isolated, either self or in a hospital for 10 days, can be discharged as long they observe social distancing, wear face masks properly and sanitise.
Kericho Governor Paul Chepkwony, who accompanied the CS said 17 patients are admitted in the county's isolation wards and 47 others were on home-based care.