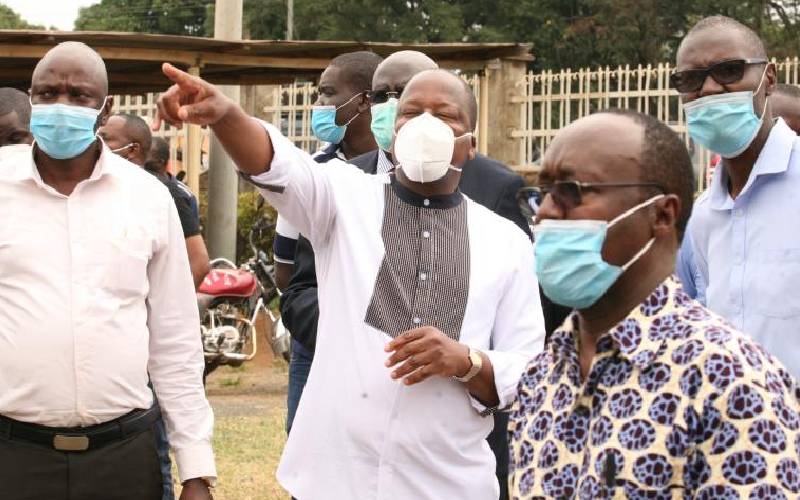 Most residents in Nyanza counties have thrown caution to the wind and no longer observe the Covid-19 containment measures.
A spot check in Kisumu, Homa Bay and Migori counties revealed that while small and medium-sized businesses were picking up, few traders were observing measures to curb the spread of the disease.
Interestingly, last Sunday Health Cabinet Secretary Mutahi Kagwe and Kisumu Governor Anyang' Nyong'o broke the physical distancing rule when they were conferring before giving the update on Covid-19. In Rongo, Sub-county Commissioner Joseph Satia has warned that anybody found in public without a mask will be arrested.
"If we find you walking without wearing a mask, we will arrest you. This is because Migori is a risk zone being near the Kenya/Tanzania border where Covid-19 cases have been reported," he said.
The Standard established that some traders and pedestrians do not wear masks or wash hands while others fail to keep social distance.
For instance, people fail to keep social distance in crowded places such as the bus stops and Juakali workshops in Migori town.
This was also the case in Awendo, Homa Bay, Rodi-Kopany, Kehancha, Ahero, Sondu, Ndhiwa and Sori.
Some pedestrians hug despite the Ministry of Health warning that Covid-19 is highly infectious. Kisumu County Commissioner Susan Waweru said they will crack down on people found breaching Covid-19 containment measures. "We will arrest them. We have repeatedly told them what to do and wonder why they are defiant," she said. Waweru spoke as bus stops, salons, barbershops and restaurants team with humanity.
Observers noted that although steady resurgence in business portends bright prospects for traders as the country battles the disease, the danger lies in failing to uphold the Covid-19 containment rules.
"Some people have retreated to their normal life and way of doing business oblivious of the risks. This is dangerous. There is need to observe the health measures as decreed by the State," said Osongo Obel, a teacher in Rongo who sells soft drinks.
Obel regretted that most people have returned to the normal way of doing business, exposing themselves to the risk of contracting Covid-19. He supported plans by authorities to punish those who breach virus containment rules.
In Kisumu, most touts and passengers hardly keep social distance or wear masks. The touts even scramble for passengers' luggage despite the rising cases of coronavirus.
The county government is in the process of relocating the bus stage to Nyamasaria to ease congestion.
Prof Nyong'o said the new bus stage will allow the PSV operators and passengers to observe physical distancing unlike the main bus terminus.
"This is to ensure that physical distancing is observed by all PSV operators plying the city. We also want all PSV operators to wear masks and not to allow any passenger to board without one," he said.
Related Topics