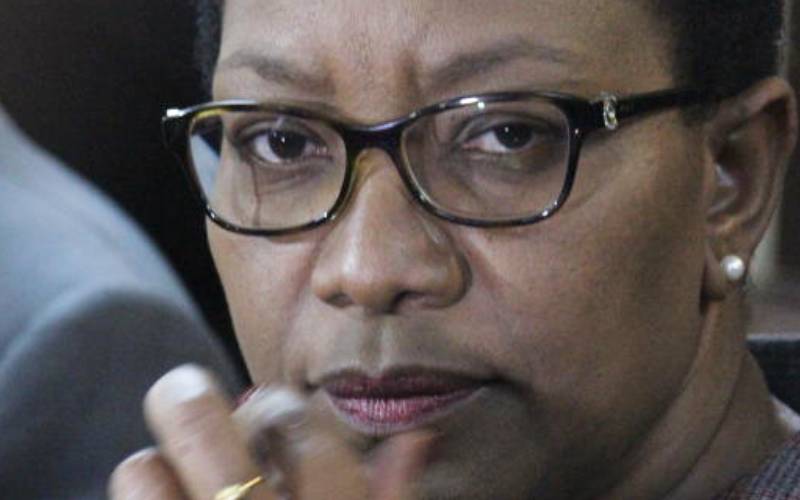 Outgoing Health Cabinet Secretary Sicily Kariuki (pictured) is today expected to appear before a Senate committee probing the controversial Sh63 billion Managed Equipment Service (MES) programme.
This follows accusations that senior staff in the Health ministry bungled the scheme and created room for possible loss of funds.
Last week, Attorney General Kihara Kariuki accused ministry officials of crafting MES contracts that were "grossly skewed" against the government.
The ministry is also on the spot over its handling of a Sh4.7 billion medical health information technology contract. The deal that was terminated last year exposed the government to anticipated loss of Sh3.9 billion in claims for loss of business.
Seven Seas Technologies (SST), which had signed the contract, accused Ms Kariuki of ignoring its efforts to salvage the deal before it was hurriedly cancelled.
SST Chief Executive Michael Macharia told the ad hoc committee that he had made several efforts to talk to Kariuki. "I am not the only one who tried to reach out to the CS. Even some company shareholders made futile attempts," Mr Macharia told the committee chaired by Isiolo Senator Fatuma Dullo last Friday.
The CEO said that even after being denied a crucial letter of support by the Attorney General that would have guaranteed funding and progress of the contract, he was willing to enter into an agreement with the ministry to secure a promise that he would be promptly paid for equipment he had shipped into the country that was at the port.
"We wrote to the PS (Susan Mochache) and pleaded for a guarantee that we would be paid Sh1.7 billion for the equipment at the port but she never responded. We had already committed over Sh800 million and we could not invest any more money, otherwise we would have collapsed.
"Our interest is not to sue the government to get Sh4 billion for cancellation of the contract. It is not our motivation. We want to deliver on this project. Unfortunately, our efforts are being frustrated. With no option, we may have to move to litigation," said Macharia.