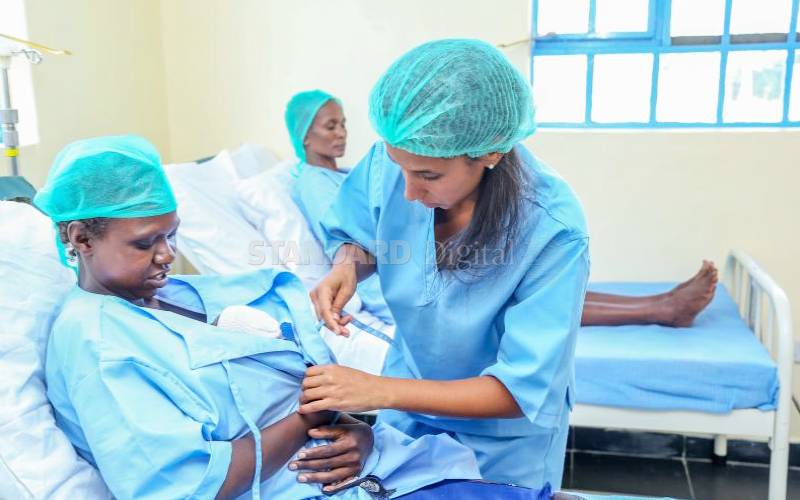 A refurbished maternity ward has been opened at the Maralal County Hospital to boost maternal care.
The new maternity unit comes as a relief for expectant mothers who have been relying on an ill-equipped facility in Marti, nearly 300km from Maralal.
The Sh19 million maternity unit is a joint venture between M-Pesa Foundation and other partners.
During the launch of the facility on Saturday, a Sh10 million ambulance was also unveiled courtesy of a partnership between M-Pesa Foundation, Pharm Access, Amref and the county in a project dubbed Uzazi Salama project.
The project is aimed at promoting safe motherhood; ensuring that women deliver safely.
The ambulance will be stationed at Marti Health Centre.
Les Baillie, the executive director of M-Pesa Foundation, said the Uzazi Salama initiative targets new mothers and children.
"We would like to reduce the number of maternal and infant deaths in Samburu County. Today, we have taken infants into consideration and we hope that their health and future will be secure. We encourage more public-private partnerships as demonstrated here in combating health challenges around the country," said Baillie.
Baillie said the project also entails improving health services, training of health workers and enhancing community- based information.
Maternity services
According to health records, the project has achieved 75 per cent increase in utilisation of maternity services within 12 counties: Samburu, Bugoma, Kisumu, Kitui, Makueni, Kajiado, Marsabit, Turkana, Nairobi, Siaya and Homa Bay.
More than 3,000 Community Health Volunteers have been trained and are charged with linking locals to hospitals.
Baillie said the ambulance will boost maternal health care by boosting referral services for women due for delivery and those who develop complications after birth.
"There will be an ambulance command centre whereby locals and health workers will be able to request for referral services whenever need arises," he said.
According community health volunteers, residents of the vast area have been relying on police vehicles for emergencies due to lack of a functional ambulance.
"Volunteers have been relying on a police vehicle to transport women in labour from their homes to Marti dispensary during emergencies," said Josephine Ekiru.
"We have lost several women to excessive bleeding after birth, simply because they did not arrive in hospital on time," she said.
Most of the cases requiring specialised treatment are referred to the Rift Valley Provincial General Hospital in Nakuru County.
A nurse in charge of the maternity ward at Maralal County Hospital, Lucy Makena, told The Standard that the new maternity wing was godsend.
"It is a relief, we were so congested that new mothers were sharing beds," she said.
Amref's Uzazi Salama Project Officer Fred Majiwa said health records show that maternal mortality has reduced significantly under the project.
"We are grateful that many expectant women are seeking anti-natal, deliveries and postnatal services in hospital thus reducing deaths," he said.
In the last decade, Kenya has made steady progress towards improving maternal health care, especially after the introduction of free hospital delivery through the Linda Mama initiative.
According to health records, between 2007 and 2017, infant mortality rate declined from 45 to 34 deaths per 1,000 live births.
Between 2013 and 2017, Samburu County recorded a 15 per cent increase in skilled deliveries and three per cent increase in the number of women completing the standard four anti-natal visits.
Samburu Deputy Governor Julius Leseeto and County Health Chief Officer Sam Nakope praised the role played by non-governmental organisations in improving health services.
"We appreciate the support given by stakeholders and donors in improving health care in Samburu," said Mr Leseeto.
Related Topics