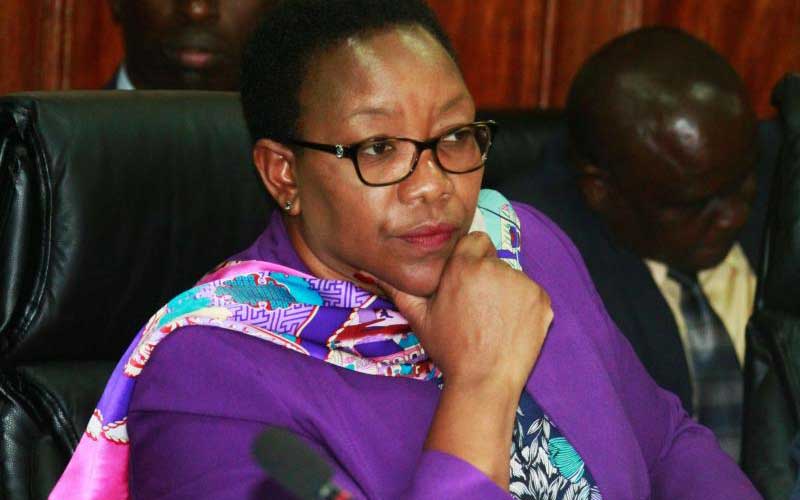 MPs have threatened to impeach Health Cabinet Secretary Sicily Kariuki (pictured) for snubbing summons to appear before a parliamentary committee to shed light on controversial projects.
Members of National Assembly Health Committee said yesterday they feel frustrated in over-sighting and warned that they will draft impeachment motion if the trend continues.
The MPs said the ministry has denied them opportunity to interrogate the controversial Managed Equipment Services (MES) and a Sh15 billion private hospital plan.
"Failing to appear for committee meetings can be a basis for impeachment. I will follow that route if this trend continues," said Ugenya MP David Ochieng.
James Murgor (Keiyo North) said the CS was treating the committee with contempt.
"This ministry seems to be taking this committee for granted. The ministry has the messy MES issue. We also here they want to start a private hospital at Kenyatta without involving the input of this committee," said Dr Murgor.
"Next time if the CS is not coming, make sure you don't come before this committee," he added.
The CS is further on the spot for allegedly not informing the committee over the nationwide rollout of the HPV vaccines which helps protect young girl against certain types of HPV that can lead to cancer or genital warts.
The MPs said the CS has been snubbing it for close to one year now, a trend they vowed must end or they use privileges of Parliament to act against her.
MPs Murgor (Keiyo North), Bernard Kipsengeret (Sigowet Soin), Stephen Mule(Matungulu), Patrick Munene, (Chuka Igambang'ombe) and Martin Owino (Ndhiwa) said they will not allow the CS to continue frustrating their work as a committee.
Owino who was the sessional chair told Kariuki to next time appear in person without fail when invitations are sent to her.
"You can see these members have restrained themselves so much. Please tell the CS that for efficiency let her appear before this committee without fail," said Owino.
The Senate committee is currently probing MES, where a Dutch company hired to supply medical equipment to hospitals in the Sh63 billion programme has publicly disowned a price list tabled in Parliament by the Ministry.
Philips Medical Systems Nederland BV had told the committee that it was initially contracted by the Government to deliver Intensive Care Unit (ICU) equipment at a cost of Sh3.6 billion. But after variations, the cost shot up to Sh4.5 billion.