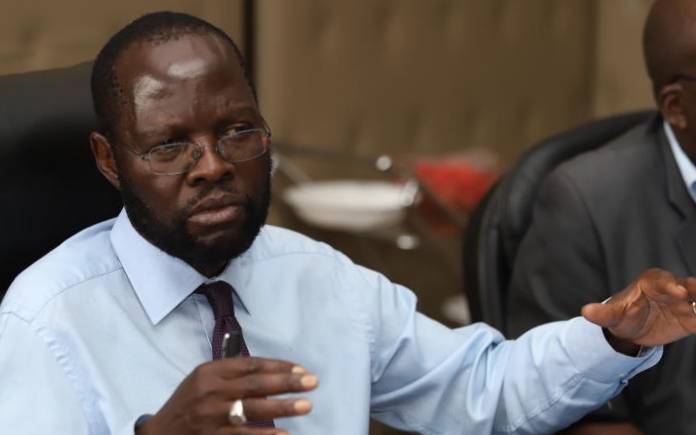 Kisumu Governor Prof Anyang Nyongo wants an Oncology Centre built in one of the leading local universities in honour of the late Safaricom CEO Bob Collymore.
The governor decried the small number of oncologists in the Country. He said that with statistics showing cancer ailments on the rise, there is a need to invest more in training.
An oncologist is a doctor who treats cancer and provides medical care for a person diagnosed with the disease.
''We have few of these special doctors in the country and that is why a lot of time we have to seek for medication or specialised treatment abroad. It's that sad,'' he said.
He appealed to Safaricom Foundation to choose one university anywhere in Kenya and dedicate it to building a 'Bob Collymore School of Oncology.'
''Then make that a school of excellence in oncology delivering expertise in cancer diagnosis, treatment and care including palliative care,'' he said.
He wants the Centre to train medical physicists, cancer nurses, oncology specialists of many types of cancer and let it collaborate with leading cancer schools elsewhere.
''Let it champion at every level of public healthcare cancer screening and diagnosis so that this 'Emperor of all Maladies' is identified early to make treatment more feasible.''
Speaking to the press in Kisumu, today, Nyong'o claimed the death of Collymore to cancer was a great surprise to him, his friends and many Kenyans.
''Bob Collymore was very instrumental in activities of the Africa Cancer Foundation (ACF) - a charitable trust that was launched on July 12, 2011, in Nairobi, Kenya,'' he said
The Foundation creates awareness on the prevention and Collymore was very active during ACF's first strategic planning exercise that set the stage for its work in Kenya.
Over the last eight years, he participated in writing, including the production of cancer awareness booklets and cancer screening exercises in 18 counties.
''This was long before he himself was diagnosed with cancer. Collymore was conscious of his role as a leader in society all the time, responding to the many pressing demands," he said.
Related Topics