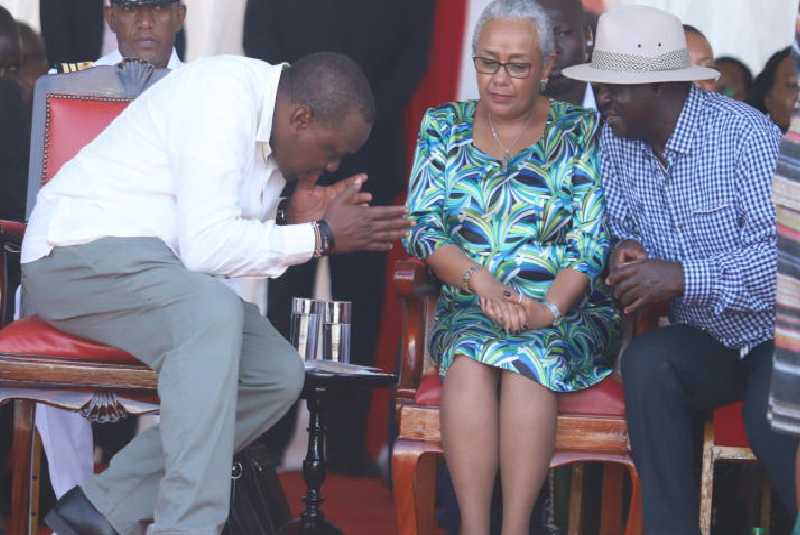 Confusion continues to dog the Universal Health Care a day after it was officially unveiled by President Uhuru Kenyatta.
Medical experts say most Kenyans are still in the dark over how the scheme piloted in Kisumu, Nyeri, Isiolo, Nyeri and Machakos would solve health problems.
While launching the programme in Kisumu, Uhuru ordered radical reforms in the country's health systems to anchor the scheme.
In response to critics of the more than Sh45 billion flagship project, President Uhuru described the project as a potential gamechanger with far-reaching ripple effects.
Although questions have abound over the weak structures and sustainability of the scheme projected to go countrywide in a year, an optimistic Uhuru expressed confidence in delivering the World Bank backed grand scheme.
Medical practitioners say many Kenyans still do not know the link between the UHC and the National Hospital Insurance Fund and whether they can seek free medication in any government hospital in any part of the country.
As part of his resolve to anchor the scheme whose pilot programme he launched in Kisumu on Thursday, Uhuru directed accelerated institutional reforms of collaborating agencies such as the NHIF to ensure ease of access to referral services during the pilot phase of Afya Care.
Speaking in reference to the recent scandals rocking the NHIF, Uhuru said the reforms should ensure funds channelled to such agencies are used appropriately.
"Isiwe ya kuweka pesa kwa mifuko yao, lakini ni ya kuhakikisha kwamba wakenya ambao wanahitajii matibabu wanapata matibabu." he said.
(The funds are not meant to end up in the officials' pockets, but ensure Kenyans who need health services receive it.)
Uhuru also directed that all publicly financed insurance pools be collapsed into one to boost efficiency.
Reforms will also target the Kenya Medical Supply Authority (KEMSA), which he said, will leverage technology to boost and sustain supply of quality drugs and pharmaceutical as well as non-pharmaceutical supplies to all public health institutions.
KEMSA will also have representatives from the counties to boost transparency.
Further, he directed that agencies be formed to evaluate investments in health and set tariffs that "shall protect Kenyans from market exploitation."
President Kenyatta asked the National Assembly and the Senate to fast-track passage of bills that can anchor the initiative in law and to ringfence resources channelled to it.
Related Topics