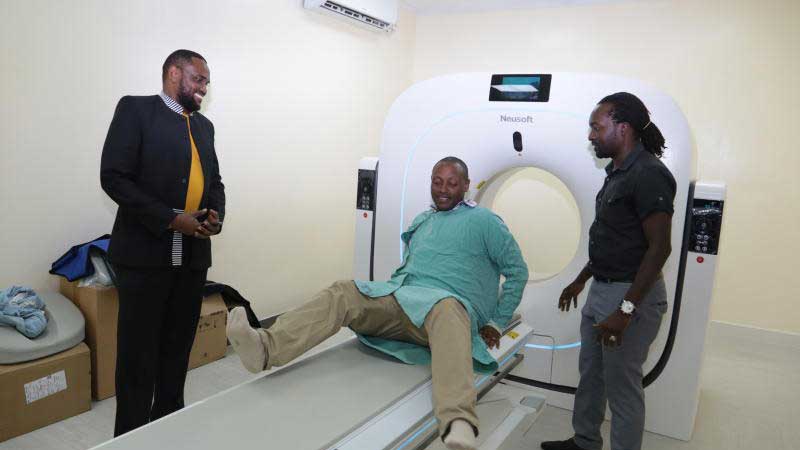 The Government is speeding up the installation of equipment in hospitals to fulfil its promise of improved healthcare for all, the deputy president has said.
DP William Ruto was speaking yesterday after unveiling a computed tomography (CT) scan machine at the Voi Level Five Hospital. This is the second machine to be officially put to use after last month's commissioning of a scanner at Thika Level Five Hospital.
Quality healthcare
"When we formed the government, we made a decision to improve the healthcare of Kenyans by reducing the distance they travel to seek critical diagnostic services. That is why we promised to instal CT scan machines and other equipment in at least 37 public hospitals countrywide," said Ruto.
The deputy president said delivery of quality healthcare was a key component of the Jubilee manifesto, hence the Government's decision to undertake the Managed Equipment Services (MES) project.
The project will also see selected public hospitals equipped with dialysis machines to allow them to offer services that have only been available in a few facilities in Nairobi.
Voi Hospital has an expansive catchment that stretches as far as some parts of northern Tanzania. The facility also serves as a referral medical centre for travellers involved in accidents along the busy Mombasa-Nairobi highway.
"When your governor (Granton Samboja) approached me about the status of this facility, I promised him that the Government would instal a CT scan machine here within 90 days. The days have not yet lapsed and the machine is already in operation," said the deputy president.
Dialysis machines
Mr Ruto praised the workmanship employed in putting up the infrastructure. The company contracted to instal the CT scan machines, Megascope Healthcare, announcing that similar projects in Bomet, Kakamega and Moi Teaching and Referral Hospital in Eldoret were complete and ready for use.
The deputy president tasked the county government with building additional infrastructure to expand the hospital, saying the national government would provide the required equipment.
Related Topics