Home
/
Health & Science
Mother in pain after needle gets stuck in her birth canal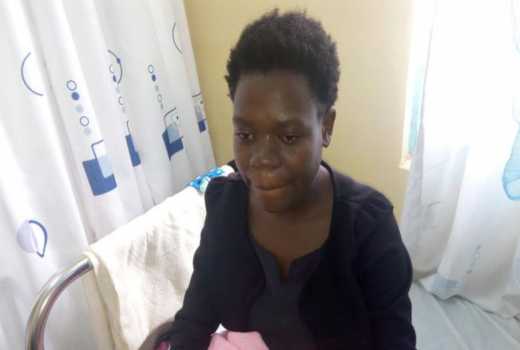 A young mother is in agony at the Bungoma County Referral Hospital after a needle was accidentally left inside her birth canal two weeks after she gave birth as machines have broken down.
Macklin Amunga, 18, is said to have checked in at Bulondo Dispensary on May 10 to deliver her baby but during the delivery, medics discovered her path way was small.
The medics are then said to have conducted a minor operation to open the birth canal to allow the baby to pass through.
After a successful delivery, medics are said to have started the stitching process, a needle broke and was lodged in her birth canal causing her much discomfort.
The officers at the dispensary decided to refer the girl to Bungoma County Referral Hospital as they did not have the proper equipment to conduct the surgery.
"The nurses at Bulondo Dispensary did a minor operation to help me deliver but part of the needle got stuck inside me and it is causing me a lot of pain. I have been here for the last two weeks," said Amunga.
Bungoma County Medical Superintendent, Dr Magrina Mayana, said they received a patient with the complication as a broken needle had lodged inside her birth canal.
Dr Mayana however said they took her to the theatre to conduct an operation to remove the needle but found the machines were out of order.
She said one of the imaging machines that could help the team of doctors to locate the needle was out of order and thus prompting the procedure to be halted.
"We received a patient from Bulondo Dispensary and the medical report accompanying her indicated that there was a needle stuck in her. However, we took her to the theatre and discovered that our machines were out of order hence we could not proceed," she said.
Dr Mayana said they had contacted the supplier of the equipment to send in a specialist to come and fix the machine to enable operations to go on smoothly.
She added that they advised the relatives of the patient to move to Moi Teaching and Referral Hospital in Eldoret but they declined.
Amunga however said they were told to move to Eldoret at their own cost and declined since their family could not afford the expenses involved.
She said they told the hospital management that since it was the county employees who made the error, they should be able to take care of the bills.
"We have no money to move to another facility to seek for help. If I was to be moved then the county government or the hospital management should take up the matter," she said.
The county hospital, however, was not committal as to when the machines will be repaired for the said operation.
Amunga is now appealing to well-wishers and the national government to come to her rescue.
Related Topics