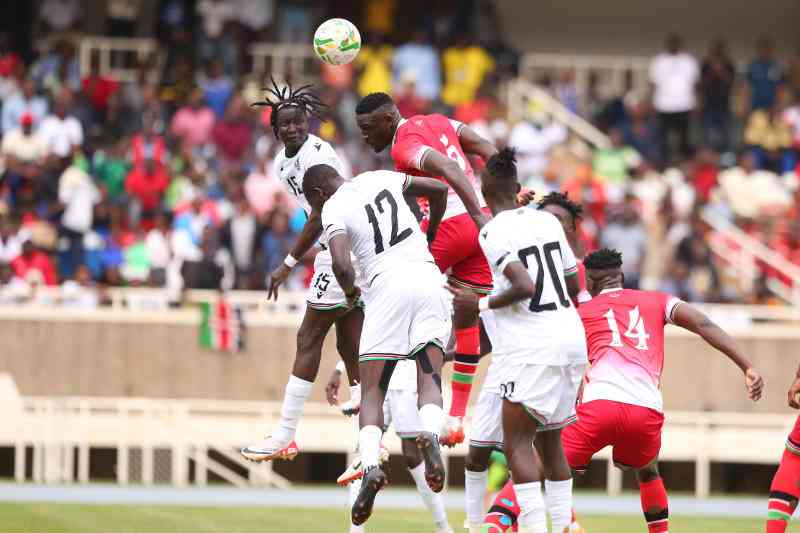 In the wake of a dramatic last-minute victory over the World Cup hosts, Qatar, swiftly followed by a disappointing defeat against neighbours South Sudan on home soil, the Kenya men's national football team has dropped four positions in the latest FIFA rankings updated on Thursday, September 21, 2023.
Earlier this month, Harambee Stars delivered a historic 2-1 triumph over Qatar, leaving the Asian champions stunned in their own backyard. Joseph Okumu, plying his trade in France and Amos Nondi both bagged goals that marked a momentous victory.
However, this surge of optimism came crashing down when they faced off against South Sudan in a friendly match held at Nairobi's Kasarani Stadium. The shocking loss sees Kenya slip from 105th to 109th position in the latest rankings. Kenya's highest historical ranking stands at 68, while the lowest recorded is 137.

The showdown between the national teams of Kenya and South Sudan marked their fifth encounter in history. The Bright Stars of South Sudan clinched a 1-0 victory, leaving much to be desired as Kenya readies itself for the 2026 World Cup qualifiers.
Kenya is placed in Group F alongside Burundi, Gambia, Gabon, Seychelles, and Cote d'Ivoire. The Kenyan national team will embark on its first campaign in November, facing Gabon and Cote d'Ivoire. In March 2025, the team will travel to Gambia before hosting Gabon and Seychelles in September. The next month will see Kenya travel to Burundi for the return leg of the qualifiers, concluding the campaign with a trip to Cote d'Ivoire.
At the top of the FIFA rankings, reigning World Cup champions Argentina maintain their supremacy after triumphing over Bolivia and Ecuador in the CONMEBOL World Cup qualifiers. France maintains second spot, while Brazil takes third place. Les Bleus secured a victory in their European Championship Qualifier against Ireland (2-0), while Brazil emerged victorious against Bolivia and Peru in the CONMEBOL World Cup qualifiers.
The sole change within the top 10 rankings is Portugal, which has moved up one position to eighth place, edging ahead of Italy, which now occupies the ninth spot.
Related Topics