Hiba Abouk, the wife of Moroccan footballer Achraf Hakimi, was surprised to realize that her husband's wealth was registered under his mother's name—all coming after she filed for divorce. The news, which emerged on social media on Friday, April 14, this year, before a sizeable number of media outlets picked it up, remains an allegation since none of the parties concerned has confirmed it despite mixed reactions.
First, it was seen as a major victory for the boy child, who has allegedly been losing their hard-earned property to their wives during separation or divorce. However, women saw the story as a betrayal since Hiba is the mother of Hakimi's two children and played a major role in the footballer's success.
"Footballer Achraf Hakimi's wife filed for divorce and demanded half of his property. She was, however, informed by the court that her "millionaire" husband owns nothing as all his property is registered under his mother's name.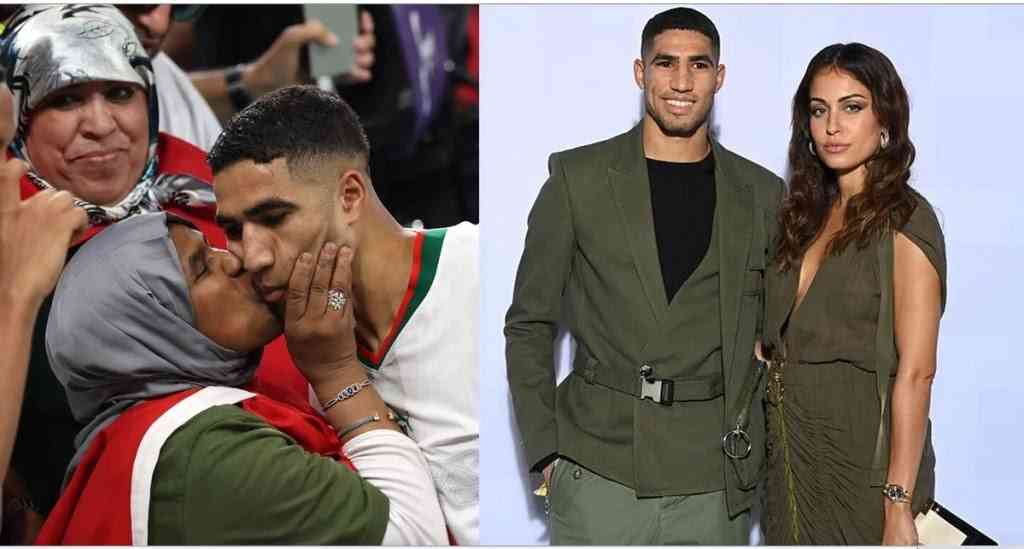 "Hakimi receives €1 million from PSG monthly, but 80 percent of this is deposited in his mother Fatima's account. He has no property—cars, houses, jewelry, or even clothes—in his name. Anytime he wants anything, he asks his mother, who buys it for him," read some of the tabloids who published the story.
The story is different from that of a top entrepreneur who trusted his second wife to run his multi-billion-dollar business for close to three decades.Whereas the wife has showered him with gifts and love in public, behind the scenes, the wife understood that the man was growing old, and she was preparing for eventualities by secretly sending hundreds of millions from the business empire abroad.
Fortunately or unfortunately, an accountant in the firm informed the mogul and then drove straight home to their palatial Runda home in Nairobi to confront the wife.However, a bodyguard for the wife cocked his gun to shoot the old man who pleaded for his life: "I am old, I have children who have grown up, I have powerful friends, and I have achieved what I wanted in this world. You can kill me, but you will meet my friends when I am gone," he said.
The bodyguard put down his gun, forcing the man to move out of the Runda home to Spring Valley. The man is now rumoured to have another house along Kiambu Road as his health continues to deteriorate. The man is now stuck in that marriage after moving out of the matrimonial home.
The Kenya Demographic Health Survey 2022 explained that 51 percent of married men owned their homes alone, while a paltry 18.4 percent of married men owned their homes jointly with their spouses. The report further revealed that 41.5 percent of married men owned their land alone, while only 7.6 percent owned their land jointly with their spouses.It added that 46.7 percent of married men did not own land.
Advocate: marriage is a contract
An advocate of the High Court, Suyianka Lempaa, said marriage is a contract and that most people are now trusting old relationships, which they have with their parents, to register their assets under their names for protection. The advocate's sentiments are echoed by marriage expert Nicoletta Mungai, who adds that several spouses also prefer hiding their properties with their siblings due to culture or fear of being killed.
Mungai said that most married people fear hiding their assets in their friends' names since they also do not trust them the same way they do not trust their partners."Some people hide with their siblings, trusting that they can't shortchange each other, but there are several cases where some siblings have shortchanged each other," said Mungai.
Hidden lives
The expert said that a good number of people were also hiding their properties from their spouses due to culture, fearing that they could be killed."Families should operate with transparency and trust. Also, have a lawyer draft your will. If you die and your family is not aware of your assets, they will be transferred to the Unclaimed Assets Authority and back to the State," she said. "This might leave your family suffering, and yet you worked hard.
She said that couples need civic education and proper counselling to overcome their fears, which have pushed them to operate in secrecy."I have seen cases where in some homes we have private rooms that only the husband or wife can access because one of the partners is hiding documents," said Mungai.Advocate Lempaa challenged people to work hard for their money instead of getting married to rich people since society was providing equal platforms to all genders.Lempaa quoted Chinua Achebe's saying that since men have learned to shoot without missing and since women have learned to claim 50 percent from their husbands during divorce, men have learned to fly without perching, meaning that they are now hiding their investments.
"We have seen here at home and abroad, and in fact, the footballers' stories of toil and divorce are very sad," Lempaa said.Entrepreneurs are among millions of Kenyans who fear losing their properties or being killed by loved ones in marriage because of how much they own, and the efforts they have put up to set up their business empires.This has forced millions of men and women to hide their assets from their loved ones by opening offshore accounts, registering their firms abroad, and having secret accounts, of which most are not declared in court during the divorce process.
Related Topics