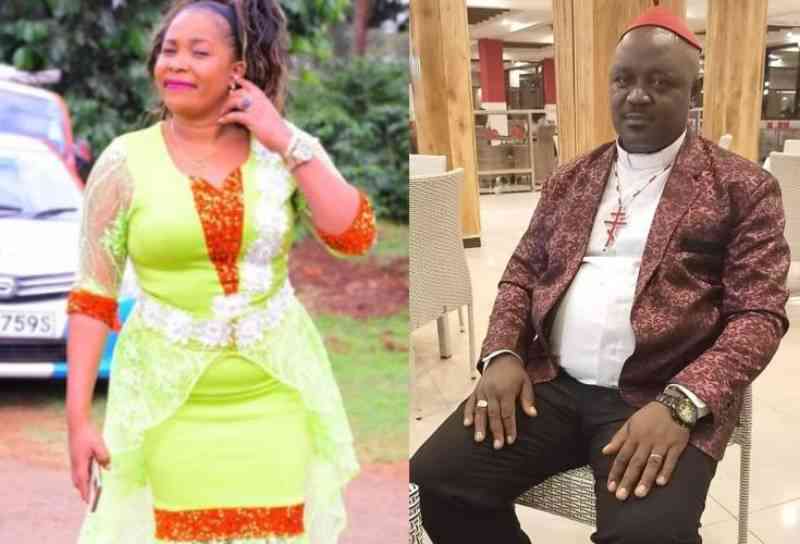 When love turns sour, even the best of friends can become the most cruel of enemies. This is what has happened between Regina Wangui Macharia and her ex husband, Bishop Bernard Muthoga. The couple parted ways four years ago in a bitter public divorce after almost 15 years of marriage. While the dust seemed to have settled between the two high profile individuals, things took a dramatic turn this week when Wangui, who is popular Kikuyu gospel artiste, moved to exhume the remains of her daughter who died 12 years ago. The remains had been interred at Lamuria Village in Kieni constituency, Nyeri County, the cleric's rural home. According to Wangui, she made the decision to exhume her daughter after her former in-laws started to plant food crops around her daughter's grave.
"They did not want her there. They were planting maize around the grave. The land belonged to my former mother-in-law, but at the time we buried her, we were married that was the only place we had to bury her," she said.
Wangui popularly known as Regina wa Aganiwe, in connection to her hit song Uyu Nowe Anga Tiwe is a well known gospel artiste with several hit songs which include Andu aria Athingu, meaning 'those who are blessed', Kirai Muone, and Mururumo (thunder), among many others."I instructed my lawyers to move to court to get the exhumation order because I wanted to bury my daughter in a place where she could find peace," she said.
Court order
According a court order dated June 30, 2022 and issued by a Nanyuki court, Wangui had applied to be allowed to dig up the remains of the minor who died at Nyeri Referral Hospital. "This court hereby issues an order for exhumation of the body of the deceased, Ann Sharon Ruguru, for the purpose of the relocation of the grave," the order issued by Chief magistrate Kithinji. A. R read in part.The court also directed the artiste to cater for Public Health officials at a cost of Sh20,000. In her application, Regina had cited the County Government, Medical officer of Health Laikipia and Office of the Attorney General (AG) as respondents.
However, the exhumation took place on October 26, three months after the order, as she was finalising on where to lay her daughter to rest."I initially wanted to have her buried on my mother's land but decided against it hence the delay. I was in the process of finalising buying my own land and once this was completed this month, I have now brought my daughter home,"she said.After the remains of the child were exhumed, they were buried on Wangui's land on the same day.The bizarre case received wide attention in the Mount Kenya region when the popular gospel singer expressed her grief and sought solace from God on social media.
Writing in Gikuyu, she wailed: "Now God, what can I do to heal my heart? I am praying to you to remember one good thing I may have done to please you so you may strengthen me so I can raise my remaining children. "My kid Ann Sharon Ruguru was buried 12 years ago, and I have come for your bones so that I can bury her elsewhere because you have been rejected where you had been buried. Now may you soul and your bones rest I peace my child continue to RIP till we meet again."
I was in form one, he was a traveling preacher
Wangui was married to Muthoga, a preacher with the African Independent Pentecostal Church of Africa (AIPCA) Mukaro Diocese in Nyeri.In a recent vernacular radio interview, Wangui spoke of how the two met when she was 15. She was in form 1 and he was a traveling preacher at AIPCA.Their love affair started while the two were in the same church , and from the same constituency, the love story blossomed into a marriage which bore four children.But in 2018, the two parted ways on allegations of adultery and deserting her matrimonial home.Speaking to The Nairobian after the exhumation which started at 9am, Bishop Muthoga said he was not part of the proceedings in court and that neither was he informed of the intent to exhume his daughter's body.
Muthoga said he only learnt of the incident after area assistant Chief Julius Mutua informed him of the order."I don't know the meaning of this and why Regina is doing so. The main objective of this exhumation is to tarnish my name on social media. I applied for divorce and which went through. I don't know why she feels the need to take our daughter's remains from her grave," Muthoga explained.He denied ever engaging in a war of words with his former wife and insisted even the land where the minor was buried belonged to his mother."I have no fight with her and all she is doing is engaging me in a spiritual fight. She is only seeking sympathy and attention yet I have moved on after our messy divorce," said Muthoga.Muthoga said he has never denied being the biological father of the girl who died aged two years, adding they had three more children with Wangui by the time they divorced.He said their daughter died at Nyeri County Referral Hospital (PGH) after undergoing seven operations and it was Regina who took her to hospital after developing complications while he was away on a crusade."I organised many Harambees including selling off my property to save my child, but she didn't survive. We buried her at my mother's 8 acre piece of land in Kieni," Muthoga observed.
In his divorce suit, Muthoga said his former wife deserted their matrimonial home in Lamuria, Kieni constituency, Nyeri and settled in Nairobi without reason or notice."The respondent (Wangui) has refused to treat the petitioner (Muthoga) with affection and warmth that a husband requires. She is irresponsible and has neglected her matrimonial duties," says the preacher in the court papers.
Habitually sleeps outside the matrimonial home
The documents filed through Kihara Macharia Advocates indicate that the gospel singer has directed unkind and verbally cruel towards the man of God, which were calculated to strip and undermine his self-worth.He said he had tried to reconcile with his wife but she was reluctant and has frustrated such efforts."She has been unfaithful, habitually sleeps outside the matrimonial home without any explanation which has occasioned the petitioner's anxiety and lack of confidence in her. She has caused the petitioner embarrassment, pain and trauma that resulted to depression for which he is still under medication," reads the documents.The couple solemnised their marriage in 2002 at AIPCA Church Lamuria. But Muthoga says the artiste left the matrimonial home and settled in Nairobi in 2014, and has not made efforts to return."As such, she has absconded and deserted her matrimonial duties. No collusion or connivance exists between the petitioner and the respondent in presentation of this divorce petition. "Our marriage has irretrievably broken down and the parties are no longer able to cohabit together as wife and husband," said Muthoga in his statement.
Related Topics