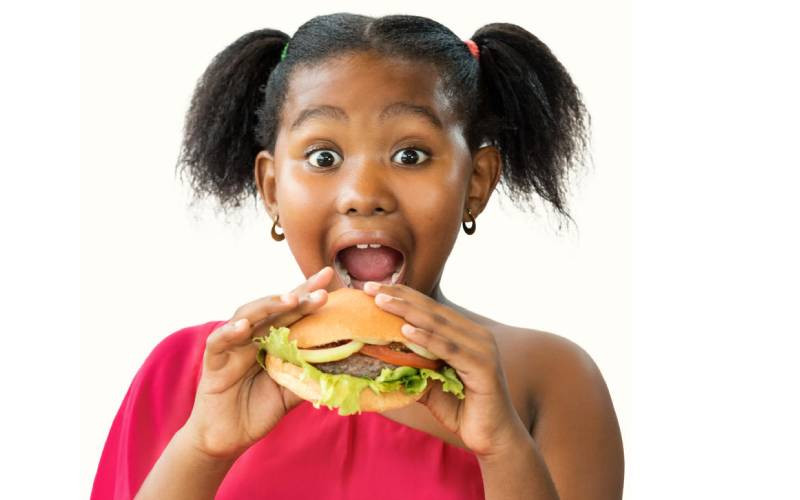 Parents in Nairobi and its environs are feeding their children fatty junk food, leading to a high number of obesity cases among children aged between eight and 12 years, a survey shows.
The survey, conducted by African Alive Kenya Chapter, found that 30 per cent of pupils in upmarket schools are obese while only two per cent of pupils in lower-class areas suffer from being overweight.
The rise in cases of obesity in Kenyan suburbs is a result of parents' ignorance about alternating traditional foods and processed foods to create the ideal balance of all nutrients.
"This also puts the children at risk of other serious health problems including diabetes type 2, cancer, hypertension as well as high blood pressure," says Walter Nyakwaka, the head of the survey team.
Nyakwaka says their investigations and findings reveal that most obese children are usually influenced by advertising which creates a high demand for these foods, snacks and beverages.
The survey involved 1,531 children aged between eight and 12 years.
Interviews with pupils in two private schools, one in Kilimani estate of Nairobi and another in Karen along Langata South road, revealed that most parents treat their children at fast food restaurants and hotels in and out of the country.
"Some of these outlets have only junk foods. Some are prepped in advance and kept for long under refrigerated conditions and may contain preservatives so they are not supposed to be consumed often," says Anitah Nekesa, a Nairobi-based nutritionist.
She adds that some of these children have unlimited access to highly processed foods and drinks.
"Child obesity occurs when a child is above the normal weight for his or her age. The type of foods these children eat is the main contributing factor to childhood obesity," says Ms Nekesa, and adds that the children are not encouraged to eat vegetables and fruits by these children.
Obesity in children, Ms Nekesa says, is also caused by limited physical activity.
The experts agree that there is a need for regulation and legislation on the marketing and advertising of junk foods to children.
They note that countries such as the UK, Belgium, Germany and France have enacted laws on the same.
Mary Wambui, a mother who lives in Kileleshwa says society has a collective role to play in the fight against childhood obesity and other childhood diseases adding that the fight requires an approach that should involve the media, manufacturers and advertisers.
"We need to encourage children to eat a balanced diet and to discourage them from engaging in passive leisure activities such as watching television, surfing the internet and playing video games all the time."
She says that spending too much watching TV also dulls the brain and causes eyesight problems.
Winnie Mwikali of Ranalo Foods and Restaurant (Kosewe) says society also plays a big role when it comes to obesity.
"We mostly serve traditional African foods and drinks," Mwikali says. She adds that parents should ensure their children consume traditional vegetables and grains such as porridge made from millet. With such fresh foods, rather than processed foods, the war against childhood obesity and associated diseases would be partly won.
Related Topics