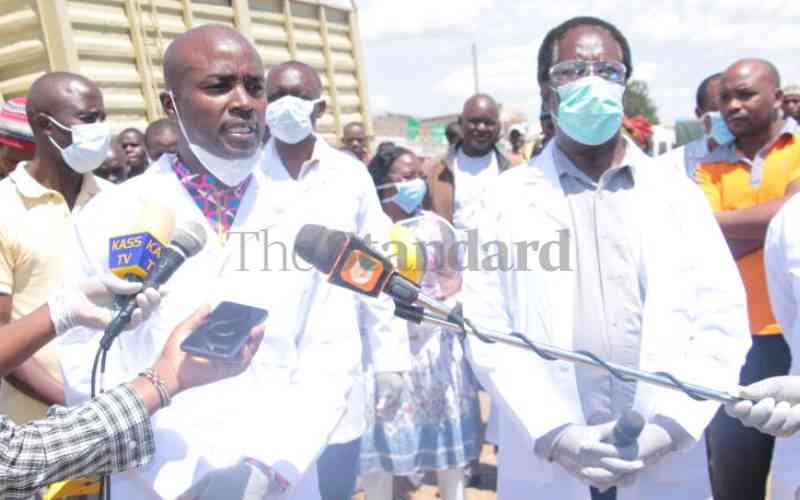 Four people among them two children aged three and seven years are admitted to the hospital following a cholera outbreak in parts of Chepalungu and Bomet Central.
County Executive Committee member in charge of medical services Dr Joseph Sitonik said the first case was reported two days ago when the 7-year-old girl was admitted at Tenwek Hospital where a test showed she was positive.
Dr Sitonik said the girl from Cheswerta Village in Bomet Central was rushed to the facility with cholera symptoms.
He said as public health officers were busy combing the village and line tracing for contacts, another child aged 3 years from a village in Tenwek was also rushed to Tenwek where tests showed she was also positive.
Sitonik said hours after the two children were confirmed to be suffering from the disease, two other people were admitted to other health facilities with similar symptoms.
He said the first person was identified after relatives showed up and identified themselves and they were alerted of the developments.
The CEC, however, said the fourth person was yet to be identified and public health officers were looking for his relatives saying the patient presented himself at the facility.
"We are yet to know where the fourth patient is coming from but we suspect that he is not far from the said areas where the disease was detected," he said.
Sitonik said health officials have been dispatched to the affected villages to conduct sensitization and ensure the disease does not spread further.
He said initial investigation shows that the biting drought that has caused acute water shortage in most places in Bomet was to blame for the outbreak.
He said water sources were becoming limited in the ongoing drought and thus causing contamination of remaining water sources.
Sitonik however said measures have been put in place to avert the spread of the disease in the county.Sitonik has pleaded with residents of the affected areas to be on high alert and report anyone with diarrhoea and Vomiting Symptoms.
"Let us look out for symptoms of the disease and report them quickly for action, Said Dr. Sitonik said a surveillance team was going around the three areas of Tenwek, Kapsimotwa and Kyogong where the victims hail from.
He called on the locals to ensure that they boil drinking water and always wash their hands before eating to avoid contracting the disease.
"We have no option but to ensure that we always wash our hands and drink clean water," said Sitonik.
Related Topics