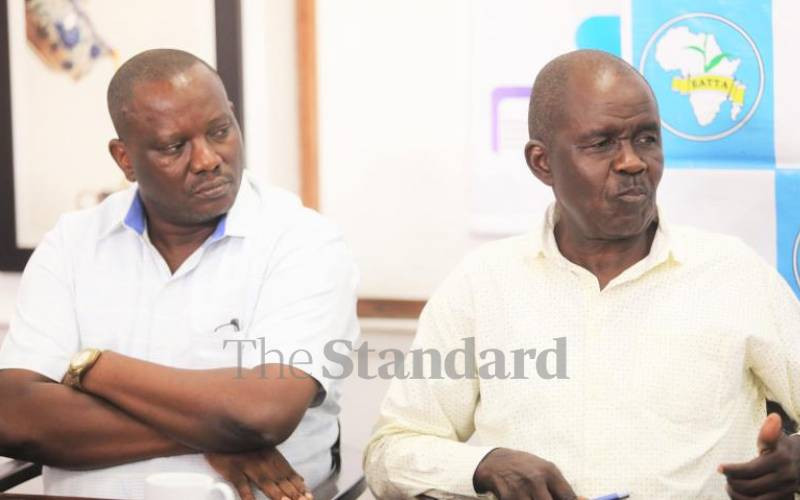 Tea traders at the Mombasa Tea Auction yesterday said the country has lost Sh2.6 billion since attacks on multinational tea estates in Kericho and Bomet counties started.
East African Tea Trade Association (EATTA) on Thursday condemned the attacks and said tea plantations account for 40 per cent of the volumes traded in the auction.
EATTA Chairman Arthur Sewe said the auction generated sh136 billion in revenue last year while providing livelihood to more than three million Kenyans in 2022.
"The board of EATTA is deeply concerned about the destruction of tea in Kericho. We condemn with strongest terms possible the invasion witnessed in broad daylight by invaders that have threatened workers besides destroying machinery valued at millions of shillings," said Sewe.
He said if the plantations stop presenting their tea in the auction, it will have a catastrophic impact on the Mombasa Tea Auction. He urged the government to intervene and ensure security and continuity of the estates to avoid losing on the revenue generated from the tea's auction.
"As you may be aware, already a major tea estate Ekaterra Tea PLC has suspended operations for the time while insecurity and destruction of property is not guaranteed. Other large plantations are also observing the situation and may do the same if the security of their employees and property is not guaranteed," said Sewe.
Sewe said they will ban any of their members from the auction who deal in illegally plucked teas from the said plantations.
"They are not cooking these tea leaves they are plucking in broad day light. If those involved stop buying illegally plucked tea it will stop the attacks. We shall ban and deregister any of our members absorbing the illegally plucked tea," said Sewe.
He said the introduction of machines should not be an excuse as they are running side by side with manual plucking.
EATTA Board Director Samuel Karima said on average the tea auction trades Sh2.6 billion per week and they have lost the monies due to the ongoing attacks on the tea estates. "Every week we trade on average tea worth sh.2.6 billion per week and last year the country earned Sh136 billon," said Karima.
"The tea from the plantations accounts for 40 percent of the volume of tea we trade at the auction here and that means it will cause a shortage since we have a supply shortage and disruptions from the tea estates," he added.
EATTA CEO Florence Owino said the attacks will cause a disruption across the value chain and cause the tea estates to shift their focus and investments elsewhere.
Owino said Ekaterra are among the largest buyers at the Mombasa Tea Auction also have other options in 12 countries including Tanzania and Burundi if the current situation is not addressed.
Related Topics